Harrison Ford on Han Solo's Fate, The Force Awakens Cast, Snakes and More.
Harrison Ford was answering fan questions over at Entertainment Weekly's Tumblr. Read on for some of the highlights…
Q: How do you feel about the ending in The Force Awakens? (I myself am heartbroken)
A: I think it's a fitting use of the character. I've been arguing for Han Solo to die for about 30 years, not because I was tired of him or because he's boring, but his sacrifice for the other characters would lend gravitas and emotional weight.
Q: If the cast of the force awakens was stuck on an island, who would be the leader and why?
A: I would be the leader. Just cause. Although we'd end up having to listen to Carrie because if Mama's not happy, nobody's happy.
Q: We know Indiana Jones hates snakes, but what about you, Harrison? What do you think about snakes? Love 'em? Hate 'em? Ugh-get-'em-off-me?
A: No, I don't mind snakes at all. Next to John Boyega, they're almost my new best friends.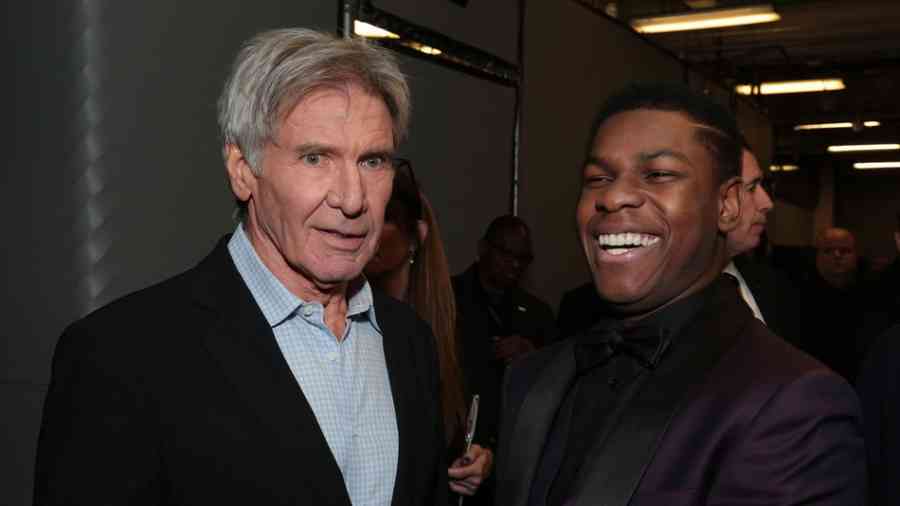 Q: Are you and John Boyega best friends?
A: Whatever John says…
Q: who's cuter, you or daisy ridley?
A: Daisy Ridley. But it's close.
Q: What do you think of Adam Driver, what is he like to work with?
A: He's an absolute pleasure. He works independently with real proper ambition. He brings a lot to the table. He's a wonderful actor and a very kind, generous human being.
Q: Who did you have the most closest relationship with on the set of Star Wars?
A: JJ Abrams
Q: JJ is very active in the shooting of his movies, what is your favorite quality that he possesses?
A: A kind intelligence.
Q: Mr. Ford, have you ever considered doing a voice acting role for an animated movie? You've got such a cool voice!
A: I'd love it. Waiting for a good fit.