Andy Serkis Still Hasn't Read the Star Wars: Episode VIII Script
Andy Serkis who brought Lord of the Rings trilogy character Gollum to life, then made us believe that he was Caesar in the Planet of the Apes prequels has set the bar for Motion-capture acting in the film industry. The immensely talented actor, playing the role of a major villain seen in Star Wars: The Force Awakens last December is set to reprise his role as Supreme Leader Snoke in Star Wars: Episode VIII.
Disney has been known to go to great lengths to prevent spoilers from being leaked. In fact in a interview with the Daily Telegraph back in June of 2014 Director J.J. Abrams revealed:
"my office … I'm working on the Star Wars script today and the people in my office have covered up all my windows with black paper. I guess they wanted to make sure no one could see what I was doing." He paused, before adding: "it seems rather extreme."
As a guest on Conan O'Brien on TBS, actor Andy Serkis discussed some of the secrecy involved in the filming of Star Wars Episode VII.
"Security is so tight on that film, I don't know what it is you're doing.
I don't think you're allowed to say anything." he said
Even Recently, the executives of Episode VIII have been so afraid­ of information and images of the set being leaked to social media, cast and crew are having a special covering added over the camera phone lenses.
Mirror.co.uk reported a few days ago that one source said:
"After going through routine checks, security­ staff will put a piece of tape over your phone, camera or whatever­ to seal the lens.
"When you exit they will check the tape to make sure it has not changed colour."It sounds drastic, but Disney want to protect their secrets so fans won't have the film ruined. It's easier to enforce one rule for all."
Filming for Star Wars: Episode VIII which began last month at Pinewood Studios near London and in Croatia also had the phones of stars Daisy Ridley and John Boyega included in the extreme measures. It seems even the films major stars aren't exempt from secrecy.
Does the secrecy of the film have anything to do with what Serkis talked about this Sunday at an awards presentation?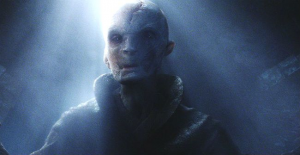 BBC.CO.UK is reporting that he hasn't even been given a copy of the film's script. Could the level of secrecy be even more than Star Wars Episode VII offered?
The actor spoke briefly on Sunday at the Empire Awards regarding his stage of involvement in production thus far.
When questioned his wife Lorraine Ashbourne spoke out first and said
"I don't get to know anything, he doesn't tell me a thing."

Andy replied "Well that's because I don't know anything…. I'm due to be filming and I haven't even seen the script yet."
While a sense of mystery behind this news is all well and good, we still got quite a long time before the film's release to figure out why he hasn't read the script thus far.
Star Wars: Episode VIII, written and directed by Rian Johnson, will be released December 15, 2017.