Han Solo to Get A Solo Comic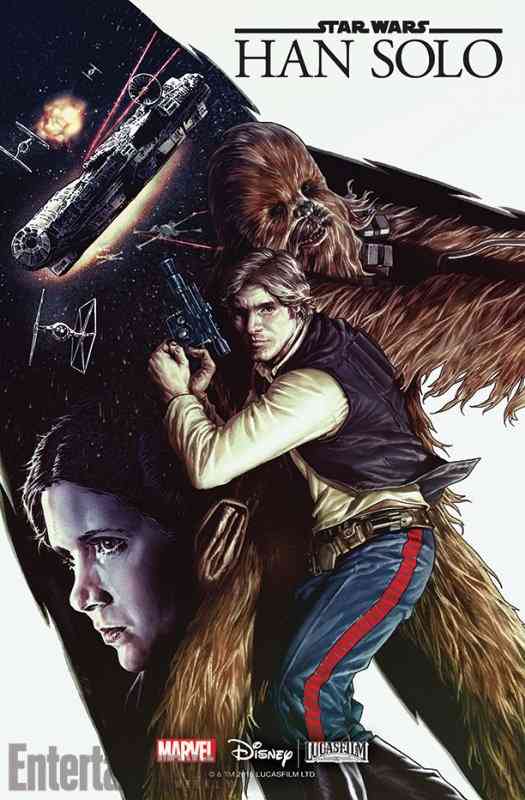 Harrison Ford's smuggling days in the GFFA may be done, but Disney has made it clear that Han Solo will live on in a myriad of formats. Why wouldn't he? He's an immensely popular character, one that many a young child pretends to be in their own adventures. In addition to getting a young Han Solo standalone film down the road, Marvel has announced via Entertaint Weekly that everyone's favorite rogue will be getting his own comic mini-series. Read on after the jump for more …
Much like the other mini-series that Marvel has produced since taking the Star Wars comic book reigns, this one will have a 5 issue arc that takes place between A New Hope and The Empire Strikes Back. The limited series is set to debut in June and will feature Han and Chewie in a starship race. No, it's not the Kessel Run, of course. That's a smuggler's route after all. The race is called the Dragon Void Run and apparently Han's wanted to participate in it for a long time.
The story is said to highlight the confusion Han feels during his transition from being a me-first smuggler to perhaps becoming a full-fledged member of the Rebellion. Han's involvement in the race is both personal and business, as Leia believes there are potential Rebel informants located on different planets along the race's route. As they pick up these spies, Han ends up at odds with himself, trying to balance the desire to win with the mission at hand.
Disney is really mining the period between Episodes 4 and 5 for all it's worth. While, the stories have been enjoyable, one has to wonder when the comic book storytelling will shift focus from this time period to another and how many stories can happen during this window. The stories post Return of the Jedi will probably come out in more frequency once the whole ST has been released.
The mini-series will be penned by Marjorie Liu of Astonishing X-Men fame. Here's a brief snippet from EW's exclusive interview with Liu:
Any particular inspirations that led you to the race idea?
I started thinking about this old movie from the '80s that I really enjoyed, which is Cannonball Run. I thought, okay, what if this is sort of like Han Solo in Cannonball Run in space? So, I played with that and it finally came together in the story where there's this infamous starship race. It's the pilot dream race. Everyone wants to be in it, everyone dreams of winning it. The race is sort of a cover that will allow him to go on this mission for [Leia], but at the same time, even though the race isn't a priority, it's a real struggle for him because he knows he needs to focus, but he's on the race of a lifetime.
It's kinda cool to be getting a Star Wars story focusing on a race. Star Wars is space fantasy at its core, yet we've seen different genres incorporated into the storytelling, including pirate stories and western elements (though that's nothing new to the SW universe).
You can read EW's full article, including the interview and a first look at some panels from the upcoming comic  here.
What do you think about this mini-series? Are you enjoying Marvel's comics on the whole so far? Do you like the stories being told between Episodes 4 and 5? Sound off in the comments below.