New Video and Photos from the Star Wars Episode VIII Set in Dubrovnik.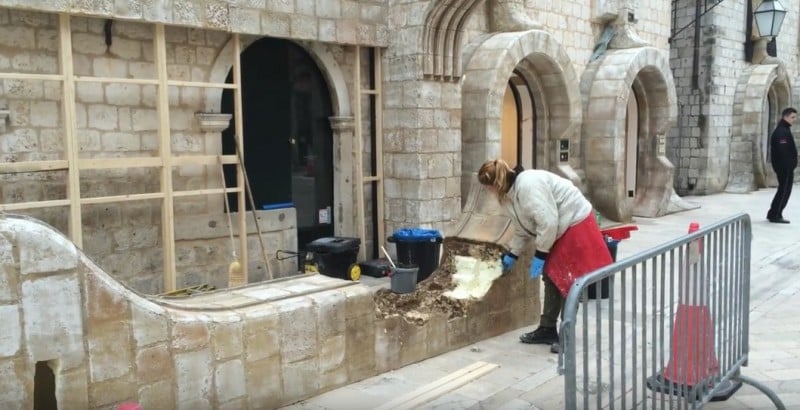 The preparation for the Episode VIII filming in Dubrovnik continues with full power. Check out the latest photos and video shared by several local news sites…
TheDubrovnikTimes reports:
On the last weekend before filming of Star Wars VIII begins in Dubrovnik the final touches are being made to the set on the main street, the Stradun. The ancient stone facades of the city have been transformed into a sci-fi set complete with flashing buttons and droid control panels.

Filming is set to begin on the 9th of March; however we understand that the first two days will be used as a dress rehearsal, with the real filming beginning of the 11th of March.
As you probably remember the first rumors were that Mark Hamill, Daisy Ridley and possibly Benicio Del Toro will be present during the filming. These were possibly just speculation since the Dubrovnik coast slightly resembles Skellig Michael. We already know that the Episode VIII crew will return to Kerry in May, so probably Dubrovnik is a different location. And we already have a confirmation from Daisy Ridley that she won't be part of the shoot.
It would be interesting to see if John Boyega will be there. John and Dasiy will probably have 2 separate journeys in the movie, at least in the beginning, since they were separated at the end of The Force Awakens.
Also, here are some new night photos from the smaller alleys (the steps to the Dominican Monastery) now with installed lights (via Dulist) :
The next photos are from MosCroatia.
The famous Onofrio Fountain also got the lights treatment:
The portal on the Little brothers church, Franciscan monastery was also lighten up.
And some more photos from the main street (the Stradun)