SWNN Review: Darth Vader #16
• The planet Shu-Torin is revolting.
• Darth Vader is tasked with leading a military assault.
• Has Vader's rise to glory begun?
After the crossover between Darth Vader and Star Wars comics, Vader Down, we are back to the individual series. Darth Vader #16 is the first issue in the new four-part arc – The Shu-Torun War.
Spoilers follow
The opening of the comic gives us one of the better Vader/Palpatine moments. Throwing Karbin's body in front of the Emperor is both challenge and demand. Palpatine is always difficult to read, but did I catch a tiny bit of discomfort?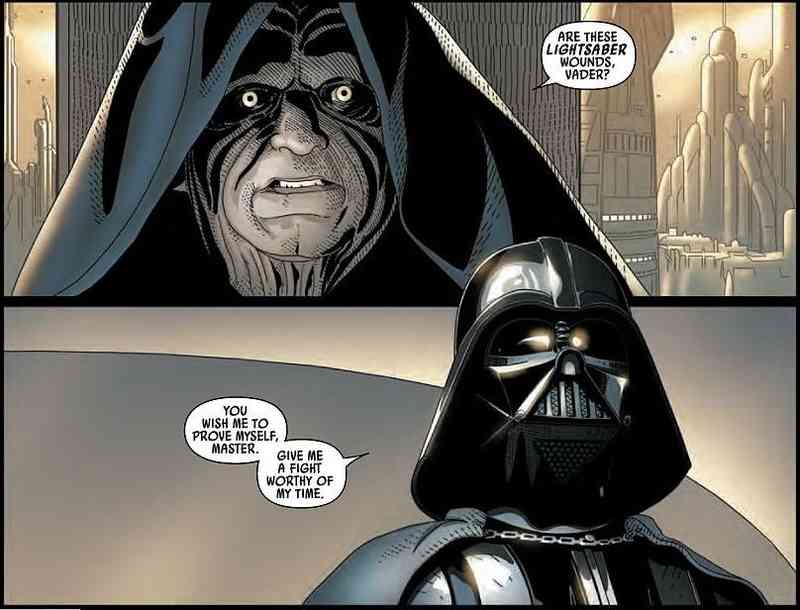 The Emperor does give Vader a new task. He is to deal with rebelling ore-barons of Shu-Torun. The planet was introduced for the first time in Darth Vader Annual #1 (reviewed by @Hard Case here) when Vader put the rebellious planet in its place by killing its king and his sons and installing his youngest daughter on the throne. And, as with anything with Palpatine, the task comes with a game. Vader is to be accompanied by Cylo and his cyborgs and he will explain his reasoning only when Vader completes his task.
The Empire is not known for its gentle approach and Vader and Cylo bring its full power on Shu-Torun barons. The destruction is overwhelming. The message is sent. Will it take?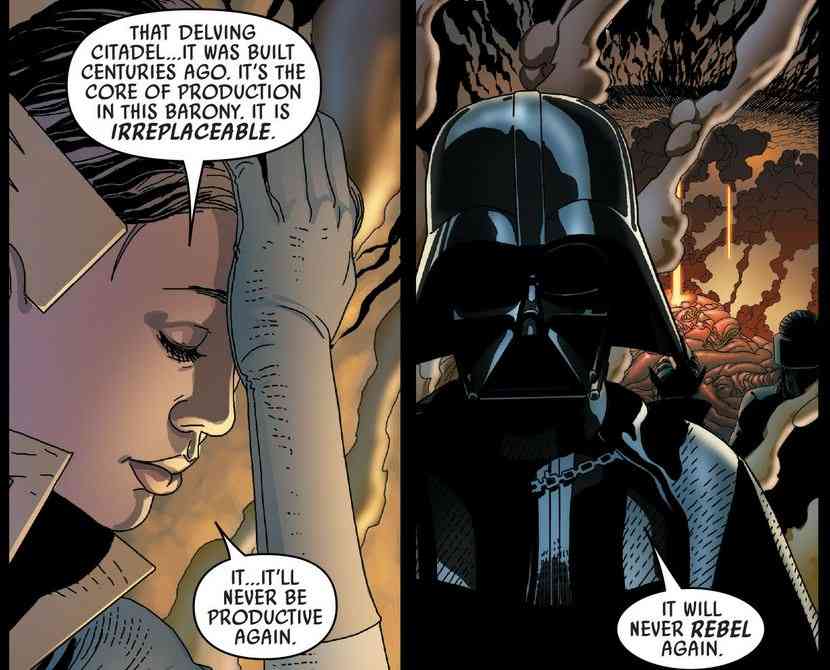 We have seen in Darth Vader Annual #1 that Queen Trios has guts, which is only confirmed in this issue. She is in a difficult position: she has to fulfill various roles in the government previously occupied by different members of her family and she has to serve both the Empire and her people. So, she demands that Vader shows her the respect needed for her own people to respect her. You can say that she is insanely brave or, maybe, just lucky that this is not Vader from The Empire Strikes Back. Vader clearly does appreciate her courage, but, in the end, she will have to serve the Empire or her usefulness will end.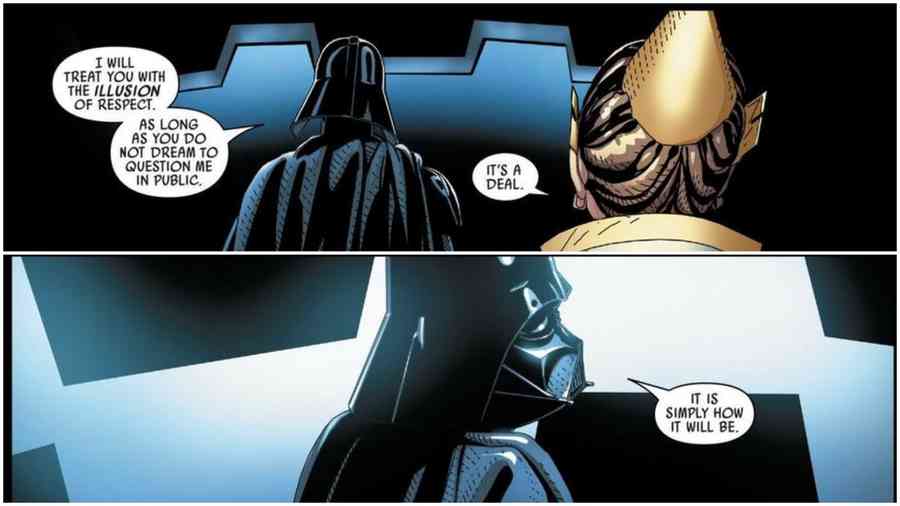 In spite being in the middle of the job and being challenged by Cylo and his gang, Vader does not forget his own interests: namely one rogue archaeologist taken by the rebels.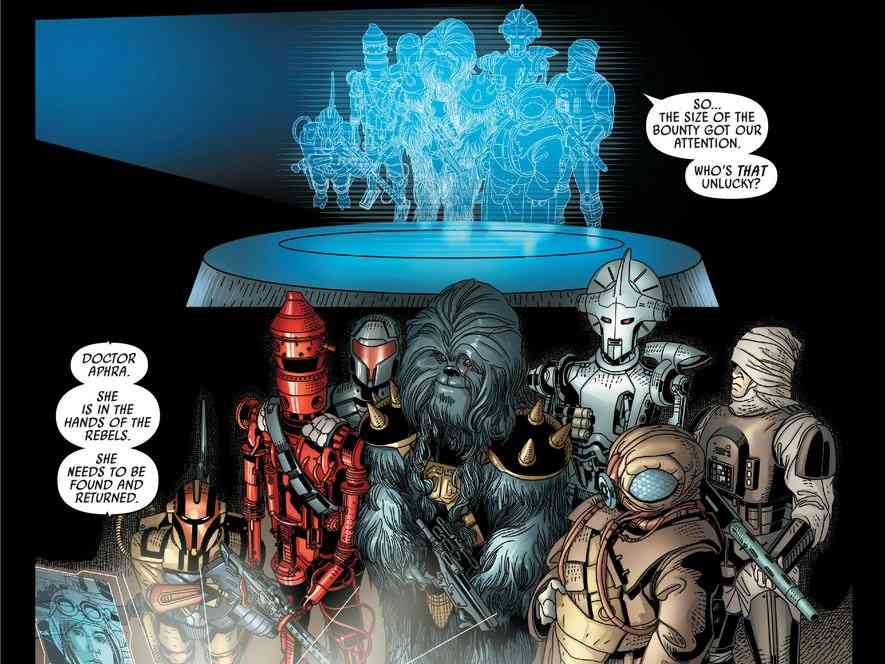 And he wants her dead or alive.
While I enjoyed Vader Down, which gave us Vader in full destruction mode, I longed to be back to this Vader who has to contend for his place, not just with his rivals but also with his wily master. That means he has to employ more than his powers and might of the Empire, but also his brain and his cunning. This is clearly a setup issue and therefore is light on content, but it gives us some satisfying visuals and small insight into the psychology of characters. I was always of opinion that art of Darth Vader comic was more consistent than that of Star Wars. Salvador Larroca does not disappoint.
I am also very happy to see another interesting female character in Star Wars, though I doubt Queen Trios's longevity. If I have any complaints, they are personal. From the beginning, I disliked the cyborg gang and my opinion hasn't changed. I feel that they overstayed their welcome and I hope that Kieron Gillen has plans for Vader to clean up the house. If the summary is to be believed and this is Vader's final rise to glory, that just might be the case.
It will be interesting to see how much the two main series would intercept, considering Doctor Aphra's position. That bounty hunter gallery promises a lot of fun. Overall, this was a solid issue that might be a beginning of an interesting story arc. And, as a beginning of the new story, it might be a good in for those who slacked so far to start their reading. 🙂
Staff member, comic and book reviewer. Cheers for the Light Side, but would drink with Grand Admirals.