Actor Mark Alec Rutter Reveals Interesting Details About the Filming of Star Wars: The Force Awakens!
The guys from StarWarsAwakens.nl have an extremely interesting interview with British actor Mark Alec Rutter. He played one of the core Stormtroopers and a Resistance fighter in The Force Awakens, and while he is not really a star, he offered some great details about the filming casting process, and described some really curious experiences he had on the set.
Excerpts from StarWarsAwakens.nl:
How did you get cast as a Stormtrooper and resistance Soldier for The Force Awakens?

I was put up for the role by my agent and went along for the screen test and boot camp. The role of a Stormtrooper is actually quite demanding and your measurements are quite important for the suit. When I got to Pinewood Studios I was slightly dismayed that 98 % of the guys were under 25, 'No pressure then!'  I am 53, the oldest Stormtrooper on The Force Awakens, but just got on with it and as always did my best. After two days of being tested for various different assessments , including stair walking in suit, weapon maneuvers, marching and running in formation, the 100 or so Troopers were split into three groups, A, B and C group. I had made it into a group! And later told I was to be in the core 8, which would be used for all close work on camera.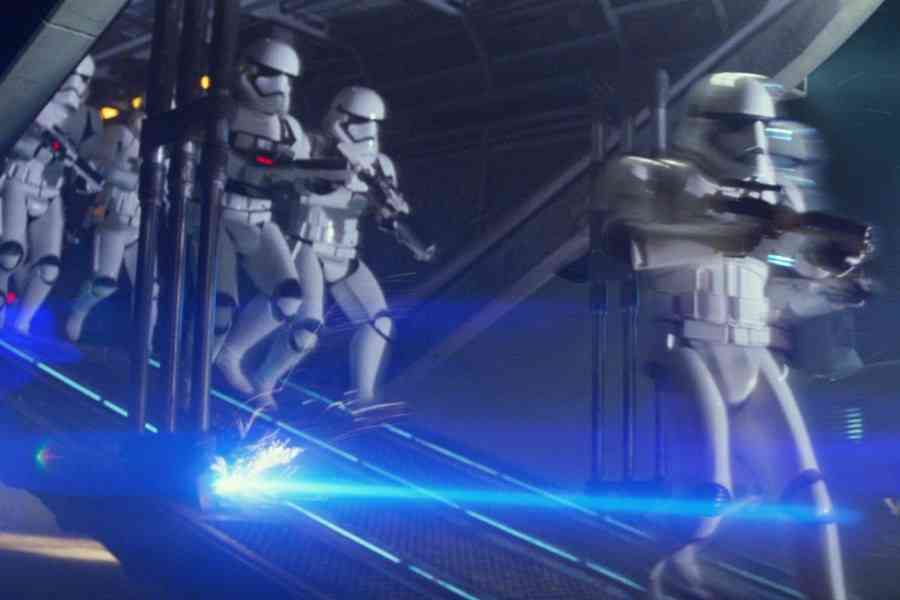 Back to The Force Awakens: In which specific scenes can we see you as a Stormtrooper?

Well, being one of the Core 8 I was in most of the scenes. In fact being very close to camera and as with all films what you see on screen they get cut or manipulated in some way. In opening scene invading the village, coming off the landing ship and running down ramp, holding prisoners and sweeping through village. The scene where Finn gets the blood on his helmet from his fellow trooper, I can be seen walking past behind. This was a night shoot, one of nearly two weeks' worth of village scenes.
The scene when Finn and Poe steal the Tie fighter, I am on ground firing at the ship as it tries to break free. This was a massive scene and filmed over several days, lots of different shots and we were used for many camera angles. The scene had a lot of pyro going off and I remember the set actually catching fire for a brief second but the fire support was awesome.
In the corridor scenes with Adam Driver, I am marching back and forth and in corridors while Daniel Craig was doing his mind games with Daisy Ridley.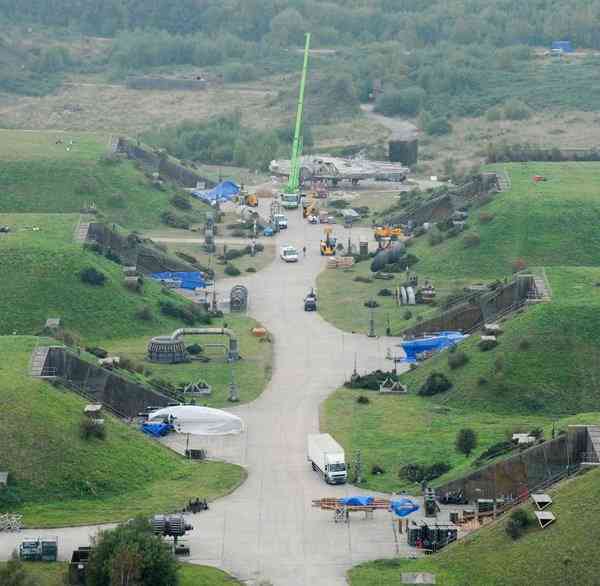 Besides playing a First Order Stormtrooper you're also the resistance soldier who helps Chewbacca carry a wounded Finn off the Millennium Falcon. What can you tell about filming this scene?

This scene was filmed at RAF Greenham Common, and the weather was good. The production had a lot of trouble keeping it secret and there were many days when filming had to stop or wait because planes, helicopters, or drones were overhead trying to get a glimpse of what was going on. Some photos were leaked to the press of X-Wings and sets. Production covered X-Wings up to hide them and it was quite stressful for JJ I believe.
On one of the days JJ had his own drone up in the air with camera on board so he could view the scene from the helicopters point of view but obviously a lot less expensive. When he was happy with everything he would bring in the chopper. I remember us all watching him maneuver it and we all applauded when he did a faultless landing.

On the day of the Falcon scene I turned up and was sent straight into makeup, so knew it was going to be a special day, and it was. The AD said to me: ' remember me when you're famous!', I remember laughing. This specific scene where I help Chewie carry Finn off the Millennium Falcon was considerably longer than what you see. Initially I run up to Chewie from camera left and help him down the ramp to a sort of first aid wagon. The camera pans round and I turn to camera, -face clearly seen- and then we were filmed traveling away through the crowd who had turned up to see the arrival of Han Solo off the falcon.
Poe (Oscar Isaac) was on the wagon and they drive off slowly with me running alongside holding Finn on the back. I had a trouble keeping a straight face as Poe was making fun of Finn and cracking jokes, it made a hot day much more fun.
Can you share more of your memories regarding the time you worked on The Force Awakens?

On one of the days I was standing in for Harrison Ford. It was in fact the scene where he and his son Kylo Ren are walking on the bridge just before Solo gets struck down and I was just relaxing there off set with a coffee and someone walked in and stood beside me. It was Daniel Radcliffe (Harry Potter) and he just wanted to have a look and say hi I guess, he turned to me and said hi, I returned the compliment and he walked off and had a chat with JJ, all part of filming I guess.

Another great day was actually the scene where all the troopers turn to see the planet explode. This was a really long day, 13 hours in costume I believe and such a scorcher. Troopers were passing out from heat and sweat constantly running down our backs into our boots, so glamorous! Continuous running day so no break for dinner as such. Anyway the day had come to an end and we were tired, waiting for the word," wrap" but an AD came over to us troopers and said: 'I need two troopers', one guy said ok and the next made up an excuse that his helmet was missing, so I said: 'OK, I'm in'. We were taken out past set and behind an easy-up, and there waiting and looking was Mark Hamill himself, with his wife and two children. We walked up and he approached me and said: 'Hi, pleased to meet you, I would shake your hand but you're carrying a gun and helmet', I instantly replied with: 'I can put the helmet down', smiled and introduced myself.  We were photographed with Mr. Hamill, me to his left pointing my gun at him and he is looking at me. I guess this was just a personal photograph but it might come out somewhere later. Again he was very humble and thanked me for my time, true gent. Great day for me.
You mentioned JJ Abrams earlier in this interview. What do you think of him as a director?

JJ is very calm and focused on what he wants, on the rare occasion that he does speak he commands the set and speaks with a controlled voice that only comes from experience. Most of the time the producer Tommy Harper runs the show to be honest and JJ is there behind the screens making sure everything is the way he wants. Tommy is a well-loved character on set and could always be heard shouting, "Energy Energy", with every take, with his broad Scottish accent. The main impression I got from JJ is that he was honored to be directing The Force Awakens and loved every minute of it.
There are even more interesting details from this interview which you can read at StarWarsAwakens.nl