Star Wars Weekly Buzz! New Rogue One Concept Art, Rumors on the Episode VIII Trailer and More
After a brief hiatus, our Star Wars Social Buzz article is back. In these weekly recap pieces we share interesting posts regarding the galaxy far, far away, from Twitter, Facebook and other social networks, as well as some articles that we didn't think deserved a separate article. This week we have a very cool exchange on Twitter with the involvement of Star Wars: Episode VIII director Rian Johnson, some interesting videos, including Felicity Jones hosting the SNL show, some new fantastic concept art images from Rogue One, an awesome new collection of posters for the prequel trilogy, the latest from Pablo Hidalgo and more…
We kick off the weekly buzz with this priceless exchange on Twitter between directors and friends Rian Johnson, Edgar Wright and Duncan Jones:
Next we have a few interesting videos posted on Youtube.
Felicity Jones hosted the latest episode of the Saturday Night Live show. She got some help from Saw Gerrera and Tina Fey.
In case you still hasn't seen it, here's the Unkar Plutt deleted scene from The Force Awakens in all its glory until the very end.
Back in 2013 Youtube user William Forsche posted an audio recording that was made in 1977 when he first saw Star Wars in the theater. Now using these recordings Youtube member Homer Thompson re-edited the original upload so the sound would match the picture. The result is really exciting:
Before Rogue One hit theaters in December we were hearing that Rian Johnson and company were already hard at work on an Episode VIII trailer. Many people assume that the first trailer will be shown during Celebration in April, but we are hearing rumors that we may actually see it earlier than that. We are still checking these rumors, and we can't confirm them at this point.
Erik Davis from Fandango also shared that he knows the work on the trailer had started weeks ago.
I know work started on it weeks ago https://t.co/CCrHwCI9vM

— ErikDavis (@ErikDavis) January 12, 2017
Some Star Wars fans that also happen to be scientists, named a new primate species after Luke Skywalker!
NEW PRIMATE SPECIES ALERT! Meet the Skywalker Hoolock Gibbon – and yes – the scientists are @starwars fans https://t.co/bf3BrsQCUq

— Rebecca Morelle (@BBCMorelle) January 11, 2017
And of course Mark Hamill is proud of this. 🙂
So proud of this! First the Pez dispenser, then the Underoos & U.S. postage stamp… now this! #GorillaMyDreams #SimianSkywalker #JungleJedi https://t.co/JKCe5kZFmJ

— Mark Hamill (@HamillHimself) January 11, 2017
Artist and director Andree Wallin shared some of his exceptionally looking art pieces for Rogue One: A Star Wars Story.
For the full Rogue One gallery make sure to visit Andree's site here.
Things are ramping up for this year's Superbowl. One team refers to their opponent as the EMPIRE!
Here is a sneak peek at the Pittsburgh Post-Gazette's AFC championship section. pic.twitter.com/NnklMQwll6

— Michael Sanserino (@msanserino) January 19, 2017
Listen to an all-new excerpt from the junior novel for 'Rogue One' A Star Wars Story'. Courtesy of Audiobooks.com
Very cool Star Wars fan art was posted by Michael Maher depicting the young cast of the popular TV series Stranger Things as characters from the galaxy far, far away. For more Star Wars fan art by Maher click here.
IO9 exclusively shared Bottleneck Gallery's new posters for The Phantom Menace, Attack of the Clones, and Revenge of the Sith. The art is really stunning.
Fashion designer, mixed artist, and cosplay model Kay Pike shows off her new time lapse video that features herself painting a Star Wars C-3PO costume on her body. You can check out more of her work on her Youtube page.
The latest from Pablo Hidalgo!
Some clarification on the letters on Rey's X-Wing helmet:
@PegCityCade Rohan and Hal are the names of the sons of a costume designer. It's also why Rey's X-Wing helmet says "R&H"

— Pablo Hidalgo (@pablohidalgo) January 19, 2017
@CooperDegarnham Eh. Probably best to leave that up to the theorists to decide.

— Pablo Hidalgo (@pablohidalgo) January 19, 2017
Pablo explains on which of the new Star Wars movies, his involvement was bigger and why:
On why we don't see Wedge in the battle over Scarif: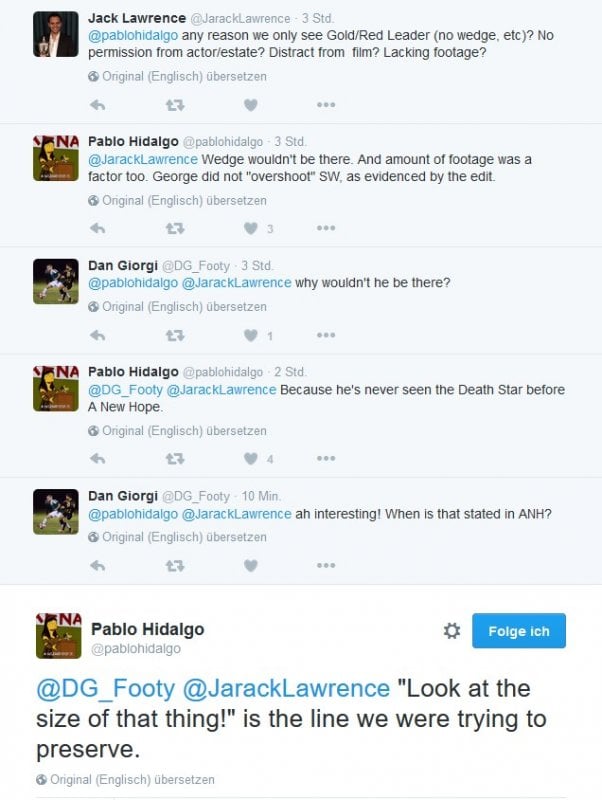 Another explanation on who is calling the storytelling shots, after Disney bought LFL:
Stay tuned for more next week.