SWNN Review: Marvel's Star Wars #15
Review by Cantina staff member Lady Musashi.
After the Vader Down crossover, we are back to the regularly scheduled program with Star Wars #15, which is another excerpt from Kenobi's journal.
FROM THE JOURNALS OF OBI-WAN KENOBI
• Another tale of Obi-Wan's exile on Tatooine!
• Owen Lars took Luke in…but he refused to let Ben be part of his life. Why?
• What trouble could have been stirred up by Ben protecting Luke?
It happens two years after the events described in Star Wars #7. Jabba the Hutt is still searching for the person who fought off his "water tax collectors". Luke is on the verge of adolescence, horsing around with his friends and trying to conquer Beggar's Canyon while Obi-Wan watches him from afar. Let's just say things didn't end in a rousing success like Luke's statement from A New Hope might make you believe. At least, not this time.

Uncle Owen forbids Luke to fly, but his distant protector has other plans. Obi-Wan comes out of hiding to provide Luke with what he needs. And he does it the only way he knows how.

However, Obi-Wan's help isn't appreciated by Owen, although he knows that Obi-Wan keeps protecting his household: they are the only ones never attacked by Sand People or Jabba's thugs. He doesn't want Luke to learn how to fly, because he doesn't want him to ever leave. This was a very difficult scene to read, because we are in the know – we know what really happened and the sacrifices Obi-Wan had to make. And, while you understand Owen, at the same time you actively dislike him.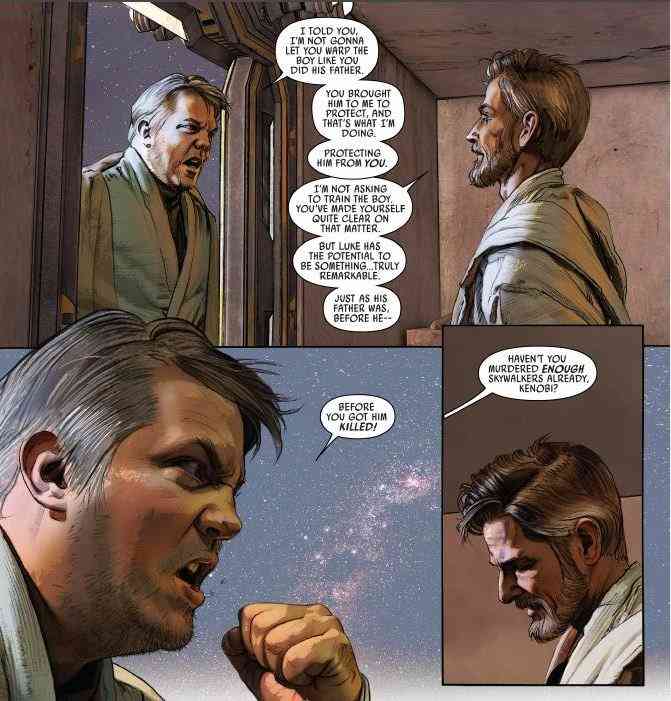 In the meantime, Jabba the Hutt brings a new mercenary into the fold hoping to catch the mysterious man who defeated his thugs two years earlier. He has to prove his worth by wiping the floor with Jabba's men. The mercenary is someone we know – Black Krssantan.
It is clear from this issue that Obi-Wan holds a lot of hope in Luke, hope that his Force abilities will manifest themselves into something special and that he will be able to succeed where Anakin failed. At the same time, he fears the similarities with Anakin he observes in the boy (and you will too). He constantly talks to Qui-Gon Jinn, yet it is unclear if he is truly in contact with him and learning from his old master or if he does it because he has no one to take advice from and because he is lonely. This is not the broken Obi-Wan we saw in the previous issue. This Obi-Wan is still a Jedi. He has accepted his fate and is determined to protect the boy at all costs. He has even regained the sense of humor we all love him for. Snake for dinner? Tasty!
It's also interesting how Marvel and Lucasfilm continue to fill in Luke's back story. In one of the previous issues, we saw how he learned to fight with a lightsaber. Here, we see him actually fly – something that was only mentioned in A New Hope ("It will be just like Beggar's Canyon back home.").
Mike Mayhew's art is gorgeous. He excels at facial expressions and movement. The coloring was also excellent and shows a more vivid side of Tatooine. I liked Simone Bianchi's take on Obi-Wan in Star Wars #7, but I really hope Mayhew returns for the next Kenobi issue.
I both love and hate these Kenobi issues. I love them not only because Obi-Wan is one of my favorite characters, but because I, like all of us, have always wanted to know what he was doing all those years in exile. I hate them, because they are so short. Just when the story starts, it's over. And we will have to wait for another story arc to end before we can read what happens between Ben and Black Krssantan.
If you are following Marvel's Star Wars, this is a worthy addition to your collection. If not, I wholeheartedly recommend you to get it anyway – for the gorgeous art, a peek at a very young Luke Skywalker and Obi-Wan.