John Boyega and Harrison Ford Briefly Talk The Force Awakens. Boyega Promises "a Sneaky Gift" for Star Wars Fans Today!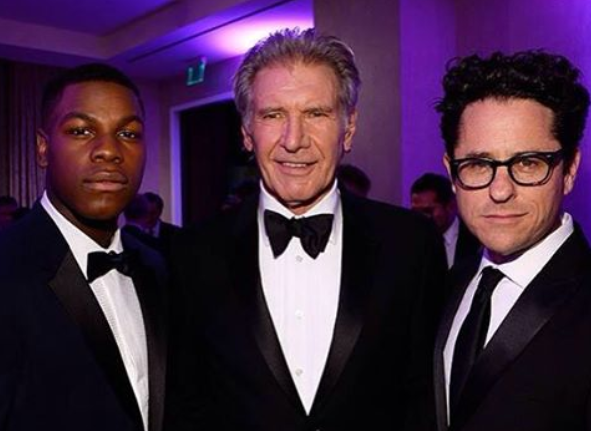 John Boyega and Daisy Ridley recently revealed that they met with the Star Wars maestro John Williams, while he was conducting the music for Star Wars: The Force Awakens. Few days ago, while chatting with ET Online at the Britannia Awards, Boyega and Ford briefly talked about the highly anticipated new Star Wars movie…
During the brief interview Boyega revealed that his character Finn will have his own theme on the movie's soundtrack:
"That was amazing," said Boyega. "We heard some original tunes and some new ones too."

"Let me just say, it's crazy to have your own theme, people!" said Boyega. "It's absolutely ridiculous."
According to ET Online Boyega was on the carpet in support of his Force Awakens co-star, Harrison Ford, who was being honored for his 'Worldwide Contribution to Entertainment.' Ford said:
The cast is fantastic, I'm delighted to be involved.
Later Boyega posted this funny dialogue between him and Ford on his Instagram:
Definitely sounds like this is something Han Solo would say, right? Who knows, maybe, or maybe not. Still, it's interesting that it was Boyega there for Ford's support. From what we've seen so far and Boyega's multiple interviews, it is clear that both actors have spent a lot of time together on the set. The whole truth about their roles will be revealed in just 43 days!          
Also today John Boyega posted the following tease on twitter:        
I've got a sneaky gift for SW fans today. Watch this space #TheForceAwakens — John Boyega (@JohnBoyega) November 4, 2015
What could it be? Stay tuned…