UPDATE 2! Entertainment Weekly's Exclusive Look at Star Wars: The Force Awakens! Harrison Ford Interview. What title does Leia go by in TFA?
Entertainment Weekly will be releasing a special double issue this Friday dedicated to Star Wars: The Force Awakens. These collector editions feature four different covers: Han Solo, Rey, Finn, and R2-D2 and C-3PO. They also promised that they have some more interesting reveals coming up throughout the day…
Here are some snippets of what you'll find inside:
Behind-the-scenes of The Force Awakens
From the origins of George Lucas handing off his saga to a new generation, to how the artists and storytellers unleashed their imaginations to come up with new creatures, locations, and characters. This story talks to the major players and reveals never-before-seen images from the film.

We go light on spoilers, but Abrams does tease a few character details, including background on Lupita Nyong'o's alien pirate Maz Kanata, what name Princess Leia is known by now, and what we need to know about Starkiller Base, the planet-sized weapon glimpsed in the movie's poster.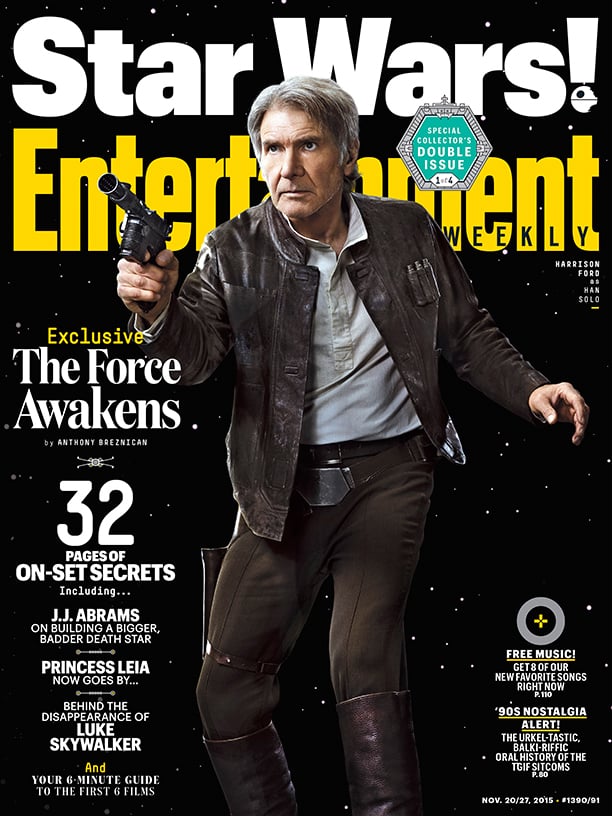 The Return of Han Solo
We venture into Harrison Ford's airplane hangar in Santa Monica for an in-depth interview with the death-defying actor about surviving his real-life plane crash, surviving a Millennium Falcon door slamming on him during filming, and Han Solo surviving long enough for the actor to play him again.
Where Is Luke Skywalker?
We can't answer that question. (That's the movie's job.) But Abrams and Mark Hamill explain how the last Jedi went from hero to intergalactic man of mystery.  The galaxy's memory of Skywalker may have faded, but don't worry – the filmmakers have not forgotten him.
Finn and Rey
Daisy Ridley and John Boyega talk about breaking down racial and gender barriers in Star Wars, as well as finding friendship – in real life, and onscreen – through a desert scavenger and a runaway stormtrooper who have more in common than you'd expect.
Creatures and Vehicles
Secrets of BB-8 and the Jakku alien huckster known as Bobbajo, and tech specs from the production design team for Rey's rust-flecked speeder and the refurbished Millennium Falcon.
Dressing the Galaxy
Molly Smith writes about the costumes and make-up of The Force Awakens and its predecessors, detailing the secrets of Kylo Ren's mask, Han Solo's jacket, and Rey's desert gear – and some of the more iconic outfits from the original trilogy.
The 1-Minute Guide
Your go-to guide to each of the previous six Star Wars films. Kevin P. Sullivan's wry rundown is for those who, you know, haven't had time over the past 38 years to stay current.
Canon Fodder
Once there was the "expanded universe," and then it shrunk. Darren Franich explores the known reaches of which stories make up the current Star Wars galaxy, from the comics, to games, novels, TV and film.
Stay tuned to Entertainment Weekly for some new images and information throughout the day.
Pick up Entertainment Weekly's special Star Wars: The Force Awakens double issue on newsstands Friday.
UPDATE 1!
The first new story for the day is an interview with Harrison Ford:
Excerpt from Entertainment Weekly:
He repeatedly said he wished Solo had been killed off in Return of the Jedi to give the final film in the original trilogy emotional gravity. He told NBC's Today back then, "I was glad to see that costume for the last time."

The 73-year-old star has softened significantly now that the planet is beside itself awaiting his return in Star Wars: The Force Awakens. "I was glad that the character was still alive for me to play in this new iteration," he says.

Ford does play favorites when it comes to his two most iconic characters. He has made no secret about preferring Indiana Jones  to Han Solo, and he's ready to put the fedora back on and jump into action for Indy 5 any time Steven Spielberg and the gang at Lucasfilm decide to get the ball rolling (so to speak.)

"Oh, yeah. Yeah, I'd love to do another Indiana Jones," he says, sitting at a round picnic table in the back of the hangar. "A character that has a history and a potential, kind of a rollicking good movie ride for the audience, Steven Spielberg as a director — what's not to like?"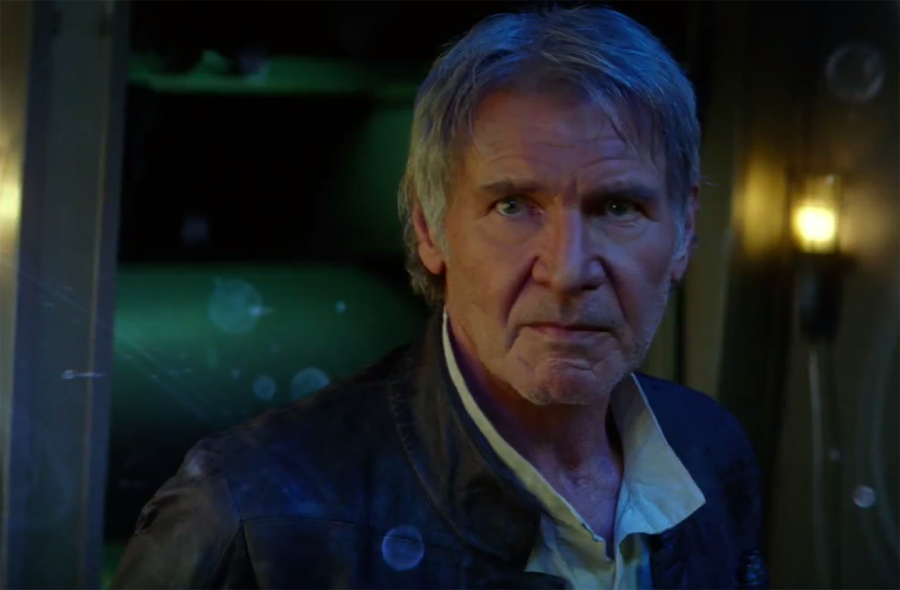 Asked if he watched the Force Awakens trailer debut along with the rest of the world during halftime on Monday Night Football, he answers: "I was trying to watch the damn football game!" Only grudgingly does he admit that everything stopped for a moment at his home with Flockhart and their son while it aired. But just for a moment. "We were in the middle of preparing dinner and doing homework, and…" He shrugs. "Just watching it over our shoulder."

"No, there's not an abandoning of the character," Ford says, more earnestly than you'd expect from Mr. I-Guess-We-Watched-The-Trailer. "He does not aspire to the position of Obi-'Ben' Kenobi, nor do I aspire to be some New Age Alec Guinness. His development is consistent with the character, and there are emotional elements which have occasioned his growth."

Has Lucasfilm talked to you about their young Han Solo film slated for 2018?

Ford leans back and smiles. "I think they're probably talking to the young Han Solo."

What advice would you give to the actor they cast to help him get inside Solo's head?

"I would say, 'Talk to your director. Watch the movies. And welcome aboard. Make it your own.'"

How do you feel about someone else picking up the blaster?

"I never thought about it."
For the full interview go to Entertainment Weekly.
UPDATE 2!
Leia is a princess no more.  Mostly anyway.  EW continues delivering the goods today with its piece on Leia.  Including the fact that she no longer goes by Princess, but instead is referred to as General.
"She's referred to as General," says director and co-writer J.J. Abrams. "But … there's a moment in the movie where a character sort of slips and calls her "Princess".
Among the other information included in the piece, it is revealed that Leia is not going to be having much fun in this film.
Part of the reason it was a big adjustment is Leia is far from the movie's comic relief. As Abrams said, her story is one of the heavier ones in the film. So how is the General handling things when we meet her again?

"Not easily," Fisher says, describing Leia as, "solitary. Under a lot of pressure. Committed as ever to her cause, but I would imagine feeling somewhat defeated, tired, and pissed."
The piece also has some comments from JJ Abrams and Fisher on her return to acting and the experience of the veteran cast members.
For the full piece check out EW.