Rumor: Details on Daisy Ridley's Scenes Shot on Skellig Michael!
The IrishMirror posted today a very interesting article about the Episode VIII shoot that took place this week on Skellig Michael. One of their reporters visited the island after it was opened again for regular visitors. The trip to the island unveiled some very curious details about the cast and the scenes they shot there…
SPOILERS AHEAD!
First of all keep in mind that the info in this article is coming from local residents, and it should be treated as rumor until we have any official confirmation. Although it is believed that some of the residents have signed confidentiality clauses, this didn't stop some of the local folks to share with the reporters some juicy details about the filming.
Some of the things reported by the IrishMirror (via Terence Mulvey), we've already covered in our previous reports, but we will keep them for the sake of continuity:
There were around 100 film crew members working on the island.
They came on a powerful boat that takes only 20minutes to get from Portmagee to the island.
Production lasted three days.
They wanted to begin on Monday originally, but the weather was so bad that no one could get on or off the island. So they began on Tuesday, and finished on Thursday night.
They'd booked another three days, but they didn't need them in the end, it was wrapped up a lot quicker than expected, thanks to the weather improving.
There were only four helicopter landings allowed.
Most of the material used had to be brought in by boat, and despite how heavy some of it was, people working on the set had to carry it on their shoulders all the way up the steps to the various areas around the island where scenes were shot.
Daisy was filming a fighting scene from 8am one day in a flat area up a first set of steps.
The effects team made some fake rocks. One of them was placed where Daisy shot one of the action scenes. She was swinging around. You'd imagine they'll add her lightsabers during the editing…(or bo staff 😉 )
A 15 minute-climb leads to the monastery, a few meters from where another fight scene was reportedly shot.
As we first reported a few days ago, Daisy Ridley's stunt double Chloe Bruce was also present during the shoot. And although the IrishMirror reporter uses the term "fight scene", it's more likely that they shot a training sequence between Luke and Rey.
From everything we've seen and heard so far (including Kathleen Kennedy's words), it seems that Ridley will be very skillful with the staff. Also we heard legit reports that her character will be very agile and athletic. Considering her weapon of choice, before her encounter with Luke, it's not a hard guess that the staff will be turned into a Jedi weapon if it wasn't in the first place.
It's interesting that only Rey is being trained by Luke. What happened to Finn, who was holding a lightsaber in the recent Instagram clip? I can assure you that this isn't the only scene in the movie, where he is wielding a lightsaber (more on this on our next episode of The Resistance Broadcast). Also why is not Finn on any of the merchandise photos with The Falcon, Chewie and Rey? Does he have a sidetrack mission? Are they separated? Is he kidnapped or dead? Countless possibilities!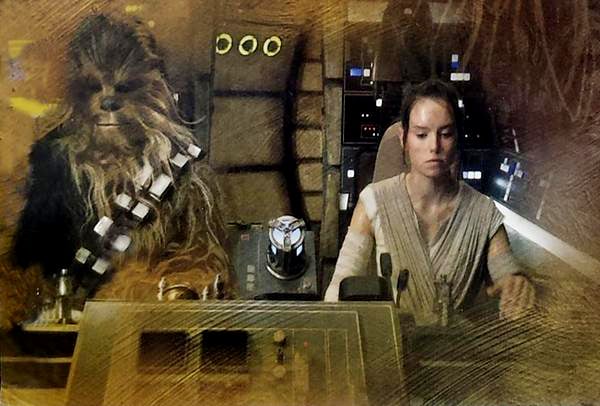 You can definitely see that Rey and Chewie are sad in the photo above (still puzzled why they used that photo for a notebook). There are several possibilities about the reason for that. What do you think? Tell us in the comments below or joins us in The Cantina!
All answers coming in just 3 months time!