UPDATE 3! Entertainment Weekly: New Photos and Plot Details for Star Wars: The Force Awakens!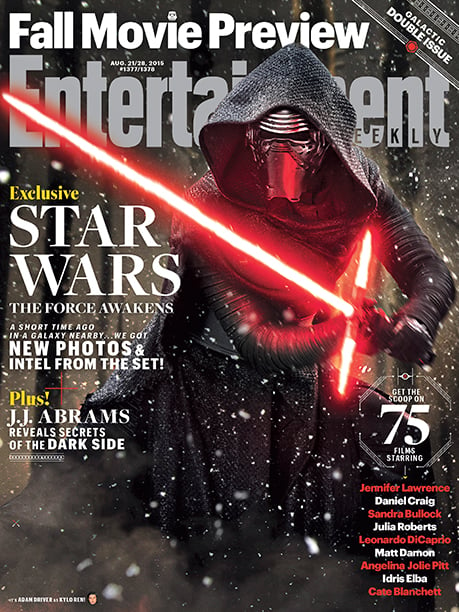 As if to make up for yesterday's disappointing news about D23, Entertainment Weekly is more than making up for it by showing off new photos of Star Wars Episode VII: The Force Awakens! Furthermore, there's also a slew of new details about the movie's story!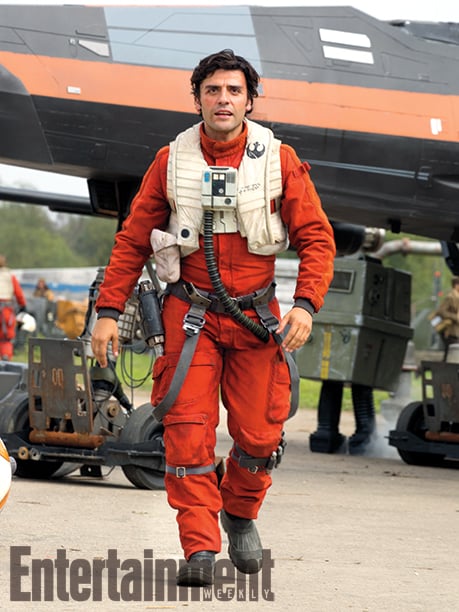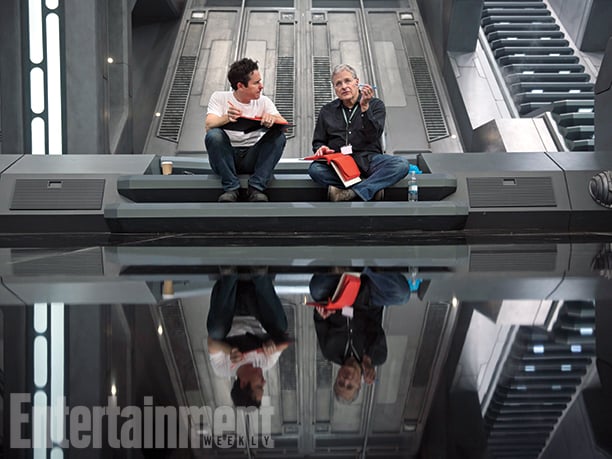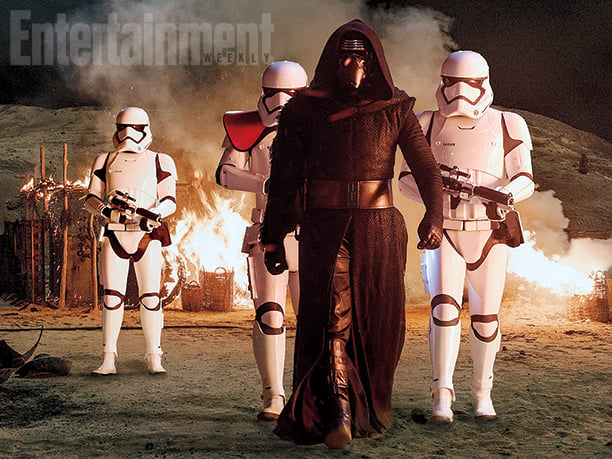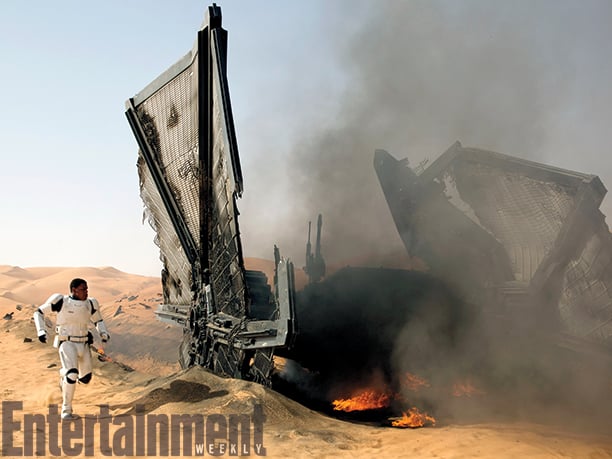 Entertainment Weekly also has a few more cool stories in store today, so stay tuned as we update this article with them!
UPDATE 1!
But the photos aren't all. EW shed more light about J. J. Abrams and the making of the movie itself. Originally, Abrams turned down the opportunity to direct the film, but later changed his mind after a chat with Kathleen Kennedy herself:
Undeterred, Kennedy persuaded him to helm Star Wars: The Force Awakens by asking a simple question, one with the potential to upend our core beliefs about the galaxy far, far away. "In the context of talking about story and laying out what we were thinking, I said one thing to him," Kennedy recalls. "'Who is Luke Skywalker?'"

Abrams, who's 49 now but was only 11 when the original Star Wars debuted in 1977, decided he needed to know the answer, even if he had to devise it himself. "He said, 'Oh my God, I just got the chills. I'm in,'" Kennedy says. "I mean, it really was almost that quickly."

Abrams says his wife also helped him get over his hesitation. "You rarely get a chance to be involved in something that you would typically be an audience for. Katie, my wife, said, 'If you want to do this and you don't, you're going to regret this.' It was really about being willing to take that leap, and jump into the possibilities of what these characters are doing, and where they are."

There were a lot of possibilities on the table when Abrams signed on, but no finalized story. Lawrence Kasdan, who had written The Empire Strikes Back and Return of the Jedi, was developing a young Han Solo standalone movie, which was just recently confirmed but began development years ago. He joined with Michael Arndt, who'd won an Oscar for the script to Little Miss Sunshine, and Simon Kinberg, who wrote Mr. & Mrs. Smith and X-Men: First Class, to break down trilogy possibilities with Kennedy.

"[They] had just been hypothesizing and throwing out a bunch of what-ifs, but there was no story in place," Abrams says. "It was, without doubt, a formidable assignment. There were so many options and so many paths that could be taken. Even when we were in debate — and sometimes it was frustrating and heated — it was always thrilling, because it seemed almost everywhere you looked there was something potentially extraordinary, which felt very much like the DNA of Star Wars itself."

With Abrams on board, this story team began asking questions. They knew they had Mark Hamill, Harrison Ford, and Carrie Fisher already committed — so that gave them Luke, Princess Leia, and Han Solo to play with. "My guess is that any question that anyone would be having was among the endless questions we were asking at the very beginning," Abrams says.
Furthermore, EW is also running with some brand-new information about the story of The Force Awakens. I'll paraphrase the most important points into a bulleted list.
SPOILERS BEGIN HERE!
The Imperial Remnant has morphed into the First Order, while the Resistance is described as a splinter group (of what, it's not clear; there's no word if it's splintered off from the New Republic or if it's splintered off from another organization).
Princess Leia has acquired Luke's old lightsaber – which, in turn, belonged to Anakin. So it was somehow found after falling into the depths of Cloud City.
The driving question that influenced Abrams (and will presumably be hugely apparent within the context of the story itself) is "Who is Luke Skywalker?" (And no, that's not a lazy Atlas Shrugged reference.) This is a question that will be raised in The Force Awakens and will continue to be brought up in the other two films in the Sequel Trilogy.
On the note of the story of the Sequel Trilogy, the general arc has been decided upon, but the story of the film is still evolving.
The Original Trilogy characters have all been "changed" by the events of the Galactic Civil War – that is to say, they're not quite the same people that they were when we last saw them partying on Endor at the end of Return Of The Jedi. Kennedy notes that the story arc for the new movies will compliment the message of the films in the Original Trilogy – and not completely reject it, as some have feared.
Abrams will not be directing Star Wars Episode IX.
George Lucas's words and vision are still important for Lucasfilm after his retirement. When asked about this, Kennedy said "George spoke often about that tension in everybody between what's good and bad. He always felt that it was easier to be bad than good. I'm not sure all people would agree, but I think that that's always an interesting conflict to explore. So that's a big part of the themes inside of Episode VII."
Kasdan turned down work on the Prequel Trilogy since it only covered the backstory of Star Wars, but he jumped at the call to work on stories set after Return Of The Jedi. Kasdan noted that when writing for the characters, he found that they weren't necessarily wiser so much as they were more experienced.
One of the most important bits of information come from the following quote:

"The amount of screentime the Skywalker twins may get is still unclear, although Luke's fate is obviously a key factor. Ford's Han Solo, however, will be one of the leads, piloting the Millennium Falcon alongside his old pal Chewbacca (Peter Mayhew.) Among the newcomers, desert scavenger Rey (Daisy Ridley) and runaway stormtrooper Finn (John Boyega) will be running for their lives, with the rolling droid BB-8 trying to keep up. Eventually all five of them end up aboard that familiar starship."
Still to come from Entertainment Weekly is a piece about Kylo Ren's backstory and more after that, so stay tuned for when we cover those!
UPDATE 2!
EW made an article regarding the backstory of Kylo Ren. I'll go for a bulleted list again, but the short of it is that those who thought we knew a good amount of information about him are in for a surprise…
The First Order – which Kylo Ren is allied with – is an Imperial Remnant. The wording in the articles suggests that there are other Imperial Remnants besides the First Order.
As many have come to understand, Kylo is obsessed with Darth Vader and wishes to carry out his legacy.
Kylo's mask actually has a backstory to it, although Abrams admitted that Lucasfilm designed it in such a way to pay homage to Darth Vader.
As those who have seen the crossblade lightsaber up close can attest to, the weapon is cobbled together by Kylo and is not a relic weapon.
EW hypothesizes that Kylo is the anti-Luke – he's an individual that starts from nothing and becomes legendary. However, whereas Luke chose the Force's Light Side, Kylo allied himself with the Dark Side in his ambition.
Abrams has said that Kylo Ren is not as fully-formed as a bad guy as, say, Darth Vader is. He very much sees himself as a hero in his twisted mind.
"Kylo Ren" is not his real name. It is a title, much like "Darth Vader". He isn't a Sith, either. He's a member of an organization known as "The Knights Of Ren", who bestowed the title upon him when he was initiated into their numbers. (Throwing this out there as a bit of speculation – Snoke is probably part of the Knights Of Ren as well, who I imagine are all Force-sensitive.)
EW teases that we might know who one – or both – of his parents are before the movie comes out.
Kasdan noted that he felt that Kylo Ren was the most original character he'd ever written for a Star Wars movie. He is a villain driven by his emotions, which Kasdan says Adam Driver really fleshes out on the screen.
And Entertainment Weekly, true to form for today, has teased yet another article before the day ends. Stay tuned!
UPDATE 3!
J.J. Abrams explains how they came up with the names in the movie.
On Finn and Rey:
Is there a piece of information that's being held back there about their names — perhaps because their last names are ones we may already know?

Abrams isn't ready to reveal their full identities, but did confirm that this theory was getting warm. "I will only say about that that it is completely intentional that their last names aren't public record," he says.
On Poe Dameron:
Dameron comes from J.J. assistant Morgan Dameron. (We told you about that some time ago HERE)
"Dameron came out because it was, obviously, a name that I know, and it just musically felt right," Abrams says. "There was no sort of deep reasoning behind it, and I also knew it would make Morgan blush if we named a character that. So she had this giant smile on her face."

"We went through a bunch of different names, and Poe ultimately felt like the right name. Someone reminded me recently that my daughter had had a polar bear named Poe [or Po' — short for "polar"], and that might've been why it felt right. There was a kind of sweetness to, and a charm to that name."
On BB-8:
Abrams chose the droid's name because it looked round and bouncy. "I named him BB-8 because it was almost onomatopoeia," the director says. "It was sort of how he looked to me, with the 8, obviously, and then the 2 B's."

A lot of names were second-guessed into oblivion, but this is one they never changed, from very early on. "It's funny how sometimes, the bad ideas, you try them out and kick the tires a little bit, and it just kind of falls apart and you can go somewhere else, you've just got to know it's temporary. And that one, he never had another name. But Bryan Burk, whom I adore, is not the father of that name."
On General Hux:
"Larry and I would walk all over the place when we were breaking the story, and we would record our conversations," Abrams says. "We were walking through a cemetery that's near the Bad Robot offices, and we would often, as we were talking about characters, sort of just be glancing at names to see if any of them stuck. I don't believe that Hux came from there, but it may have."
On Captain Phasma:
During preproduction, Abrams was reminded of Phantasm, a 1979 horror film that featured a gaunt, terrifying figure known as The Tall Man and a flying, silver sphere that bores into its victims' bodies like a bullet crossed with a drill-tip.

"Phasma I named because of the amazing chrome design that came from Michael Kaplan's wardrobe team. It reminded me of the ball in Phantasm, and I just thought, Phasma sounds really cool,"
Abrams also revealed more details on the picture with Rey cutting BB-8 free from the net of a fellow scavenger in the dunes of Jakku:
BB-8 was snagged by a surly little sand-dweller known as Teedo, who is riding atop what looks like a rhinoceros fused with metal boxes.

That beast of burden is known as a luggabeast, a never-before-seen creature from the universe.
Teedo is played by actor Kiran Shah, who played an Ewok in Return of the Jedi, doubled for Christopher Reeve in the 1978 Superman film (when they needed to create forced perspective shots) and also helped make Frodo seem small beside Ian McKellen's Gandalf in The Lord of the Rings movies.
For the full interview make sure to visit EntertainmentWeekly.
And if this was not enough EW teased yet another exclusive article tomorrow simply teased as "Thursday is Han Solo day."
Grant has been a fan of Star Wars for as long as he can remember, having seen every movie on the big screen. When he's not hard at work with his college studies, he keeps himself busy by reporting on all kinds of Star Wars news for SWNN and general movie news on the sister site, Movie News Net. He served as a frequent commentator on SWNN's The Resistance Broadcast.