Journey To The Force Awakens Books Unveiled.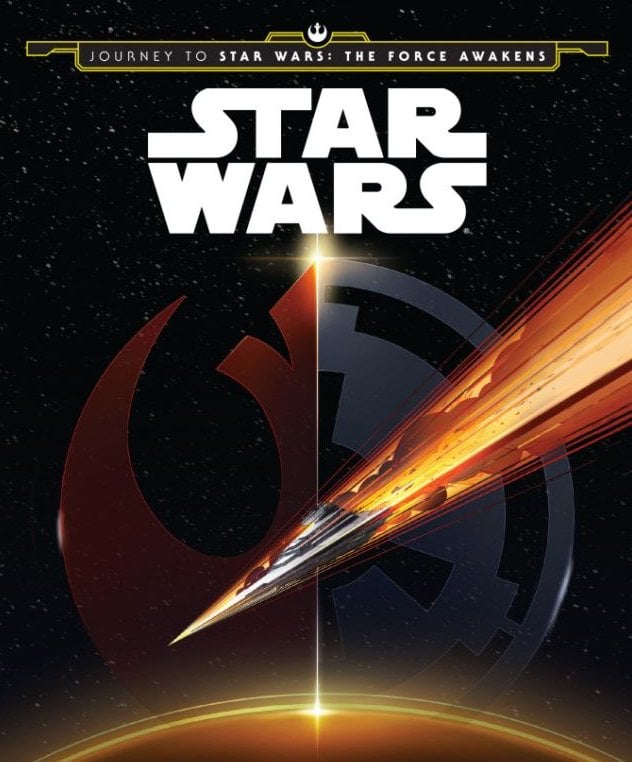 Shortly before the San Diego Comic Con comes a few overviews of the books leading up to the long-awaited release of The Force Awakens, complete with all-new details. Look ahead for a list of Star Wars novels and "just for fun" stuff that will be ready by September…
Let's start off with the narratives. (Not all of these stories take place after Return Of The Jedi, but many will still be tied to The Force Awakens. Text comes from the official Star Wars website.)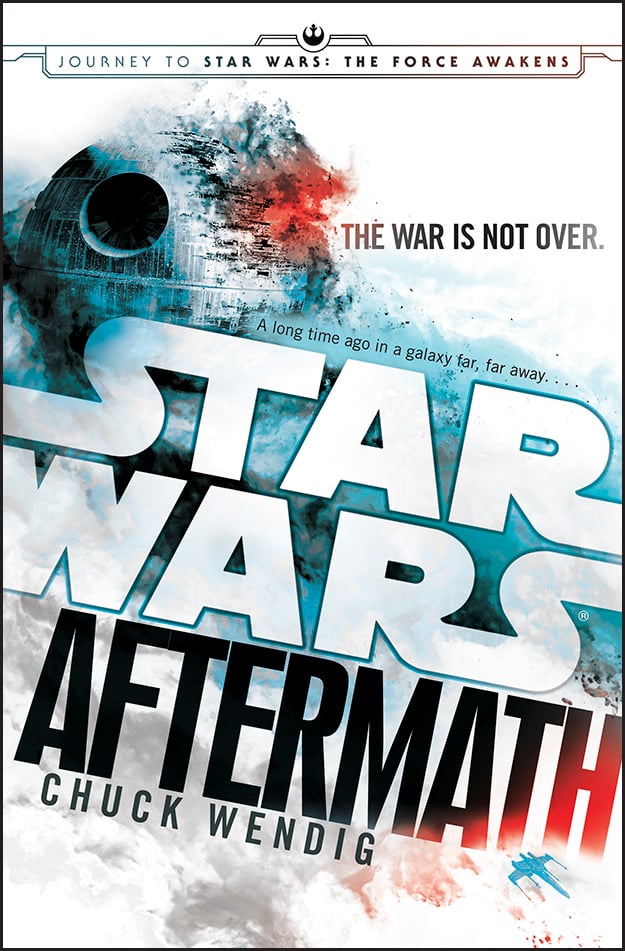 Star Wars: Aftermath (Del Rey), written by Chuck Wendig
 
As the Empire reels from its critical defeats at the Battle of Endor, the Rebel Alliance — now a fledgling New Republic — presses its advantage by hunting down the enemy's scattered forces before they can regroup and retaliate. But above the remote planet Akiva, an ominous show of the enemy's strength is unfolding. Out on a lone reconnaissance mission, pilot Wedge Antilles watches Imperial Star Destroyers gather like birds of prey circling for a kill, but is taken captive before he can report back to the New Republic leaders.
 
Meanwhile, on the planet's surface, former Rebel fighter Norra Wexley has returned to her native world — war weary, ready to reunite with her estranged son, and eager to build a new life in some distant place. But when Norra intercepts Wedge Antilles's urgent distress call, she realizes her time as a freedom fighter is not yet over. What she doesn't know is just how close the enemy is—or how decisive and dangerous her new mission will be.
 
Determined to preserve the Empire's power, the surviving Imperial elite are converging on Akiva for a top-secret emergency summit — to consolidate their forces and rally for a counterstrike. But they haven't reckoned on the Norra and her newfound allies — her technical genius son, a Zabrak bounty hunter, and a reprobate Imperial defector — who are prepared to do whatever they must to end the Empire's oppressive reign once and for all.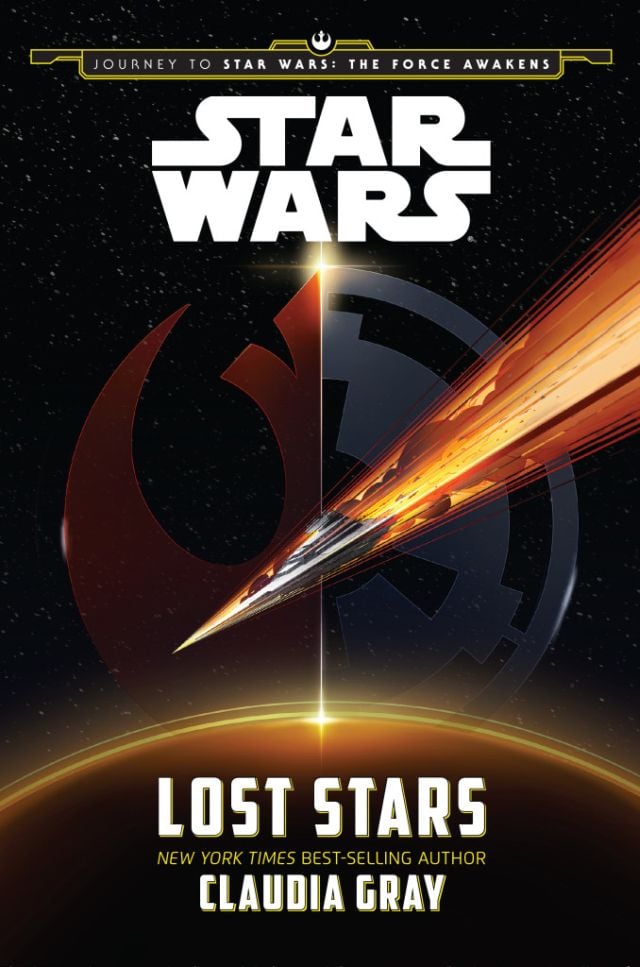 Star Wars: Lost Stars (Disney-Lucasfilm Press), Young Adult novel written by Claudia Gray
 
The reign of the Galactic Empire has reached the Outer Rim planet of Jelucan, where aristocratic Thane Kyrell and rural villager Ciena Ree bond over their love of flying. Enrolling at the Imperial Academy together to become fighter pilots for the glorious Empire is nothing less than a dream come true for the both of them. But Thane sours on the dream when he sees firsthand the horrific tactics the Empire uses to maintain its ironclad rule.
 
Bitter and disillusioned, Thane joins the fledgling Rebellion — putting Ciena in an unbearable position to choose between her loyalty to the Empire and her love for the man she's known since childhood.
 
Now on opposite sides of the war, will these friends turned foes find a way to be together, or will duty tear them — and the galaxy — apart?
Star Wars: The Weapon of a Jedi — A Luke Skywalker Adventure (Disney-Lucasfilm Press), written by Jason Fry
 
Luke Skywalker returns in an all-new adventure!
 
In this story, set between Star Wars: A New Hope and Star Wars: The Empire Strikes Back, Luke finds himself drawn to a mysterious planet, where he must use the Force to save a young girl — and survive in a dangerous duel against a strange new villain.
Star Wars: Moving Target — A Princess Leia Adventure (Disney-Lucasfilm Press), written by Cecil Castellucci and Jason Fry
 
Princess Leia returns in an all-new adventure!
 
In this story, set between Star Wars: The Empire Strikes Back and Star Wars: Return of the Jedi, Princess Leia must lead a ragtag group of rebels on a treacherous decoy mission against the evil Galactic Empire.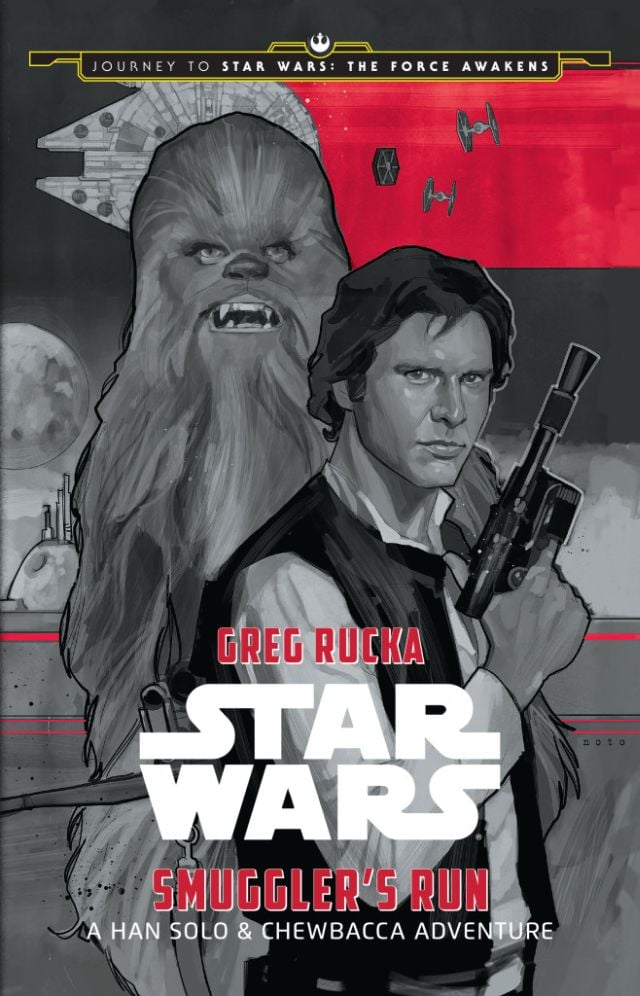 Star Wars: Smuggler's Run — A Han Solo & Chewbacca Adventure (Disney-Lucasfilm Press), written by Greg Rucka
 
Han Solo and Chewbacca return in an all-new adventure!
 
In this story, set between Star Wars: A New Hope and Star Wars: The Empire Strikes Back, Han and Chewie must fly the Millennium Falcon on a top-secret mission for the Rebellion, while evading ruthless bounty hunters and a relentless Imperial agent.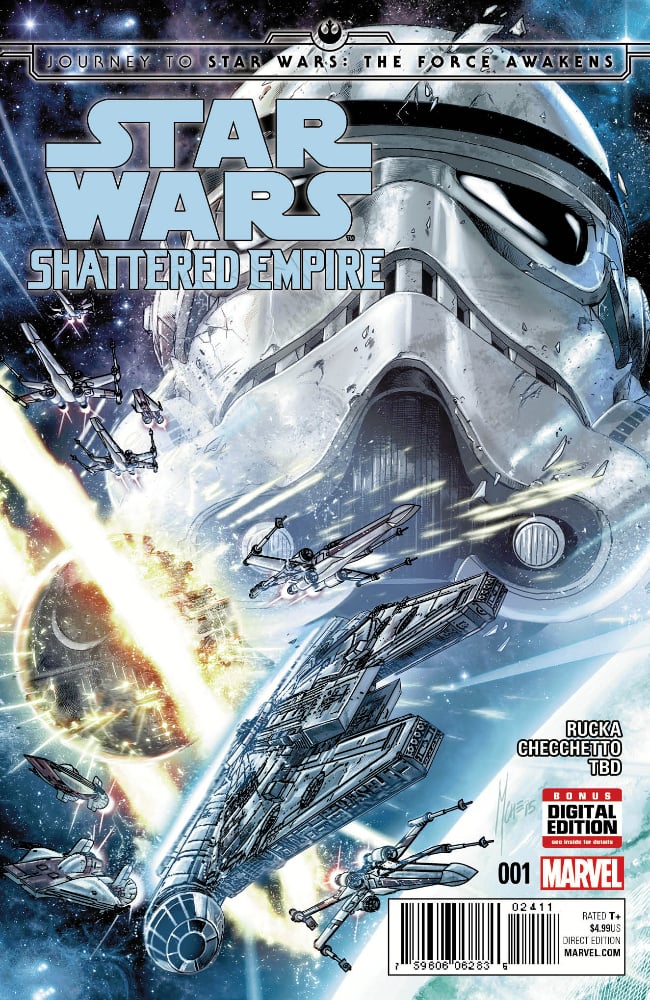 Star Wars: Shattered Empire (5-issue Marvel comic book series), written by Greg Rucka and illustrated by Marco Checchetto
 
The second Death Star has been destroyed. The Emperor is dead. The galaxy celebrates. What happens next? Written by Greg Rucka and illustrated by Marco Checchetto, Shattered Empire will help tell the story of what happened following the collapse of the Empire.
And now, the entertainment booklets.
Star Wars: Ships of the Galaxy (Studio Fun)
 
Featuring starships old and new, this clever book uncovers amazing facts and little-known trivia about your favorite ships in the galaxy. From the Jedi starfighters and Star Destroyers to the one and only Millennium Falcon, each craft is explored in fun detail — and some even include comprehensive diagrams. An exclusive foldout in the back of the book reveals special blueprints of ships from The Force Awakens!
Star Wars: Droid Factory (Studio Fun)
 
Some roll on wheels, others walk on legs — some can even fly! They're droids, and in the Star Wars galaxy they can do almost anything. With the Droid Factory, you'll learn all sorts of fun facts about many different Star Wars droids and even build a few. Includes a paperback filled with cool images and droid data, instructions and press-outs to construct models of C-3PO, R2-D2, and BB-8, and two wind-up bases to make R2-D2 and BB-8 move! Also includes poster and collectible Star Wars stickers!
Star Wars: Look and Find (Phoenix International Publication, Inc.)
 
Travel across the galaxy and explore scenes from the Star Wars saga. Search for more than 100 Star Wars find 'ems, and includes Look and Find scenes and aliens from Star Wars: The Force Awakens.
Star Wars: Absolutely Everything You Need to Know (DK Publishing), written by Cole Horton
 
What takes 1,000 years to digest its victims? Which monks keep their disembodied brains floating in jars? Why must Nightsisters take the Test of Fury? Who cleans the floors of the Death Star? Find out the answers in this new book — and tons more — including answers to some questions in Star Wars: The Force Awakens!
Keep in mind that there are 20 titles in total, meaning that there will still be ten more releases in this line in addition to what they've talked about here.
Source: StarWars.com
Grant has been a fan of Star Wars for as long as he can remember, having seen every movie on the big screen. When he's not hard at work with his college studies, he keeps himself busy by reporting on all kinds of Star Wars news for SWNN and general movie news on the sister site, Movie News Net. He served as a frequent commentator on SWNN's The Resistance Broadcast.