Secret Cinema Presents Star Wars: The Empire Strikes Back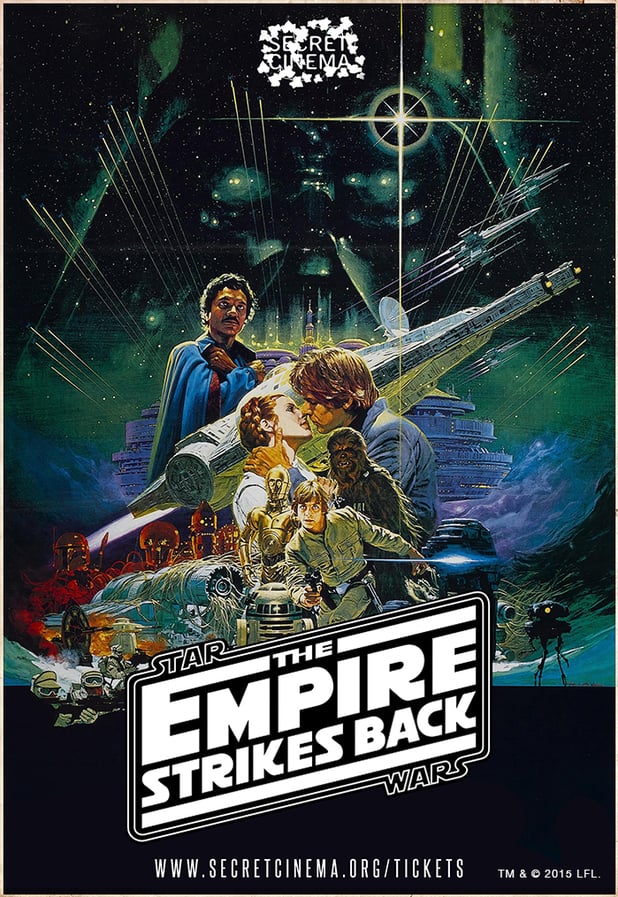 Attention, London Star Wars fans! You won't want to miss Secret Cinema's latest project – an exciting multimedia event built around a cinematic showing of The Empire Strikes Back! Read on for more details…
Last summer in London, over 80,000 people turned out for Secret Cinema's presentation of the '80s classic, Back to the Future. Now, they invite you to join them again, this time in a galaxy far, far away…
Audiences will be invited to journey through the world of Star Wars, which will conclude with a presentation of Star Wars: The Empire Strikes Back. Audiences will be transported into a richly detailed galactic space opera where they will become part of one of the most ambitious and dreamlike Secret Cinema experiences the UK has ever seen.

In Summer 2014, over 80,000 attended Secret Cinema's Back to the Future event in the
Olympic Park, London where the world of Hill Valley had been brought to life with 20 designated set areas, a replica of the iconic Town Hall, a life-size high school and Lou's famous diner.
Secret Cinema Presents Star Wars: The Empire Strikes Back opened last week "in a secret London location" and will run through September 27th. Though there is no footage online yet of the venue for the ESB event, check out this vid of last year's Back To The Future event – and bear in mind that the interactive Star Wars environment for this year's extravaganza is reportedly twice the size of this one:
To further pique your interest, however, Secret Cinema did provide us with a few photos taken on their "set" for the ESB event.
The event has already placed ESB back into the UK's top-10 box office list for the first time since the film's 1997 Special Edition release.
Tickets for Secret Cinema presents Star Wars: The Empire Strikes Back are available at: www.secretcinema.org/tickets. Anyone fortunate enough to be able to attend the event, please tell us all about it, either in the comments below or over a pint of Corellian ale at The Cantina! And stay tuned for our own review of the event at the end of the month.