SWNN Review: The Guardian from Ultrasabers!
A Crossguard Lightsaber – What we've seen of Kylo Ren's lightsaber in Episode VII has given us a lot to talk about, but Ultrasabers has created a lookalike that you can actually put into action in your own epic lightsaber battle. They have several variations that resemble Kylo's crossguard in their collection of custom sabers.
We decided to make a review of one of Ultrasabers' products, so that the fans could choose for themselves if their product is worth their money.
This is our review of The Guardian from UltraSabers. Big thanks to UltraSabers for allowing us to review such a beautifully made piece of fictional weaponry. My first experience with them was when I purchased a hilt using the grab bag special for $79. That purchase was made a few years ago, and the site really hasn't changed much since. They still offer the grab bag specials, and if you write in the notes section what you're looking for, they will try to accommodate if possible. One of my favorite features of the site is that they host sales every day!
Like my last review, I'll start by saying that UltraSabers has a wide variety of hilts to choose from that accommodate any form of Jedi or Sith, depending on your preference.
As I mentioned above, we have for review the Guardian saber – Emerald (Belt Clasp Covertech System, Blade Color Green, 13'' long, Aircraft grade aluminum construction, removable pommel, low profile guarded push button switch, Obsidian sound, Lithium Ion rechargeable AA batteries with charge port, LED Power, Blade Type Ultra Edge 36''.
Selection
The site is easy to navigate although seemingly cluttered at first. Once you get used to the site's layout, it's easy to find what you're looking for. They also regularly update their design inventory with new and original products. UltraSabers offers a wide variety of sabers that can be customized to your personal preference. On the site, you start your search by choosing they style of saber you see yourself wielding. For instance; they offer single and double sabers, as well as their high end models they call "Emerald Class Sabers". Or, if you prefer, you can choose the build-your-own-saber option for an a-la-carte experience. Whatever your budget, these guys can provide.
Quality of workmanship
The sabers are built with the highest quality parts available. The construction of the hilt is machined from aircraft grade aluminum and the blades are polycarbonate. These are the types of hilts used by cosplay performers to demonstrate a choreographed fight. I mentioned the model that I purchased a few years ago using the grab bag option. I can tell you for certain that these blades can be dropped, thrown, hit, and run over by a car and still work great. I'm pretty sure UltraSabers probably would advise against such brutal treatment of their products, as would I. The one I have here for review is a beautiful piece of craftsmanship worthy of being displayed.
Light and Sound
With respect to the light emitted from your blade, you have a variety of colors to choose from. Practically any color you can imagine, actually. If you purchase the high end model, you can change the color of your blade at will. The brightness of the blade depends on the blade you choose to install, and UltraSabers does not disappoint on the options. The thickness of the blade that you choose ultimately determines how bright your saber will shine. If you plan on using your blade for lightsaber combat, then you might want to choose a thicker walled design, for example. When testing the blade I found the light to be just as bright as my model from SaberForge, though it was comparing apples and oranges because they are different colors.

The sound offered in the Emerald class is the Obsidian soundboard. I made a short audio file to demonstrate the capabilities of this product below. The blade comes pre-installed with different options, but does have a PC and Mac interface that can be used to tweak the sounds and sensitivity levels at will. This alone is a huge advantage over any of its rivaling Saber Smiths. The speaker is located at the pommel and can be accessed by removing the lower part of the hilt where you will find a mini USB port.
Battery life/charging
The blade comes with 2 AA Lithium Ion batteries installed. This model was designed with a built in charge port, although if you choose, the batteries can be removed and charged separately. If you happen to be at a comic con event and unable to find a wall outlet to charge your saber, UltraSabers also offers a car charger. During my test of the battery on a full charge I was able to get 59 minutes 45 seconds of idle use before the battery died.
Work Time
Our model came to us within 2 weeks of ordering. Almost no delay at all. UltraSabers clearly states at the lower part of the ordering menu how long you should expect shipping to be. In this case the stated turnaround time was 3-4 weeks.
Packaging
The Saber arrived in a long box from FedEx. The saber was bubble wrapped, and the rest of the accessories, such as chargers and warranty information, were neatly packed with foam.
Accessories
On the site you will find a variety of useful add-ons, such as couplers for dual blade sabers and extensions. The Covertech wheel and belt clip is a must have for any force user and can also be found in this section of the site. Interestingly enough, if you plan on upgrading a 3rd party hilt with some new sound, UltraSabers sells the Obsidian sound card and fonts.
Customer Service
On the "about us" section of the site, I found that they clearly listed the name of the owner, address, and customer service telephone number. Unfortunately, when I called I did not get an answer, but the voice recording explained that the best way to reach them is by email. When I ordered my first blade with UltraSabers I had no problems with customer service. This time was no different.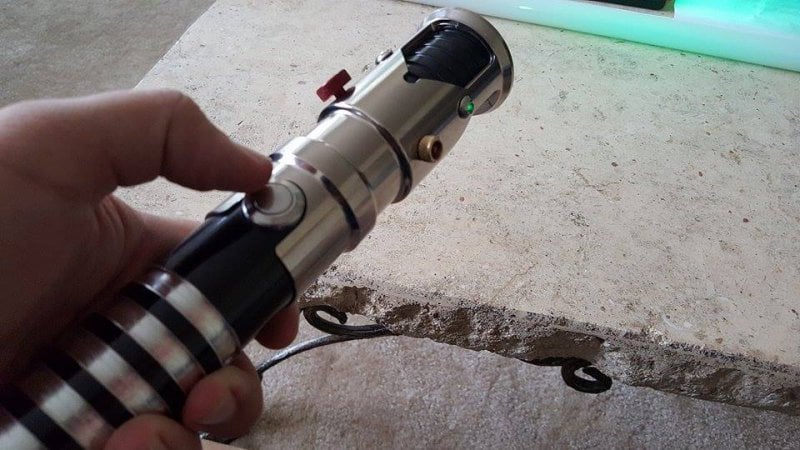 Final thoughts
UltraSabers offers a high quality product and they deserve every bit of praise that they already receive from social media outlets and YouTube. They may not offer as many weathering options as their competitors, but the blades that they do have shine brightly of their own accord. The Obsidian soundboard is one of, if not the best on the market. Whether you are in the market for your first hilt or considering adding to an already established collection, I highly recommend this site for all saber enthusiasts.
Would I buy from UltraSabers again?
Yes. Absolutely. The sales they offer, combined with the wide variety of extras and predictable shipping is a plus.
Go pick your blade at Ultrasabers now.
Review by Darth Lexor Kai