Updated With High-Res Image! Costume Sketches for Han, Poe and Finn in the French Edition of Vanity Fair
A couple of new The Force Awakens costume sketches have appeared in the French edition of Vanity Fair. Read on to take a look!
Our friend Sebastien from Planete Star Wars sent us a scan of some new official LFL production art that appeared in Vanity Fair's French edition. The picture features a trio of costume sketches from Star Wars: The Force Awakens. One of them we've seen before – the sketch of Finn with the lightsaber clipped to his jacket. The other two show the gear that Poe Dameron and Han Solo will be wearing in the upcoming Star Wars sequel.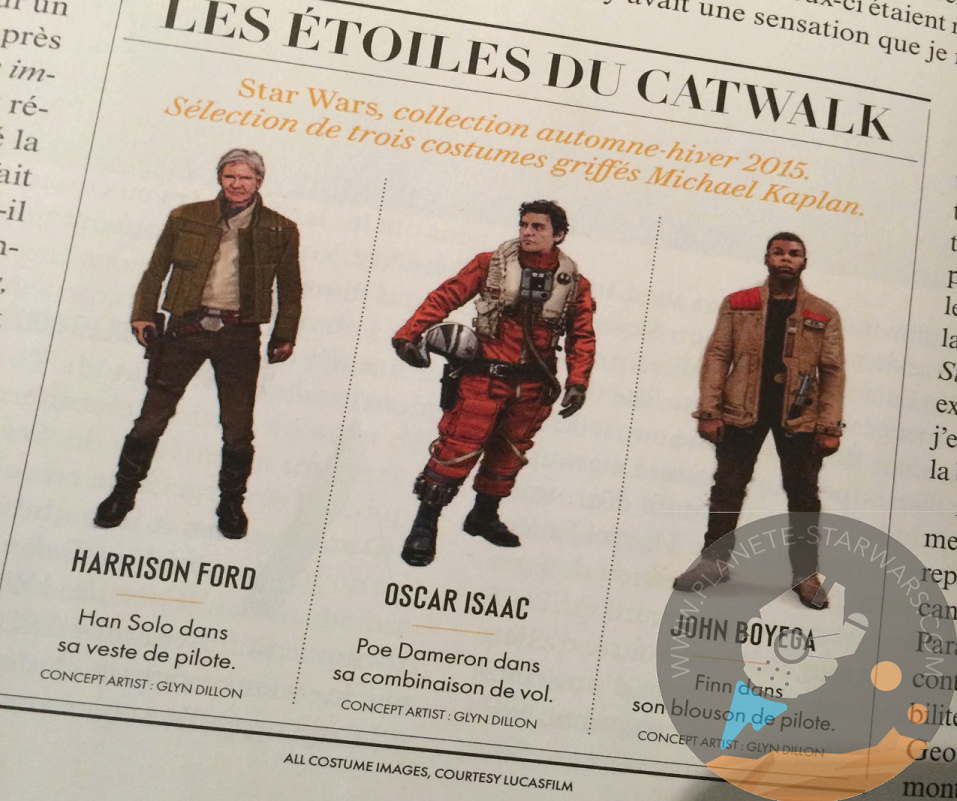 For those of you who don't speak French (and I admit, I don't speak it either – here's to good ol' Google Translate!) the text accompanying the photos is a tongue-in-cheek send-up made to look as though this were a fashion report.
The Stars of the Catwalk

Star Wars autumn-winter collection 2015. Selection of three designer suits by Michael Kaplan

Harrison Ford – Han Solo in his flying jacket

Oscar Isaac – Poe Dameron in his flight suit

John Boyega – Finn in his pilot's jacket
If you read the fine print, you'll see that all three of these images were provided by Lucasfilm, and were drawn by LFL concept artist Glynn Dillon.
Thanks for passing this along to us, Sebastien! And for our French-speaking readers out there, be sure to check out Planete Star Wars if you haven't already.
UPDATE!
Here's a better look at the sketches. Click the image below for a much bigger version. Thanks again to our friend Sebastien!