UPDATE 2! Star Wars: Rebels Season 2 Trailer, Official Premiere Date and Poster!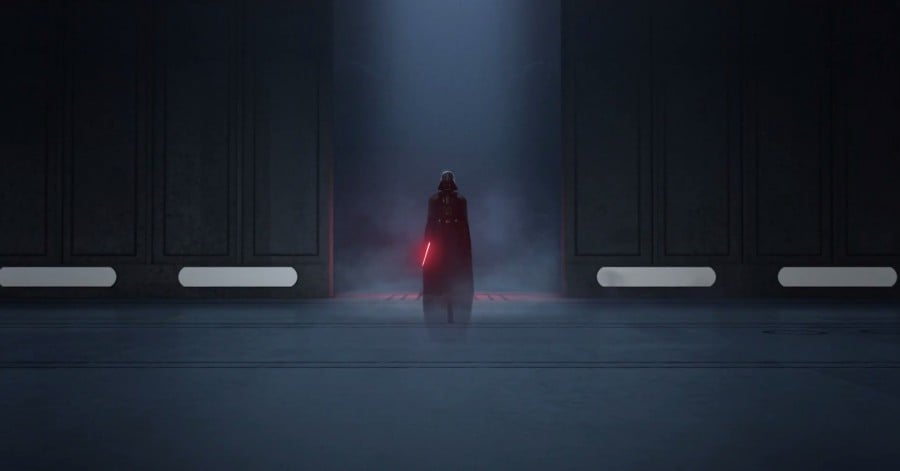 A new dawn is breaking for the crew of the Ghost, alongside newfound allies Bail Organa and Ahsoka "Fulcrum" Tano, as the seeds of rebellion are beginning to bear fruit; but with the onset of the Rebel Cells banding together for the first time, greater dangers face the fledgling militia, including the wrath of Darth Vader himself. Read ahead to see information on the new characters and storylines popping up in Season Two of Star Wars Rebels from the cast and crew of the show.
The panel, hosted by voice actor James Arnold Taylor, opens up with many familiar faces: Taylor Gray (Ezra Bridger), Freddie Prinze, Jr. (Kanan Jarrus), Vanessa Marshall (Hera Syndulla), Tiya Sircar (Sabine Wren), Steve Blum (Garazeb "Zeb" Orrelios), Showrunner Dave Filoni, and Producer Simon Kinberg meet the crowd with thunderous applause.
Filoni and Kinberg started off by saying that they worked hard to create an experience that honors the original movies while having its own unique tone. The cast expressed gratitude toward joining the Star Wars family and their love for their series.
Sircar teased more development between Sabine and Ezra in the coming season. Then, Filoni decided to reveal the trailer for Season Two of the show. The trailer revealed new looks at Darth Vader, Ahsoka Tano, Captain Rex, Hondo Ohnaka, and new Inquisitors. Ashley Eckstein (Ahsoka Tano) and Dee Bradley Baker (Captain Rex) then walked up on stage.
Questions started up immediately after the second screening of the trailer. One question that popped up was how Rex and his Clone Troopers survived, to which Filoni explained that the Fives arc in Season 6 of The Clone Wars was crucial to Rex's survival, as Fives told Rex about the Order 66 conspiracy. He also notes that Kanan is not on good terms with Rex due to the memories of Order 66 and a distrust for Clone Troopers. Ahsoka's relationship with Darth Vader is a crucial part of the story of Rebels. Filoni noted that Cad Bane and other The Clone Wars characters would be included if the character could fit into the narrative well.
Be sure to check back later today when the global premiere of Season Two of Star Wars Rebels hits later today!
UPDATE 1!
And here's the outstanding trailer for Season 2. There's lot's going on – new villains, old faces and much much more.

UPDATE 2!
First here are some interesting bits from the Rebels panel (via our own Trevor)
Filoni: It took about three months just to outline the season 2 storyline direction.
Sabine's unmentioned parents will be highlighted in S2 as well as Chopper's origins.
Kanan is THE bridging character between Ep's 3&4.
Season 2 will show us the person that is Kanan's motivational reason for moving forward with the rebellion movement.
S2 will address Ezra's darker side and weaknesses, as well as the "family unit" difficulties with the Ghost crew/family.
Filoni said that the biggest hurdle is to develop new characters for the series.
Filoni actually drew Zeb on a Southwest Airlines napkin on a flight.
They all agreed that EVERYTHING that they write, record, direct, and draw is for George Lucas, in his honor.
Some more details from the official Star Wars website:
They didn't want the show to just be about Ahsoka, but knew her story had to be included.
Filoni says, "I'm obsessed with a pilot-oriented show… A show where nobody uses the Force in it."
In the clip it seems like the b-wing is new to the crew. They have not seen one before.
The little Mon Calamari has a name: Quarrie.
There were a few clones in that clip. Filoni says, "Wolffe is back." [Side note – so is Gregor.]
This was not Lothal in the clip. We're going to other planets!
Episode count confirmed for season two: 22.
Also here's the official poster for Season 2: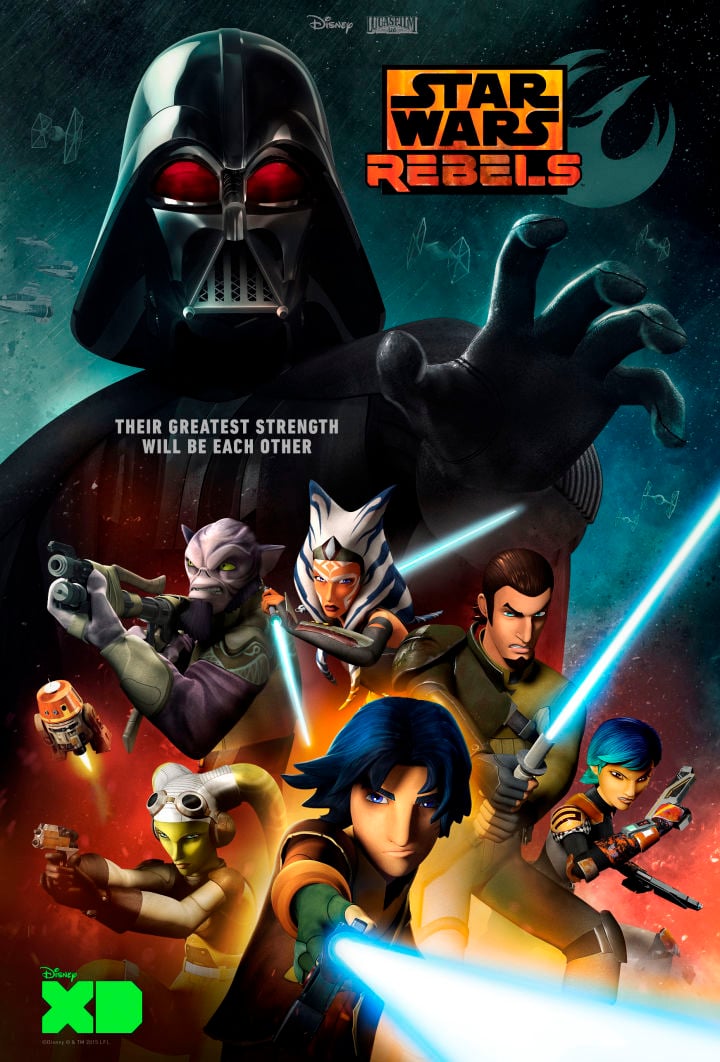 And last but not least we received an e-mail from Disney with the official premiere date of Season 2:
Highly Anticipated Season Two of "Star Wars Rebels" To Feature Fan-Favorite Clones — Captain Rex, Commander Wolffe and Gregor

An exciting season two preview trailer revealed that Vader will indeed be back, and "Clone Wars" fan-favorites Captain Rex, Wolffe and Gregor, all voiced by Dee Bradley Baker, will be joining "Star Wars Rebels." The arena erupted when Baker made a surprise appearance following the preview. He was joined by Ashley Eckstein, voice actor of another fan-favorite character Ahsoka Tano, who was revealed as Fulcrum in the "Star Wars Rebels" season one finale. Audience members were thrilled that "Star Wars Rebels" has welcomed Baker and Eckstein for season two.

"Star Wars Rebels" Season Two begins this summer with a one-hour movie event and continues this fall with all-new episodes on Disney XD.
Grant has been a fan of Star Wars for as long as he can remember, having seen every movie on the big screen. When he's not hard at work with his college studies, he keeps himself busy by reporting on all kinds of Star Wars news for SWNN and general movie news on the sister site, Movie News Net. He served as a frequent commentator on SWNN's The Resistance Broadcast.