UPDATE! Star Wars Rebels: Details on the Season Finale, Celebration Anaheim Art and a Sneak Peek at Darth Vader's Appearance!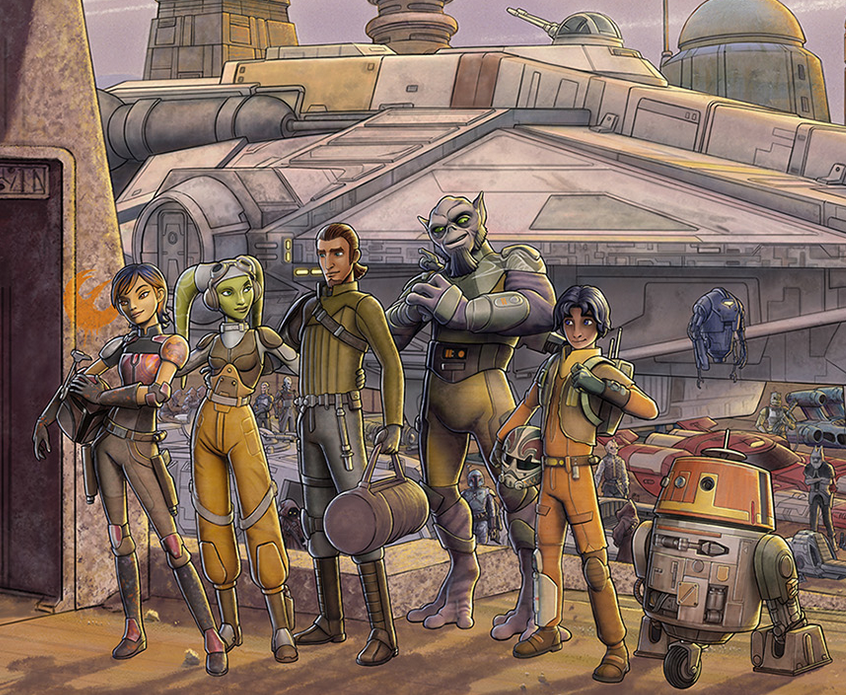 Some plot details regarding the Season One finale of Star Wars Rebels have surfaced, revealing the presence of three key recurring characters. Meanwhile, an art piece made for Star Wars Celebration Anaheim includes a rather intriguing detail.
(February 23rd, 2015)
Yakface uploaded a scan of March's issue of Star Wars Insider, which features a few details about the last episode of Star Wars Rebels's first season:
Just to clarify, Fulcrum's identity is NOT revealed in Insider #156 pic.twitter.com/r18JjXvcQt

— Yakface.com (@yak_face) February 22, 2015
"Fire Across The Galaxy" will air on March 2, directed by Dave Filoni and written by Simon Kinberg. It is said to utilize the standard 22-minute format.    

@Halabrew Yes. The remaining two episodes are 22 mins each. — Tracy Cannobbio (@Tcann13) February 22, 2015
It will not be released a week in advance on the Disney XD app, unlike previous episodes. I'm guessing that this is because they want to ensure that the maximum amount of people will be watching the episode on television when it hits. It's also likely that they don't want to give away who Fulcrum is in advance (and as the scan suggests, Fulcrum's identity is not revealed in-issue), even though it's been all but confirmed that she's Ahsoka from the work of dilligent fan sites – but more on that later.
Another topic of note is a piece of art that will be available at Celebration Anaheim (first spotted by Rebels Report). There was a key change between the initial version and the final version, both of which are posted below (I suggest you click on the images for a much closer look):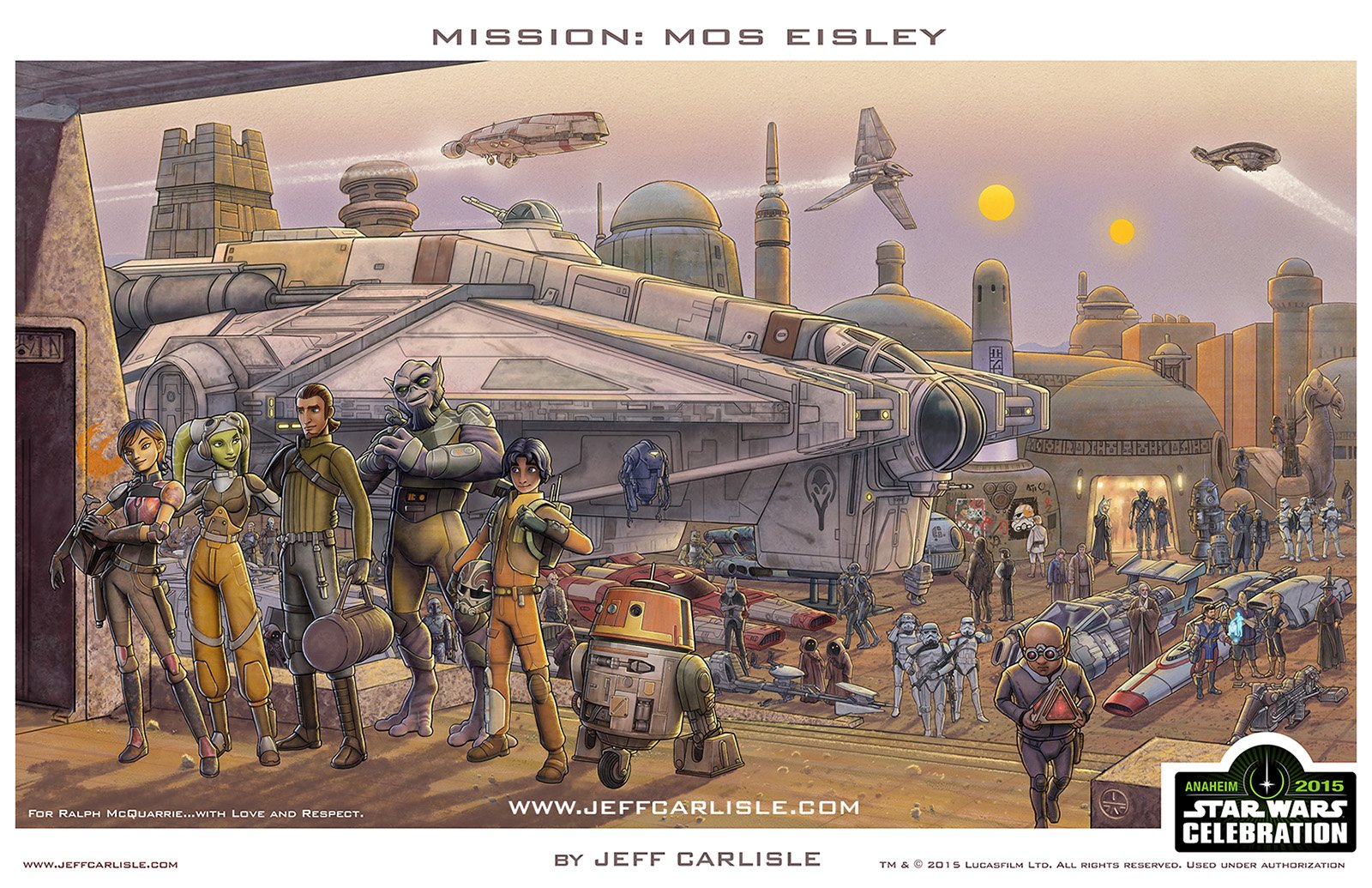 One of the biggest changes between the initial version of the image and the final version is the placement and removal of a Bantha and a Tusken Raider. In their place is, among other things, a robed Togruta civilian – one with a particularly familiar color scheme. I find it rather telling that a member of that specific species would be concealed; considering the lack of official statements about Ahsoka Tano's fate after The Clone Wars and the obvious attempt to cover the Togruta up in the image, I think the piece is a strong bit of evidence supporting the idea that Ahsoka is alive during this time period. Speaking of Ahsoka, the page confirming that Fulcrum's French voice actress was Ahsoka seems to have been taken down – curious and timely! Could that have been done at the request of Lucasfilm Licensing?
Other details of note regarding the final image include:
A T-16 Skyhopper and the Outrider in the sky.
Agent Kallus and the Inquisitor appearing in the background, between Hera and Kanan. An Imperial Troop Transport can be seen in front of them.
Boba Fett appears below Zeb. Bossk also appears behind Chopper.
Han Solo and Chewbacca getting a good look at the Ghost, with the Phantom in tow.
Owen and Beru Lars looking at a speeder. Luke Skywalker is right behind them, looking at an image of a Stormtrooper that has Sabine's starbird painted over it.
Obi-Wan Kenobi standing between two speeder bikes, looking on at another civilian's hologram of C-3PO and R2-D2.
The alien in the forefront holding something that was not present in the original image.
At this point, it's not clear if the art represents what might show up in the Season Two premiere (which will be shown at Celebration Anaheim), an episode or episodes in Season Two later on, or something just made for the event, but I felt that it was worth sharing. For more information on Star Wars Rebels and Star Wars Celebration, stay tuned to this website.
(February 24, 2015)
UPDATE!
As we reported above, Darth Vader will make a special appearance on the season's finale. Now here's a sneak peek at the Sith Lord (via /Film):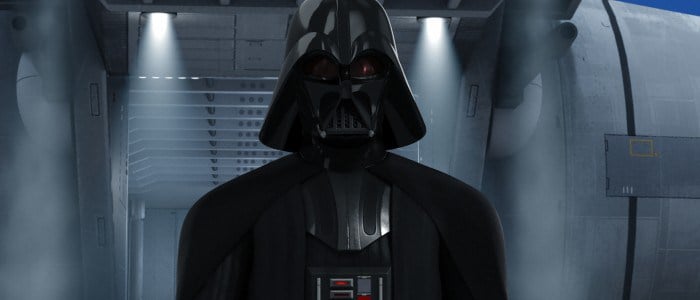 Grant has been a fan of Star Wars for as long as he can remember, having seen every movie on the big screen. When he's not hard at work with his college studies, he keeps himself busy by reporting on all kinds of Star Wars news for SWNN and general movie news on the sister site, Movie News Net. He served as a frequent commentator on SWNN's The Resistance Broadcast.