Happy Thanksgiving! And the Winners of the Star Wars T-Shirts & Sweatshirts Giveaway Are…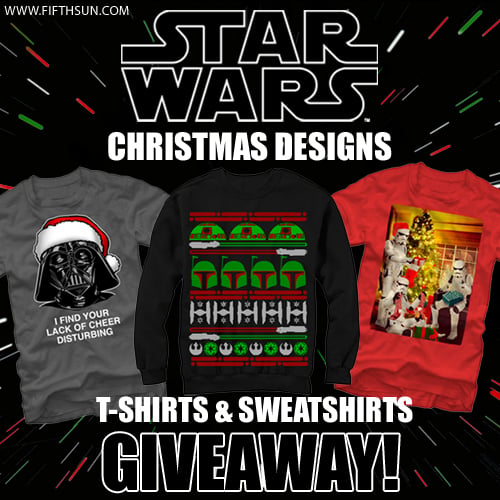 The cool guys from FIFTHSUN.COM (officially licensed for Star Wars apparel, including TFA), supplied us with some really great looking T-Shirts and Sweatshirts from their Star Wars Holiday Collection, that we're giving away. Find out how to get them after the break…
The rules to participate in the giveaway are simple. It starts on Monday (November 24) and ends on Wednesday (November 26).
1. For legal reasons, you have to be a U.S. resident and 18 years of age or older.
2. Complete at least one of the 3 options in the form below.
Two winners will be selected from the people with most points. The other winner will be selected from all the participants, so you have a chance to win even if you have only completed one of the 3 options.
a Rafflecopter giveaway

(note: the tweet option can be done once per day)
The winners can choose their prize from Fiftsun's impressive list of almost 500 Star Wars T-Shirts and Sweatshirts HERE.
Special thanks to FifthSun.com for the giveaway. If you're interested in other products make sure to check their site. There will be a Black Friday Sale from Nov 26 through Dec 2, with 20% OFF + FREE SHIPPING with coupon code BLACKFRIDAY14.