'Star Wars' Celebration Orlando 2017 Hosts Announced; Official Badge Art and more!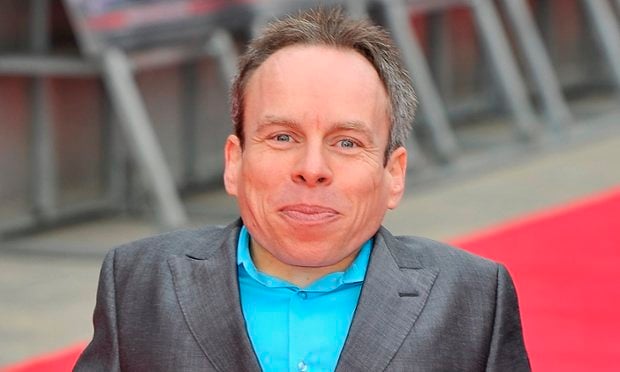 StarWarsCelebration.com and StarWars.com has officially announced the return of a talented host trio for 'Star Wars Celebration Orlando 2017'. Also, get a first look at the event's spectacular convention badge art. Read on for more details.
There was fantastic news released over at the Star Wars Celebration homepage yesterday. Fans from across the galaxy will be able to see the return of everyone's favorite 'Return of the Jedi' Ewok, Warwick Davis. Last year, Davis hosted the main 'Celebration Stage' in London and welcomed some of the biggest stars to the show.
Joining Davis on stage for Celebration Orlando coming April 13-16, 2017, at the Orange County Convention Center will be David Collins (Digtial Stage) and Amy Ratcliffe (Behind-The-Scenes Stage). All were hosts at last year's Celebration Europe and are now officially confirmed to return to one of the largest conventions dedicated to the film series.
StarWars.com has provided additional details on each hosts respective duties:
Davis, a Star Wars and Celebration icon, will preside once again over the Celebration Stage; Collins, a fan-favorite Celebration staple, will again host the Digital Stage; and Ratcliffe, an in-demand entertainment reporter and critic, will oversee the the Behind-The-Scenes Stage for the second year in a row.
The four-day fan experience will include celebrity appearances, stage shows, panels, interactive events and sneak peeks into the future of the "Star Wars" saga. Details about celebrity appearances or other event guests will be announced when further details are made available.
Also, new badge art for the show has been unveiled featuring photorealistic sketches of characters from various Star Wars movies and television shows. The badge art was provided by artist Paul Shipper, who spoke a little about his work recently with StarWars.com.
"The main thing for me was pleasing everybody at Lucasfilm. And then in turn, because they would like them, then hopefully the fans will enjoy them, as well. It's a case of trying to do something that would be very different from anything that's maybe been done before, in celebration of the 40th anniversary of Star Wars."

"I grew up with it, I used to play Star Wars in the playground at school," Shipper says. "My whole life I've been a huge Star Wars fan." Lucky for those going to Celebration.
You can check out more badge art featuring the characters of Star Wars here. For more details on celebration, guests, our new hosts and ticket information be sure to head on over to StarWarsCelebration.com
May the force be with you in April….