UPDATE! Catching-Up With George Lucas News.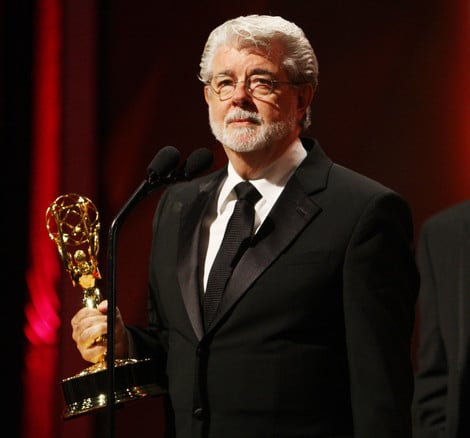 George Lucas can soon add another honor to his resume. Also a controversy surrounds him and his Museum of Narrative Art after the jump.
THR reports that the Society of Motion Picture and Television Engineers (SMPTE) is getting ready to honor George Lucas for his vast body of work in innovating technology that has affected the Television and Motion Picture arts. Mr. Lucas will receive an honorary membership in SMPTE for his outstanding technical achievements and innovations to include:
* Founding the pioneering visual effects house Industrial Light and Magic in 1975

* Founding the Graphix Group of Lucasfilm in 1979 which eventually became Pixar

* Founding the sound company THX in 1981

* Becoming the first major Hollywood feature film to use digital cameras with 2003's Attack of the Clones
George Lucas has been a maverick, innovator, and all-around leader of Hollywood while, ironically, simultaneously fighting a war with the Industry in order to preserve his artistic vision and integrity. There isn't a filmmaker alive today that isn't affected by George Lucas, whether it be through his style, or through his innovations in the art. Mr. Lucas will receive this accolade, apparently the highest possible achievement bestowed by the society, in a ceremony to be held on October 24th.
In other news regarding Mr. Lucas, updating a report I brought to you back in June, the Lucas Museum of Narrative Art was awarded to Chicago, Illinois. Initially this was an exciting and welcomed endeavor by the citizens of Chicago. Since that time controversy has struck as it seems a vocal minority has complained about the museum's location, being sighted for lakefront construction. In fact, a lawsuit has even been threatened to block the construction:
The Friends of the Parks group immediately said it was considering a lawsuit to block the construction, noting that a policy included in the 1973 Lakefront Plan of Chicago adopted by the City Council states that "in no instance will further private development be permitted east of Lake Shore Drive."
However, a poll conducted by the Chicago Tribune cites the majority of respondents either didn't care where the museum was being constructed or favored it's lakeside construction with a minority opposed. You can view the results in the graphs below.
About a month ago, in late July, Mr. Lucas announced the designer for his museum – Ma Yansong, founder of the Beijing firm MAD Architects.
The controversy hinges on the fact that Chicago citizens want the lakeside view preserved and at the very least for the museum to incorporate and work with the architecture that already exists. In this ABC.com's article "Made in China: The Green Futurism of Architect Ma Yansong" we read the following:
Ma says that the "machine age" drive to build grid-shaped cities filled with cubic buildings that race each other into the sky — first in the West, and now in China — alienates people from the spirits of nature and from each other. Silo-like skyscrapers, he says, should give way to structures that emulate the forces and forms of nature — clouds, mountains, waves — in cities of the future.
Yansong has been characterized as "avant-garde." Well, be it avant-garde, visionary, or cutting-edge, I guess the label is applied according to the eye of the beholder. But it seems quite evident that his "green" and futuristic style works perfectly for Chicago as well as the man who gave the world Star Wars. Take a look at some more of Yansong's work and decide for yourself.
UPDATE:
In a story we've been following since it's inception we've since learned a few details about the project via The Hollywood Reporter:
* The Museum was wife Mellody's idea
* Mellody, a Chicago native and businesswoman, put in a good word with Mayor Rham Emanuel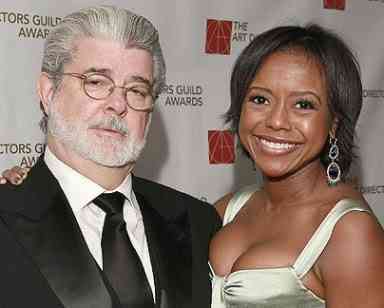 * George confirmed that the museum will be organic and NOT interfere with Chicago's iconic architecture as some fear:
"It's going to be organic architecture, connected to the ground. And it will look like a living thing."
* George clarifies that the museum is dedicated to narrative art:
"Illustrative art and narrative art has been short-shrifted. Critics weren't dealing with narrative art. They were interested in modern."
* George also confirmed that he will pay for the museum with an endowment:
"I pay for the whole thing and the endowment, and everything."
George Lucas was on CBS This Morning and spoke with Charlie Rose about the Museum as well as what's wrong with Hollywood today. Turns out there's a lot and George still feels that Star Wars wouldn't have been green-lit in today's Hollywood. Check out the interview and of course we'll keep you posted on all the George Lucas news as we get it.