UPDATE 8: New Footage With John Boyega and Extras from the Episode VII Set at Greenham Common. Harrison Ford Expected on Set on Monday.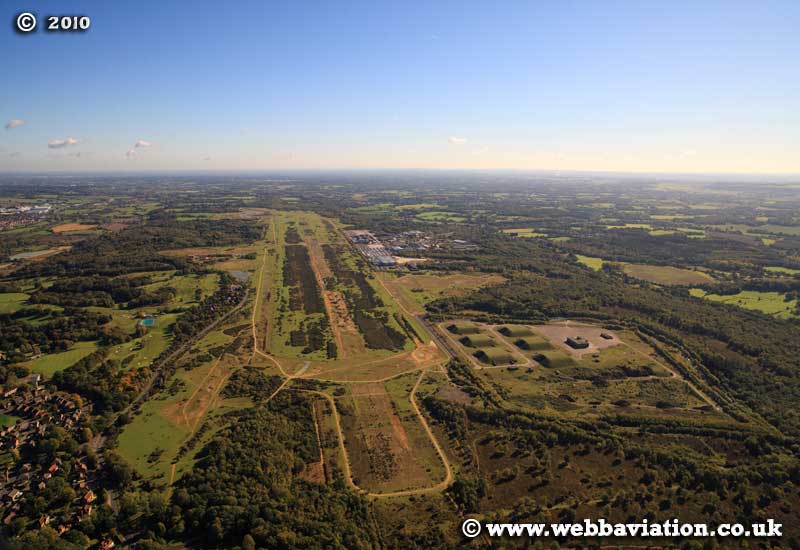 A curious photo was posted on Twitter showing the Falcon and an X-Wing build on a new filming location. Oh, and it looks like that's where all the turf I told you yesterday about went…
First here's the tweet:
Last tweet for the night. I spotted this at the weekend whilst #flying over Greenham Common. #StarWarsEpisodeVII pic.twitter.com/ypCNrZVDxl

— FlyMAC (@FlyMAC_Popham) September 9, 2014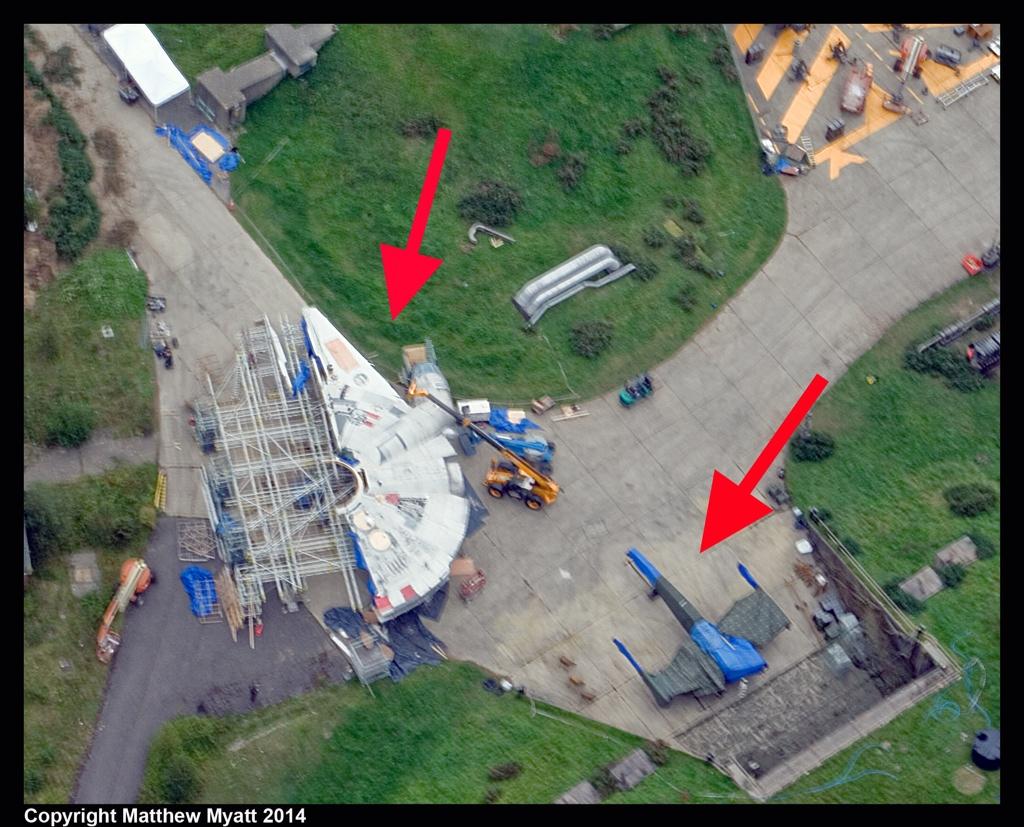 Greenham Common is a former Royal Air Force station in Berkshire, England. The airfield is located to the south-east of Newbury, Berkshire, about 50 miles (80 km) west of London.   Opened in 1942, it was used by both the Royal Air Force and United States Army Air Forces during the Second World War and the United States Air Force during the Cold War. After the Cold War ended, it was closed in 1993. In 1997 Greenham Common was designated as public parkland.   Comparing the 2 pictures above you can clearly see that the X-Wing is parked in front of one of the 6 ground shelters (visible in the first picture):    
This is called the GAMA site (GLCM Alert and Maintenance Area) which was built in the southwest corner of the base. GAMA was a maximum security QRA (Quick Reaction Alert) area with 6 large above ground shelters in which fully operational cruise missiles were stored. These shelters were specially designed and constructed to protect the GLCMs and crews against nuclear and conventional strikes. They were about 10 m high, with a reinforced 2 m thick concrete ceiling. Below was a massive titanium plate, 3 m of sand and a reinforced concrete plate. The shelters were completely covered with tons of clay. Each shelter was equipped with three hydraulic nuclear blast proof doors at both ends to assure a quick entry or exit. (via Wiki)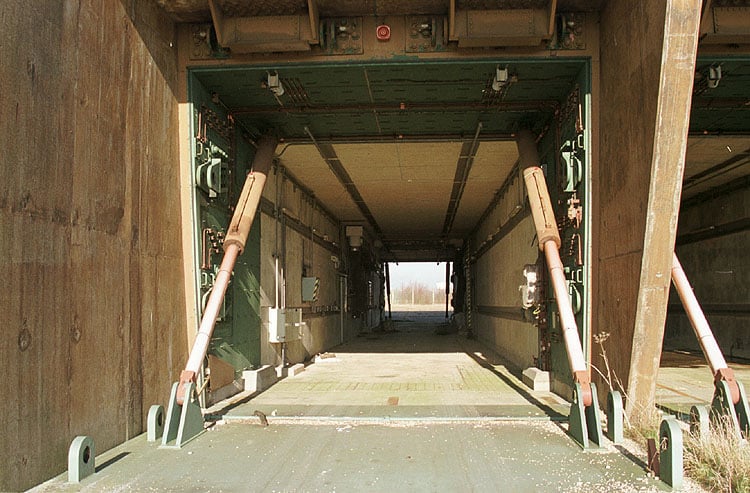 This could definitely work as some kind of a hidden base on a grassy planet with the ground shelters serving as ship hangars. And you can definitely see in the second image that a lot of turf has been applied to the place. 😉                                
UPDATE!                
An interesting fact – Greenham Common was home to the 501st Tactical Missile Wing! 🙂 (thanks to Desmond)
Also as pointed out by JCF member vinsanity, this place highly resemble the Jedi Enclave in Dantooine in KOTOR. If you're not familiar with the planet here's the Wookiepedia description:
Dantooine was a pleasant world of grasslands, rivers and lakes. It hosted a small population spread amongst single-family settlements and small communities with large land holdings. Its sentient population consisted primarily of simple Human farmers, though Dantooine was also home to the primitive Dantari race. Native wildlife included the kath hound, the iriaz, the kinrath, and the graul.    

The planet had no industrial settlements or advanced technology by the time of the Galactic Civil War, save for a temporary Rebel base there.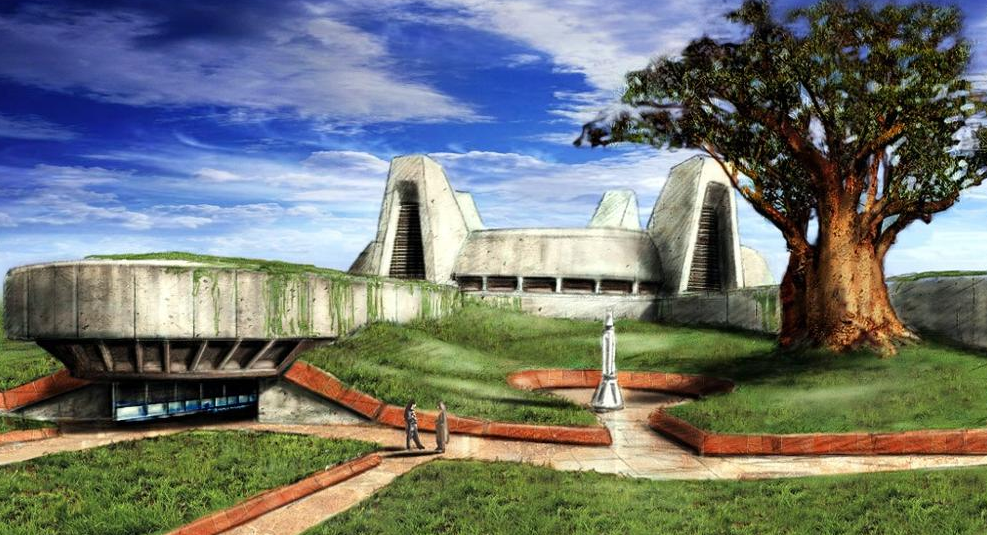 Thanks to JCF member TK327 for spotting the tweet.                                
UPDATE 2!                
Another picture was posted on Twitter together with a video clip of the set:  
#StarWarsEpisodeVII Filming at RAF Greenham Common on Saturday pic.twitter.com/d6lw6TS2aX — Justin Reeves (@1JUS) September 10, 2014
UPDATE 3!
New picture was posted on Twitter. It's with a very low quality but you can definitely see a white cloaked figure running. Judging by the cloak it looks like a female character reminding me of Princess Leia's costume from ANH. Or could this be a Stormtrooper? I'm not sure, looks more like a cloak and hood than uniform.
Who could this be dressed in white on top of a Greenham silo earlier today, at the Star Wars episode 7 set? pic.twitter.com/O22vIr31RZ

— Nick Wellman (@Nick2thewellman) September 10, 2014
No matter the quality, this actually is the first leaked picture of what looks like a more important character (not just extra) from the movie.    
My colleague's son is an x-wing pilot extra in #StarWarsEpisodeVII & is filming today at Greenham Common. True fact. MASSIVELY jealous. — Dan Jackson (@beesman) September 11, 2014

Source: MagnarTheGreat
UPDATE 4!
The guys from MakingStarWars found a new image showing a black X-Wing build on the Greenham Common set. Take a closer look at the top left. Also there's a white X-Wing in the center.
Also the Millennium Falcon is still only half build which could only mean that the ship will be filmed only from one side.
And yet another interesting tweet:
Just rode past a convoy of actors dressing room caravans being delivered to Newbury by night.One sign read 'kira stunt dbl' #starwars #epVII

— Ed Hinchliffe (@redders6600) September 10, 2014
As you might remember from my previous reports Kira is most likely Daisy Ridley's character production name that won't be used in the actual movie. So it's another scene featuring the actress. Looks like she's definitely the lead.            
UPDATE 5!      
Latino Review shared some better quality pictures with the X-Wings: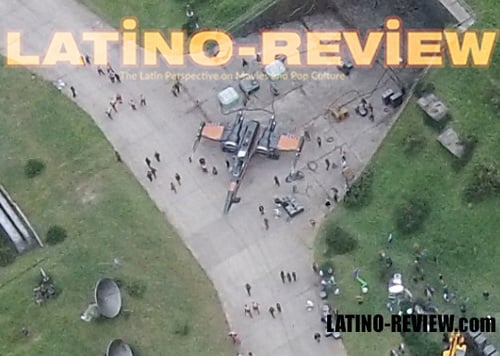 Also BadAssDigest shared some interesting bits on the topic:
I've been off the Star Wars beat for the last couple of weeks because I heard that some folks got themselves in deep, deep shit over the pictures that IndieRevolver leaked. Like, fired.   New black X-Wing? And with those orange wings? Those are Sith colors to me.    

I don't know that this X-Wing is flown by a Sith. I honestly don't know who the heck flies it, but it does seem to back up a lot of the stuff I've been hearing about the lines between the Empire and the Republic being very blurred. The chrome trim on it is interesting, as I have personally seen concept art of the new chrome Storm Troopers – could they be in the cockpit of this X-Wing?
UPDATE 6!      
Check out this video of an actual Episode VII scene being filmed at Greenham. As I said before the Falcon is only half build because he will be filmed only from one side. (via The Cantina)
UPDATE 7!      
Cool shots of extras and vehicles from the set. (via Eric Geller)    
Star Wars Characters at Greenham & footage!! #StarWarsEpisodeVII #StarWars https://t.co/IWsavtQ6tL pic.twitter.com/MgNFMFfRms — Jαmεs Dεan ✯ (@BlondeJamesDean) September 12, 2014
UPDATE 8!
First a few new pics and a video from Rick Lawrence of a scene being filmed at Greenham. You can clearly hear the name of John Boyega.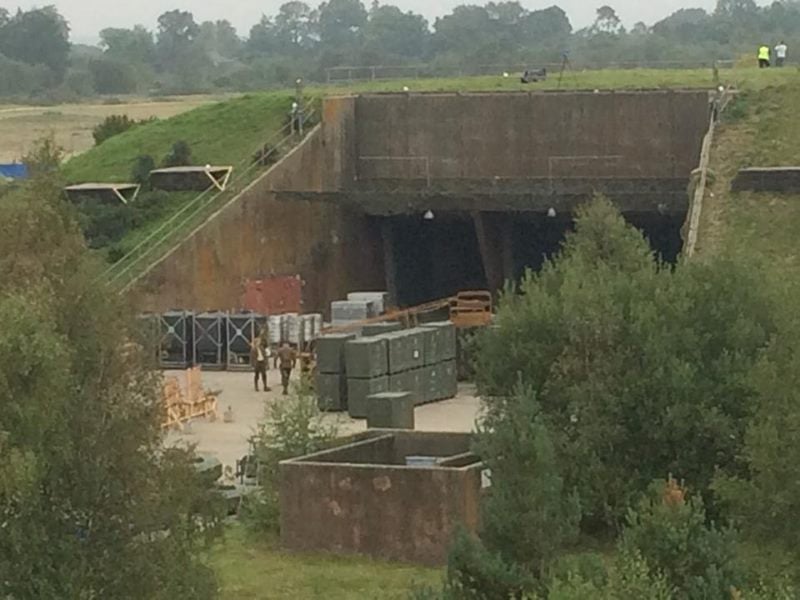 Next MakingStarWars found an interesting post on Tumblr. According to the poster Harrison Ford will be on set on Monday. Well I guess this was kinda expected considering that the Falcon is on the set but still it's cool if true. And this will put some heat to the rumors that Isaac is piloting the Falcon in the movie.