Star Wars Rebels Review: "The Occupation" and "Flight of the Defender" + Rebels Recon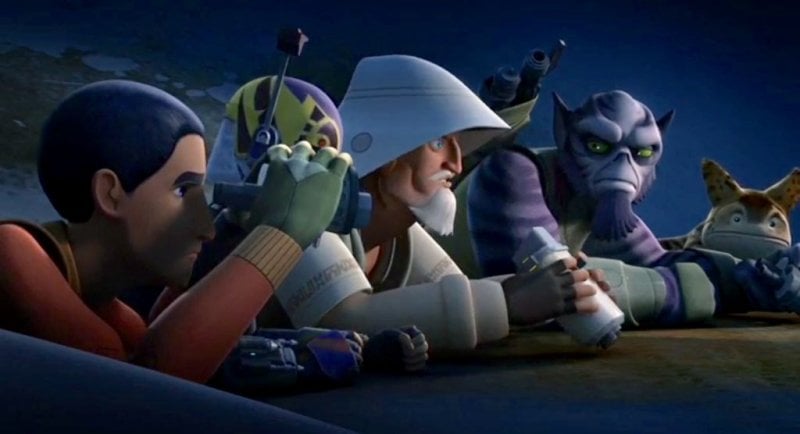 Being on the last season of Rebels means wrapping up storylines for a number of involved characters and possibly locations as well. In this week's two-parter, the Rebels head back to Lothal, the place where it all began, and find some bitter truths. Were these bitter truths enjoyable storytelling? Let's find out!
SPOILERS BELOW!!!!
What worked for me:
When we last left Lothal, it was a pretty planet full of green hills and fields. Now that the Empire has settled what it intended to accomplish on the planet, it has been turned into a smoky, brown-covered dirt pile. I used to complain about staying on Lothal all the time, but getting used to those surroundings set me up for the impact of seeing it completely defiled later.
Seeing the Tie Defender in action.
The Tie Defender comes from the EU and it's making its presence known on Rebels. The Empire are using Lothal as a base of operations to complete the prototype of the Tie Defender. Seeing this thing in action was a real treat. The animation movements are so Star Wars, and at the same time are quite unique to the Defender itself. It would be VERY easy to just mimic a regular Tie Fighter, but the Defender moves with a heaviness that the other classes don't have.
Even though we are back on Lothal and the action wasn't full-scale war, I really liked the way the show handled its action-packed moments. These episodes include some real swashbuckling, and instead of Ezra being silly with a jet pack, we get Ezra doing a great job holding his own without Kanan's help AND not being annoying in the process. Usually when Ezra is by himself in action sequences, he tends to have too much of a childish quality (I fully understand this is a kids show, btw). The difference here, IMO, is that Ezra came off more mature and you don't see the silliness as much as you would before.
Probably my favorite aspect of Star Wars is the fantasy element. I love the mysticism of the Force and the stories that are told with it as the focus. We don't get an answer as to who or what the Loth Wolf is (IT'S NOT AHSOKA), but we get an idea that this cute little pupper is more than just a regular old creature. It seems to have an connection to Ezra. Is that because this wolf is some special Force being? Is it someone reincarnated? (I hope the latter isn't true). Either way, its inclusion is awfully interesting and the questions only leave me wanting more.
What didn't work for me:
Death Troopers speaking Basic clearly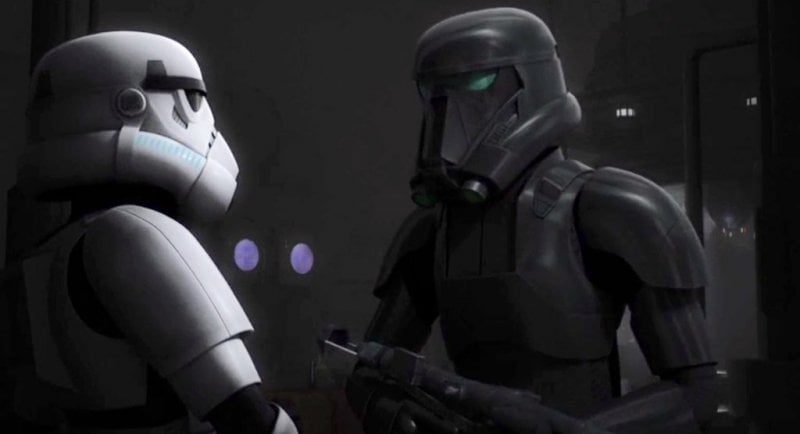 I didn't want complain about this on last week's reviews, but after the second week…it bothers me. There must be some reason that the Death Troopers sound like Bane is talking as if he were on a bad acid trip with marbles in his mouth. Otherwise, it ruins the mystique of their appearance in Rogue One…at least a little (I still love Rogue One to death).
Quick Hitters:
Loth Cats are pretty cute. I actually prefer them to Porgs…for now.
Anyone else see the Last Straighter ship when you see the Tie Defender?
I like Puffer pigs. I am not joking.
It was nice seeing Vizago again. I always liked his character.
I really enjoyed these last two episodes and I think this season could be shaping out to be the best yet. The stories, action, and pacing feel more like traditional Star Wars to me, compared to some of the previous seasons. I only hope it keeps this streak going!
Can't wait to read what you all think!
Also check out StarWars.com's Rebels Recon #4.3: Inside "The Occupation" & "Flight of the Defender"
Paul
Follow me on Twitter @Hermann22
Follow my Star Wars podcast on Twitter @Blastercanonpod