Lego Images Leak – Possible Tease For Forthcoming Star Wars Movies?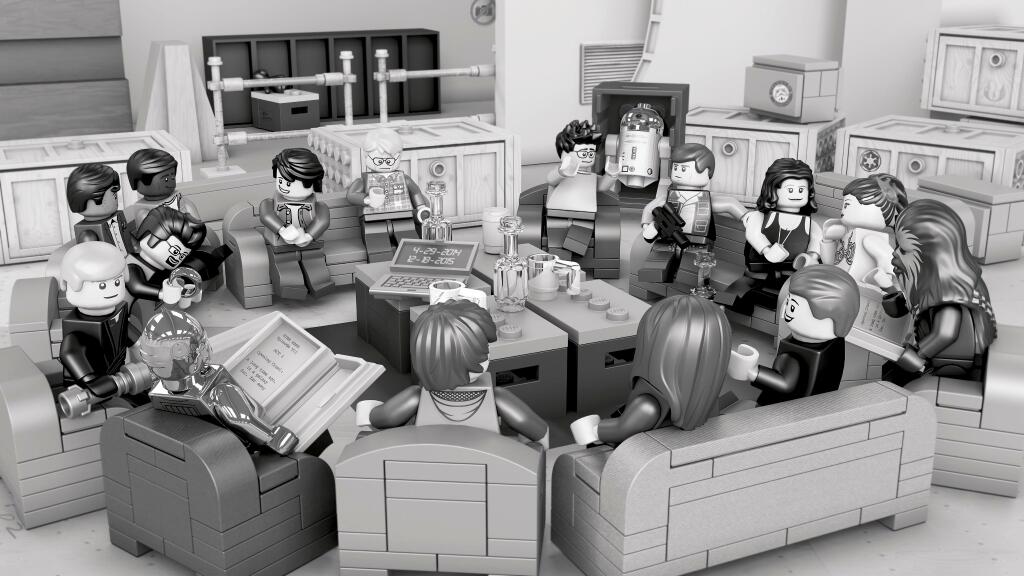 Leaks come and go rather quickly – companies can drop the hammer on sites to keep any important information from leaking out before it's ready. Luckily, the beauty of the internet is that plenty of people are able to snag images before their sources disappear, and our pals at Making Star Wars saved three pictures of forthcoming Lego Star Wars products. Two are for Rebels, but one only utilizes the Star Wars label and nothing else – meaning that it could possibly be tied to Episode VII or another film. Plus, there's a definite bit of information here that definitely has to do with Episode VII, so read on to find out more…
First off, we'll start with the Rebels toys, which comprise two of the three leaked sets. One is of an All Terrain Defense Pod and some Imperials, and another is of Ezra Bridger, a Stormtrooper, and an unidentified character, complete with two Speeder Bikes. Both of these seem to be based on the forthcoming double-length episode, Spark Of The Rebellion.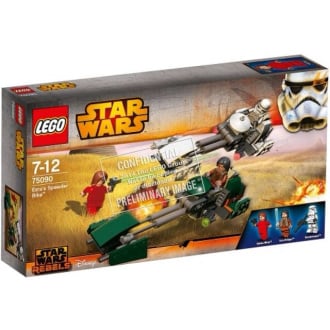 Then we'll get into the really interesting stuff. Viral Hide recently mentioned a bit of speculation from Latino-Review regarding a new variety of Stormtrooper, and if the below image is connected with Episode VII, it sounds like they could be on the right track: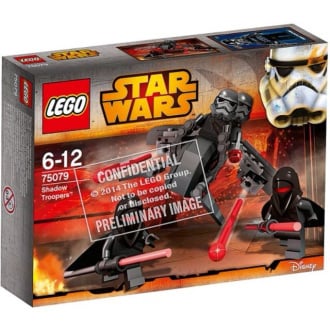 So from what it looks like, Shadow Troopers and and the Shadow Guard from the non-canon video game The Force Unleashed are reappearing in canon material once again (continuing the pattern set forward by the recent Commander game, where old stuff is lifted from Legends works and installed into the  canon without any continuity-based hassle). The Shadow Troopers, as you might imagine, are basically Stormtroopers with better armor, weapons, aim, and battle experience… Not that it really helps them for long when pitted against an absurdly-powerful Jedi. The Shadow Guard, on the other hand, are a different story – not only are they Force-sensitive themselves, but they also possess lightsaber-pikes that can keep anyone with a laser-sword at bay. However, the ones in the picture seem to have weapons modeled after Darth Maul's twin-bladed lightsaber.
The only problem I could see with this being connected with Episode VII is that these Shadow Troopers use a variant on the original Galactic Civil War Era helmet model, and not something closer to the new visor-based helmet that we've seen more recently. If I had to guess, I believe that it would be more likely that we would see these guys in a spin-off movie (or some other project that Disney-Lucasfilm has yet to announce) set around the time of the Original Trilogy. Even if these guys aren't tied to the first part of the Sequel Trilogy, it should be safe to say that they'll be attached to a future project. In any case, we thank Making Star Wars again for snagging these before they were taken off of the image hosting site that they were originally posted to.
Speaking of Making Star Wars, they also had another scoop detailing information on "Chrome Troopers":
There are two designs for the Chrome Stormtrooper. The commander and the trooper.
 
The design of the helmet is not unlike the standard Stormtrooper "cranium." The mouth is a little longer, the face a little longer. The eyes are a single visor like the recent EPVII Stormtrooper helmet that is out there. But the eyes point up at the corner and down, almost like if the visor intersected with an X on both ends. x——x Unlike the classic Stormtrooper design, there is no black band above the eyes.
 
The word is the Chrome Troopers are the personal guard of the new villain of EPVII.
Might the Shadow Troopers and the tentatively-named "Chrome Troopers" be one and the same? Most likely not, given their apparent difference in design based on that description (Next-Generation Storm Troopers) as opposed to the image (Classic Storm Troopers), but both designs are likely to show up at some point in the future. Still, it's good to know that there will be more Imperial soldiers than the classic white-armored foot soldier.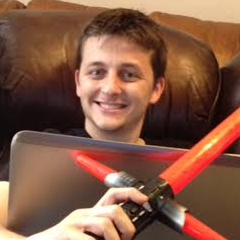 Grant has been a fan of Star Wars for as long as he can remember, having seen every movie on the big screen. When he's not hard at work with his college studies, he keeps himself busy by reporting on all kinds of Star Wars news for SWNN and general movie news on the sister site, Movie News Net. He served as a frequent commentator on SWNN's The Resistance Broadcast.