UPDATE! Rian Johnson Talks About Writing Star Wars: Episode 8 and the Filming Schedule. Full Interview (Part 1&2).
TheTalkhouse.com released a podcast interview on Thursday wherein Rian Johnson speaks with Terry Gilliam about his new film The Zero Theorem. But, obviously, that is not all the two directors spoke about. Find out what Johnson had to say about his Star Wars experience thus far, as well as the state of Episode VIII after the jump.
"The Talkhouse Film Podcast" features Rian Johnson interviewing Terry Gilliam for his new movie. Gilliam is known for directing such movies as Brazil, The Fisher King, Fear and Loathing in Las Vegas, and The Brothers Grimm. His new film The Zero Theorem is the impetus of the interview by Rian Johnson of Brick and Looper fame, and who, of course, is currently working on Star Wars: Episode VIII.
The discussion begins with Johnson's complimenting Gilliam for his body of work, notably Brazil, which is a movie about the pervasiveness of technology and the loss of individual freedom. The conversation segue's into today's climate of information overload and specifically Johnson's "addiction to Twitter" and the difficulty in today's short attention-span society to be able to pay attention to a movie.  Eventually, toward the end of Part I, Gilliam sets Johnson up perfectly with the question. "Do you have a new project?" To which Johnson responds:
 "Uh, yeah, you know I'm doing a Star Wars movie. I'm doing the next Star Wars movie."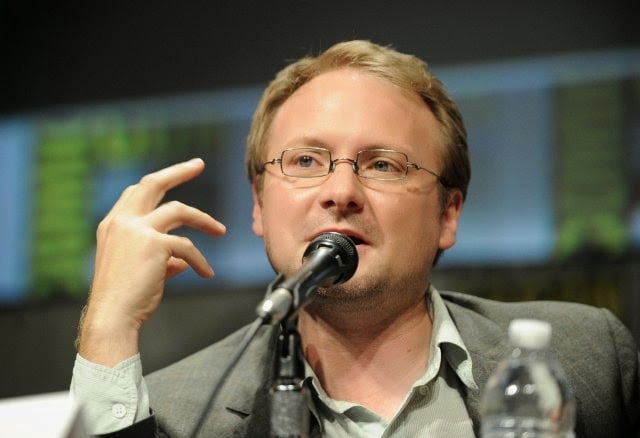 Here are some more of the Star Wars highlights:
Johnson, "I'm writing it and directing it — the next one after the one JJ is doing."
Gilliam then asks, "What does it feel like when you take over somebody else's world?" Johnson struggled to put the answer into words and wouldn't you if you were in his shoes?
Johnson, "Well, you know, its, its been – I'm just starting into it. I'm mean so far its been nothing but, God, I mean honestly its the most fun I've ever had writing. Its just joyous. But also for me personally I grew up not just watching those movies, but playing with those toys, so as a little kid the first movies I was making in my head were set in this world. So, um, a big part of it is, um, that kind of direct connection. Its almost like an automatic jacking-in, back into childhood in a weird way. But I don't know, ask me again in a few years, we'll talk about it."
Rian Johnson, not to mention JJ Abrams, Gareth Edwards, and Josh Trank, are those lucky ones who dreamt as kids of living in the galaxy far, far away and now they are the chosen ones to bring it to to the world and introduce it to a new generation. The reverence and joy were obvious in Johnson's voice. Gilliam then asks what his response to Star Wars would be if he saw it first on an I Pad to which Johnson replied we'd have to find out in thirty years what the affect of that is. Then Gilliam asked him, "Is George looking over your shoulder?"
Johnson, "No, no, no, not at all! Because he sold the company to Disney. So he's kind of stepped back and Kathy Kennedy is running LucasFilm…"

Gilliam, "Do you feel a different responsibility because it is Star Wars, or are you free?"

Johnson, "I'm figuring it out as I go. I'm dancing on top of the avalanche a little bit. So I'll have more perspective in a while but it's a balance of remembering what inspires you about it [the original films], but you can probably go to the wrong place by feeling too responsible to it. You have to keep your head loose enough to tell a story you actually care about […] Well, that's been the great thing about it — Kathleen and her whole creative team have been so insistent on all the filmmakers they've been hiring for these new movies: 'We want you to take it and turn it into something that you really care about.' And we'll see how the process plays out, but so far, that's a big part of the reason I'm in it. Because that just seems like their attitude towards it. It's really exciting actually."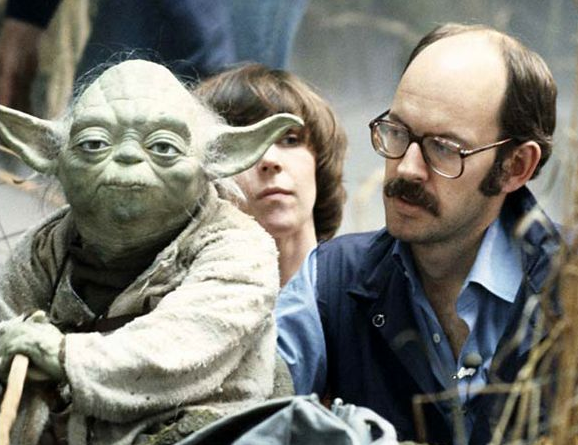 Gilliam, "Please bring Frank Oz back!"

Johnson, "You kidding? How could you not. How could you not!"
Well, we don't know if Johnson was just joking, but he then went on to offer Gilliam a role as a Hutt. Then they discussed the differences between the Yoda puppet and the CGI version. You can visit our friends at /Film to read a pretty accurate transcript of Part 1. However, they didn't seem to listen to Part 2 which is also available at theTalkhouse.com So we present the brief, but telling, Star Wars highlights of Part 2 of the Johnson/Gilliam conversation.
At about the five minute and forty second mark of Part 2 Gilliam asks Johnson about Star Wars again, "When you start shooting do you have a plan yet?"
Johnson, "Oh there's a plan! There's a plan! They have release dates for the next, you know, however many movies. Yeah it's, uh, we start shooting, um, yeah, it's not for a while, it's not like for another year or so. Um, but I need to write the script. I'm just starting right now writing. I feel I'm going to need all that time probably."
Gilliam, "Will you be coming to London to shoot?"
Johnson, "Yeah we'll be shooting at Pinewood."
So there you have the latest news about Star Wars: Episode VIII straight from the horse's mouth so to speak. Here are the bullet points:
* The script hasn't been written and in fact Johnson is just now starting to work on it.

* The new directors have a mandate to make Star Wars passionate for themselves

* Johnson confirmed that filming doesn't begin until 2015

* And as we already know, filming will be done in London's Pinewood Studios as well as the first spinoff as George Osborne Tweeted a while back:
With #StarWars director J.J Abrams and Lucasfilm president Kathy Kennedy, talking to a key cast member.. pic.twitter.com/12sRtBbf8E

— George Osborne (@George_Osborne) June 10, 2014

If you have the time you should listen to the interview for yourselves as it is fascinating for movie fans in general and not just us die-hard Star Wars fanatics.
 PART 1:
PART 2:
UPDATE! 
A small update with an interesting comment by Viral Hide in The Cantina. Check it out HERE.