Force For Change – Results & Winner!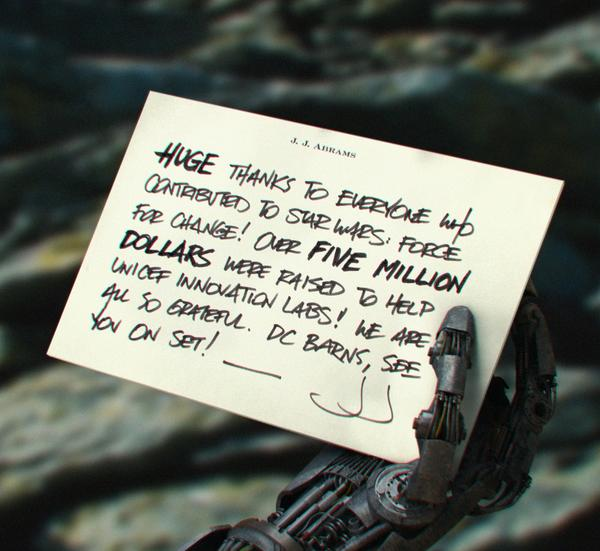 The Force is indeed strong with Star Wars fans, as the Force For Change initiative has raised over $4,000,000 in charity from fans in over 125 countries at its foundation alone! Added to an additional $1,000,000 donated by Disney themselves, this makes the movement a rousing success before it truly even gets off the ground. Make the jump to find out who the lucky winner, who will appear in Star Wars Episode VII for his charity, is.

From Youtube:
With an exciting initiative that offered a chance to win unique rewards and prizes, including a once-in-a-lifetime grand prize, Star Wars: Force for Change raised $4,261,410 USD for the United Nations Children's Fund (UNICEF). Donations were received via fundraising platform Omaze from citizens of 125 countries and enough money was donated to fund the equivalent of 7-8 new UNICEF Innovation Labs. The grand-prize winner was D.C. Barns of Denver Colorado, who shared during on a donor video chat that the first time he saw Star Wars when it opened in theaters in 1977, when he was only five. "I loved it! … I just couldn't get it out of my head of 35 years." D.C. was then asked to share his favorite Star Wars moment. As he began to reply, he was suddenly surprised in his Denver office by members of Star Wars: Force for Change team. Once settled, D.C. exclaimed, "This! This is my new favorite Star Wars moment!"
D.C. will enjoy a trip to London for himself and a guest, a behind-the-scenes visit to the Star Wars set, and will be fitted with a costume and filmed for a scene in Star Wars: Episode VII.
Now, onto the winner!
Another thing worth noting is that photograph that J. J. Abrams tweeted – there's a mechanical arm holding the note, and some have already speculated that this is the mechanical arm of Luke Skywalker. Could the whole "Cool Hand Luke" rumor about the opening of the movie actually be indicative of the direction that the plot may go, or is Bad Robot deliberately trying to set up a red herring? Let us know below.
Grant has been a fan of Star Wars for as long as he can remember, having seen every movie on the big screen. When he's not hard at work with his college studies, he keeps himself busy by reporting on all kinds of Star Wars news for SWNN and general movie news on the sister site, Movie News Net. He served as a frequent commentator on SWNN's The Resistance Broadcast.