Star Wars Episode 7, Rebels & Spinoff Bits and Pieces . . .
First up, Bob Iger Strikes Back with a new deal. Pray he doesn't alter it further . . . er, actually pray he does.


Disney Chief Bog Iger announced on Wednesday, during a second quarter earnings call, that the number of planned Star Wars spinoff movies now stands at THREE!

Here's a Tweet from Marc Graser of Variety: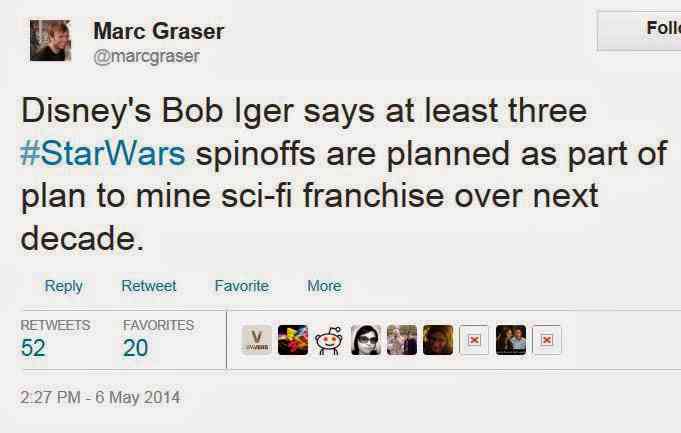 Since the D-Day announcement of the Lucasfilm Ltd. sale to Disney in 2012 the spinoff films were numbered at two. Early rumors and speculation had it that Han Solo, Obi-Wan Kenobi, Boba Fett, Jabba the Hutt and even Yoda were the likely candidates to receive spinoffs, although Iger also said that these movies would NOT be about characters in the main storyline. From Collider back in February of 2013:

"I can confirm to you today that in fact we are working on a few standalone films, Larry Kasdan and Simon Kinberg are both working on films derived from great Star Wars characters that are not part of the overall saga."
So, if these characters are not part of the main storyline then who will the movies be about?
Secondly, you may or may not have heard about a new casting call for extras.

Screen Rant

posted an article about the extras casting by Casting Collective. Upon further review the casting was false as it did not pertain to any Star Wars movie. HOWEVER,

Jedi News

posted an interesting set of Tweets from an actor named Sean O'Neil inquiring the casting website

Pop

as to whether or not extras casting for

AVCO

was still active:
So if you're a serious actor or a wannabe and you live in the U.K. you may want to register with Pop in order to be ready for any extras casting calls for AVCO, a.k.a Star Wars Episode VII!!!
Next Up, we have an article (or essay rather) from Entertainment Weekly that confirms that George Lucas had the Big 3 signed BEFORE the sale to Disney:
"But the involvement of all three was considered so vital, George Lucas himself met with them —

including Ford

— before the Disney sale to recruit their participation. And he got it, along with vows to keep that hush-hush until the appropriate time (less successful in Fisher's case.)"
Recall that George revealed this himself back in march of 2013:
"We had already signed Mark and Carrie and Harrison—or we were pretty much in final stages of negotiation," reveals Lucas. "So I called them to say, 'Look, this is what's going on.' Maybe I'm not supposed to say that. I think they want to announce that with some big whoop-de-do, but we were negotiating with them."
Lando's back in Rebels?
The peeps at

Making Star Wars

discovered a cool bit of info on the Star Wars Insider Facebook page:
The
Star Wars Rebels IMDB
even has Billy Dee Williams listed as Lando! And this comes on the heels of last week's accidental revelation that Obi-Wan Kenobi will be appearing in Rebels as well!
Lastly, but certainly NOT least, we have a bit of info regarding the official cast announcement from last week. It was announced that Kenny Baker — R2-D2 himself — was coming back to the droid. However, according to
moviecricket
that seems highly unlikely given his poor health:
"Movie Cricket asked Dave Prowse, 'So, what do you make of the returning characters in Star Wars: Episode VII? We understand you are friends with Kenny Baker who is billed to be in the film. Dave Prowse replied, 'There are lots of the older people coming back in. I mean, there is some talk about R2D2 coming back, Kenny Baker coming back…Well, Kenny Baker is really ill. However he is going to reprise his role I do not know.'"

The news that Baker was returning was one of the bigger surprises of the casting announcement since it was revealed a while ago that super-fans and R2 builders Lee Towersey and Oliver Steeples will be handling R2 duties for the Sequel Trilogy.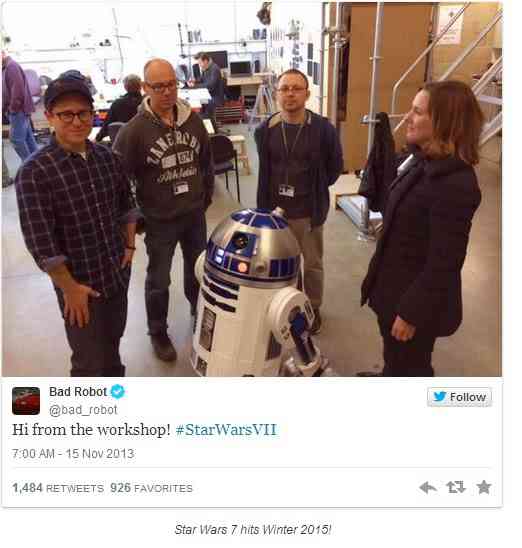 For everyone here at Star Wars Episode 7 News we truly hope that Mr. Baker can recover and return himself to good health!