Hasbro Reveals Figures From 'Star Wars Jedi: Survivor', 'The Mandalorian', and More
It wouldn't be a major convention without new toys! Hasbro has come to play again, bringing a bunch of new Star Wars figures to this year's San Diego Comic-Con. They include figures from The Mandalorian season 2, Star Wars Jedi: Survivor, and much more.
As a bit of quick housekeeping, a number of the items below will be available for pre-order on Hasbro Pulse today (7/23) at 5pm ET. With that out of the way, let's dive right in with a brand new Black Series Darth Vader Force FX Elite lightsaber. Hasbro posted a video of the reveal at the panel. Check it out and more photos below before you decide whether to add it to your collection this fall.
Just revealed at #SDCC, it's the Star Wars The Black Series Darth Vader Force FX Elite Lightsaber! Available for pre-order tomorrow beginning at 5:00pm ET on #HasbroPulse!#StarWars #StarWarsTheBlackSeries #TheBlackSeries #StarWarsCollection #Lightsaber #DarthVader #SDCC22 pic.twitter.com/5DiVqbbXYM

— Hasbro Pulse (@HasbroPulse) July 22, 2022
Next up is a bunch of Star Wars Jedi: Survivor toys. They include Cal Kestis' new look from the hotly-anticipated video game, and a couple of droids not named BD-1. They will be in stock next spring while Cal won't be available until summer 2023.
Another addition to your Grogu collection has also been revealed, and probably the next piece to the Luke Skywalker section of your toy shelf as well. Some new Black Series figures from The Mandalorian season 2 are coming this spring. They include the aforementioned duo, plus Bill Burr's Migs Mayfeld and a HK-87 figure, the assassin droid from Chapter 13 "The Jedi."
Here is a look at the figures. You can find more photos of them at StarWars.com.
A couple other unique Black Series figures are coming just in time for spooky season. Halloween edition Wookiee and Clone Trooper toys are hitting shelves this fall.
Returning to figures from The Mandalorian, Hasbro's Vintage and Black Series Credit collections will add a number of new toys. These include Boba Fett, a Dark Trooper figure, Ahsoka Tano, Din Djarin, Bo-Katan, and more. Axe Woves is also getting the Black Series treatment.
Check them all out below.
Last but not least, we have figures of a Klatooinian Raider and some classic Star Wars characters for the Retro Collection.
Again, you can find more looks at all of these toys on StarWars.com. Then head over to Hasbro Pulse's social media pages for even more. Pre-orders will go live at 5pm ET.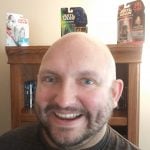 Nate uses his love for Star Wars and movies in general as a way to cope with the pain of being a Minnesota sports fan. When he's not at the theater, you can usually find Nate reading a comic, listening to an audiobook, or playing a Mario video game for the 1,000th time.