'Star Wars: Visions' Volume 2 Coming in Spring 2023
More Star Wars: Visions is coming! Volume 2 is officially arriving in spring 2023 after months of waiting to hear if the surprise Disney Plus hit would receive another order of shorts.
We first started hearing about the potential of another season back in December, along with rumors of a Tales of the Jedi series. One way or another, both are coming to your TV screens over the next year.
#StarWarsVisions returns. Volume 2 streaming Spring 2023, only on @DisneyPlus. pic.twitter.com/zCAlj8lBiv

— Star Wars (@starwars) May 29, 2022
During the Visions panel at Star Wars Celebration, fans were initially disappointed early on as executive producer James Waugh didn't confirm whether we would receive another season. He simply said that anime takes a while to make. He did however guarantee that Star Wars and anime had a bright future together, which proved to be true from a certain point-of-view.
The first season of Visions saw stories from strictly Japanese animation studios. The next volume will change that with "visions" from all over the globe — Volume 2 will again see Japan cooking up new shorts, but also India, Spain, Ireland, Chile, South Africa, and more. With the series expanding into different cultures with their own styles, Visions Volume 2 will go beyond just Japanese anime.
Star Wars Visions returns in Spring 2023. Moving on from anime for now. Multiple countries' cultures and styles represented. India, Ireland, Spain, and more. #StarWarsCelebration pic.twitter.com/HaNVESPxcv

— Eric Geller (@ericgeller) May 29, 2022
No matter what form this next batch of episodes takes, it will certainly be as fresh and exciting as the first volume. Also discussed at the panel was The Art of Star Wars: Visions book, which releases on October 4th. You can preorder here. In addition to all of this, Marvel announced that they are also working on an original Visions story.
The first volume of Star Wars: Visions is currently available to stream on Disney Plus.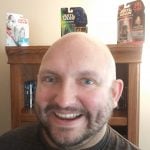 Nate uses his love for Star Wars and movies in general as a way to cope with the pain of being a Minnesota sports fan. When he's not at the theater, you can usually find Nate reading a comic, listening to an audiobook, or playing a Mario video game for the 1,000th time.