'Star Wars' Celebration: New Yoda Comic Book Miniseries, 'Visions' Story, and More Revealed From the Marvel Panel
Marvel took the stage at Star Wars Celebration to unveil what they have coming in the world of comics. Outside of previewing what's in the immediate future for the current ongoing series, a new Yoda miniseries was announced. There was also a tease of a brand-new Star Wars: Visions story.
Star Wars: Yoda will be a 10-issue miniseries, made up of a trilogy of three-issue story arcs, with one final issue tying it all together. The comic will take place before Luke lands on Dagobah during The Empire Strikes Back, and sees the Jedi Master thinking back on his life. The bulk of the story will jump through various points in Yoda's life.
From StarWars.com:
Told in three arcs by three writers — Cavan Scott, Jody Houser, and Marc Guggenheim — the series will hurtle back in time to take readers to key moments in Yoda's life during the prequel era and with a first story set in The High Republic, as he ruminates on the past. With covers from Phil Noto, artists Nico Leon, Luke Ross, and Alessandro Miracolo will illustrate the 10-issue run.
Cavan Scott kicks things off, with issues #1-3 venturing into the 150-year period between phases 1 and 2 of the High Republic. During the second arc of the story, written by Jody Houser, we will see a young Count Dooku alongside his former master. Yoda will be coming this October.
A tease of some of the art from the #Yoda comic. Count Dooku shows up here as well. #Marvel #StarWarsCelebration pic.twitter.com/OUL5QpYgy6

— LaughingPlace.com (@laughing_place) May 29, 2022
The other reveal from the panel is that Marvel is working on an original tale from the world of Star Wars: Visions. No further details were shared at this time, but they said it's not an adaptation.
#StarWarsVisions is also getting a coming book from #Marvel, with a new story— not an adaptation. #StarWarsCelebration pic.twitter.com/HIoEbRosRA

— LaughingPlace.com (@laughing_place) May 29, 2022
The other parts of the panel saw the rest of the Marvel Star Wars team talk their respective series. There wasn't any mention of Soule's upcoming miniseries The Hidden Empire, which will be the last part of this trilogy that started with War of the Bounty Hunters. Soule said in his January newsletter that he believed the series would run from June through November. However, there hasn't been any mention of it in any of the summer solicits. So, we remain in a waiting game, as is the life of a comic reader with schedules constantly shifting.
We did get a look at the variants for the upcoming Star Wars #25 though, which is for sure coming this July. The issue will see Soule return to a number of characters he has written over the years for Marvel. Issue #26 will begin a new arc for Luke and Leia.
#StarWars #25 will be @CharlesSoule's 100th entry in the franchise— an anthology collecting new short stories from the world and characters of every title he previously wrote. pic.twitter.com/NmbZoAtuLh

— LaughingPlace.com (@laughing_place) May 28, 2022
Meanwhile, in Aphra's world, things are set to get even weirder. Alyssa Wong says the next few issues of Doctor Aphra will see the titular character continue down the dark path of the Ascendant, with even more characters from her past getting thrown into the mix. We got a peek at the next issue, but if you aren't caught up on what's going on in Doctor Aphra, you can find our review of issue #20 here.
#DoctorAphra by @crashwong will continue to follow the path of the dark cult known as the Ascendant. More characters from Aphra's past will show up and "things will get even weirder." #StarWarsCelebration pic.twitter.com/7xM0FxC2AA

— LaughingPlace.com (@laughing_place) May 28, 2022
Ethan Sacks' Bounty Hunters will see T'onga and her crew infiltrate the Crimson Dawn stronghold as they attempt to free Cadeliah, who they kidnapped back in Crimson Reign #2. Issues #27 and #28 will be a two-parter, and will have a connecting cover from Ken Lashley.
#27-28 of #BountyHunters will be a two-parter with connecting covers. #StarWarsCelebration pic.twitter.com/FoNFFpjx4p

— LaughingPlace.com (@laughing_place) May 28, 2022
Christopher Cantwell's Obi-Wan miniseries continues with issue #2 this June. The issue is said to be a "haunted house" story. Interior panels depict the issue will recreate the Star Wars Rebels duel between Obi-Wan and Maul, but it appears to be just as brief as it was in the animated series, since it moves right into the meat of the issue.
#ObiWan by Christopher Cantwell follows the character reflecting back on adventures from throughout his life. The upcoming second issue is a "haunted house" story. #StarWarsCelebration #Marvel pic.twitter.com/kgXCRSZj7c

— LaughingPlace.com (@laughing_place) May 29, 2022

Lastly, Greg Park talked Darth Vader. The next few issues will see things start to get really tense between the unlikely trio of Vader, Ochi of Bestoon, and Sabé. The old handmaiden of Padmé Amidala continues her quest to uncover what really happened. A quest that leads Vader into confronting one of his old nemeses: sand.
Here's the synopsis for issue #26:
We all know about Anakin Skywalker's aversion to finely ground particulate matter.

But what does sand mean to the Dark Lord of the Sith?

When Sabé, Vader's unlikely new ally, goes missing, Vader must confront his own dark heart in the maelstrom of a terrible sandstorm – while tapping into one of his earliest skills in a wildly unexpected way!
For High Republic fans, Scott's The High Republic will take us back to Jedha this October. Meanwhile, Soule's The Blade will be revealing the backstory behind Porter Engle, and how he became known as the "Blade of Bardotta." That four-issue limited series is coming this November.
You can read more about all the Star Wars Celebration announcements from the High Republic world here.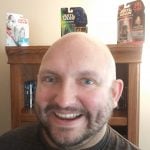 Nate uses his love for Star Wars and movies in general as a way to cope with the pain of being a Minnesota sports fan. When he's not at the theater, you can usually find Nate reading a comic, listening to an audiobook, or playing a Mario video game for the 1,000th time.