Exclusive: Look Out, Grogu! 'Obi-Wan Kenobi' to Introduce the Next Adorable Star Wars Character
We are just a month away from the premiere of Obi-Wan Kenobi on Disney Plus, and the show's publicity should kick into high gear any day now. A full trailer is expected to hit soon and while we wait, we wanted to share a very interesting tidbit we've learned about a new character from the show.
The following info is lightly spoilerific and, as always, we want to ask you to respect all Star Wars fans and share this info using spoiler tags and don't share it directly in titles and social posts. Please allow your fellow fans the opportunity to choose to see the information. 
SPOILERS!!!
A month ago, we revealed that 4-LOM, the bounty hunter first seen in The Empire Strikes Back, will make an appearance in Obi-Wan Kenobi. Now we've learned about yet another character from the show who is completely new and from the sounds of it, might win over the hearts of fans with its cuteness. 
Before we share details about this character, it's important that you are familiar with yet another scoop we had in the past which is connected to this one (here). 
In that story, we revealed Obi-Wan will have an important mission rescuing none other than 10-year-old Leia Organa! This new character will be closely connected to Leia in the series and we've learned that this new character happens to be Leia's own little flying droid companion, designed to protect her. With Obi-Wan needing to rescue Leia, it sounds like this new little droid didn't do such a great job. 
It seems young Leia will have a significant role in Obi-Wan Kenobi, despite the fact she was not featured in any promo material (so far, we've only seen young Luke). As Leia is only 10 years old during the time of the series, it might be off-putting if they gave her a blaster or weapon to defend herself, as she is only a child, despite the fact that she is royalty. So instead of giving Leia a weapon, she is provided with a cool small flying guardian droid to protect her. 
We were told that this droid is like a drone. It's adorable, like a little bug that hovers over her to protect her. This new character is intended to capture the audience as the next big cute Star Wars character, following recent ones like Grogu, Babu Frik, and D-O. It has a circular shape, almost like an old flying saucer, with white and red colors.   
There are a few things to be mentioned regarding this cool new droid. Some of you will immediately make the parallels between this droid and Cal Kestis' small droid which befriends and accompanies him in the video game Star Wars Jedi: Fallen Order. But we were told the intended parallel with Leia's new droid is with a character revealed way back in 1987 in a movie produced by Lucasfilm President Kathleen Kennedy, called Batteries Not Included. We think this is a nod more than a coincidence, and the robots from that movie are the closest comparison to this new little droid's look.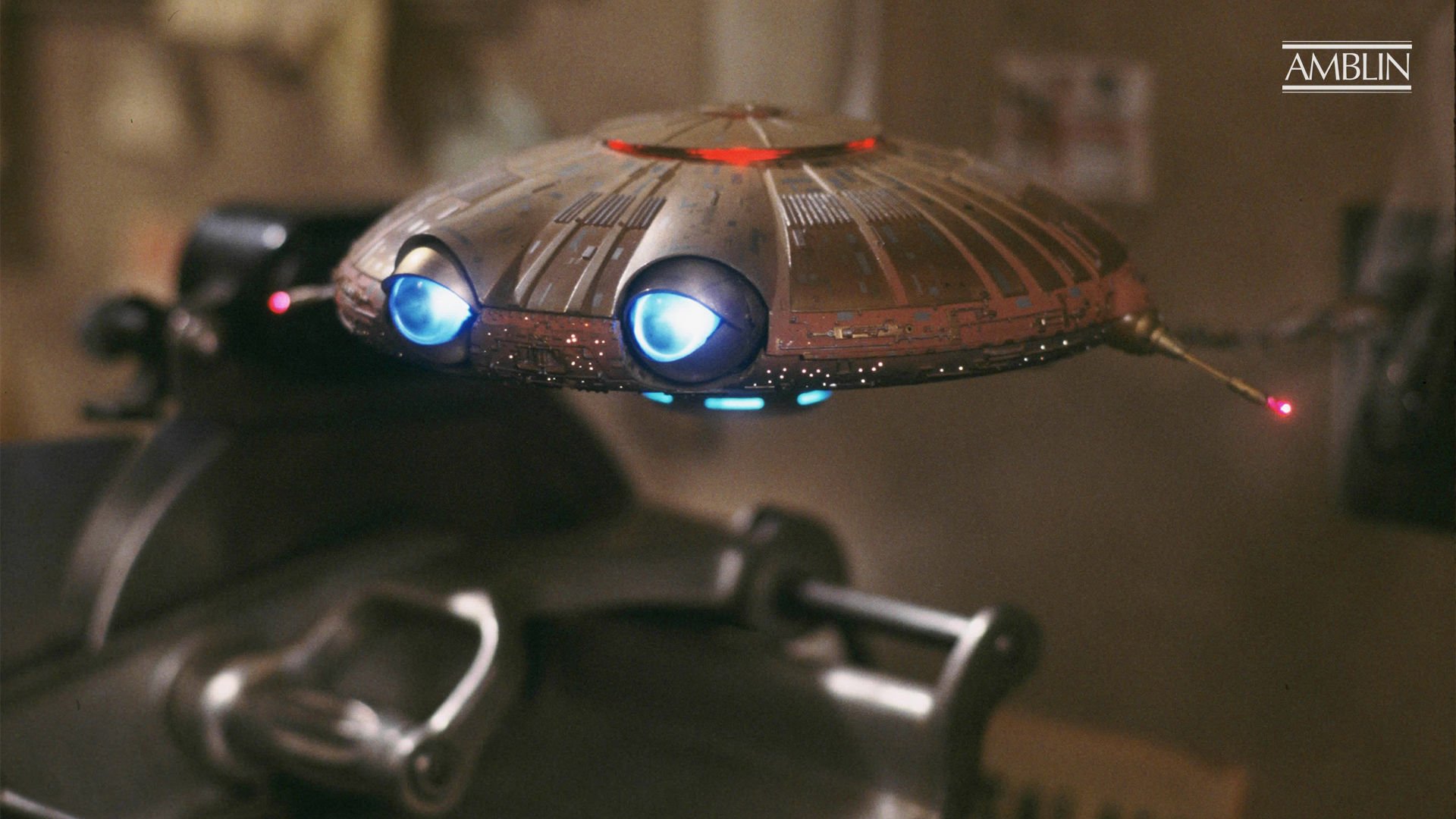 The new droid is similar in shape and size to the one above, it just has its sensors like antennas and visors offset to the side of the disk.
Characters having sidekicks is very common in Star Wars. Luke has Artoo, Han has Chewie, Rey has BB8, and now a young Leia will have one of her own.  
What do you think? Are you familiar with Batteries Not Included? Do you like the idea of Leia getting a new pet guarding droid? Let us know in the comments below.
One month left!