Updated with the Winners! Star Wars News Net Ninth Birthday Giveaway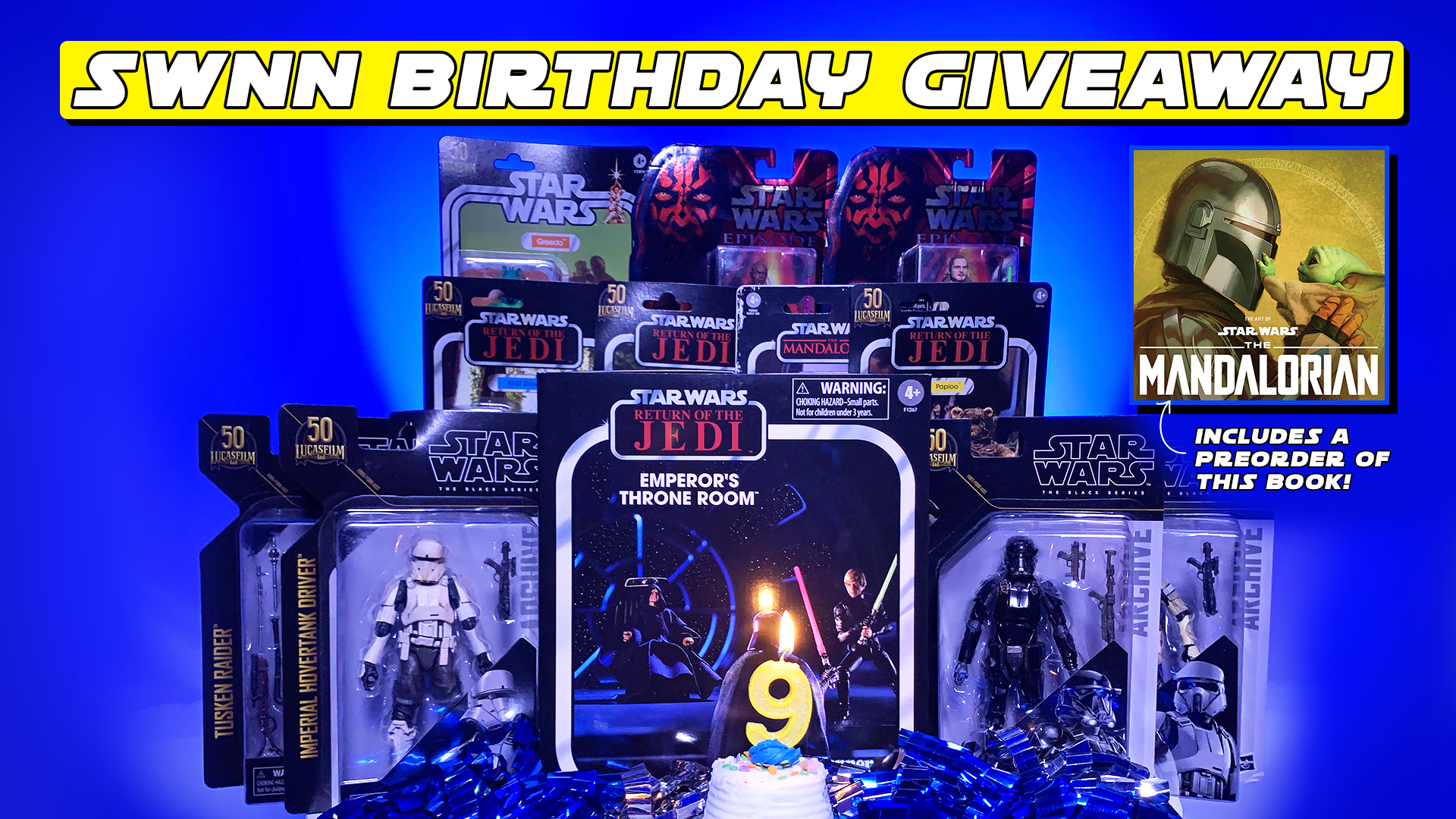 It's been nine years since I started this site, purely driven by my love for Star Wars and my desire to have the most interesting, important, and credible news source in one place for all fans of the franchise to enjoy.
Nine years is a long time, and I wouldn't be able to do this without the help of all the incredible people I met during this time. A huge thank you to everyone involved with The Cantina forums, all the SWNN writers, the incredible The Resistance Broadcast podcast team, and of course all of our readers and fans, without whom we wouldn't be here today.
There is no bigger prize than our readers' appreciation of what we do. So before I go any further here, on behalf of the SWNN team and myself, I wanted to give big thanks to all of you who come to SWNN as your source for Star Wars news, reviews, information, and hopefully some fun!
Speaking of prizes, now it's our time to give some away in appreciation of your support.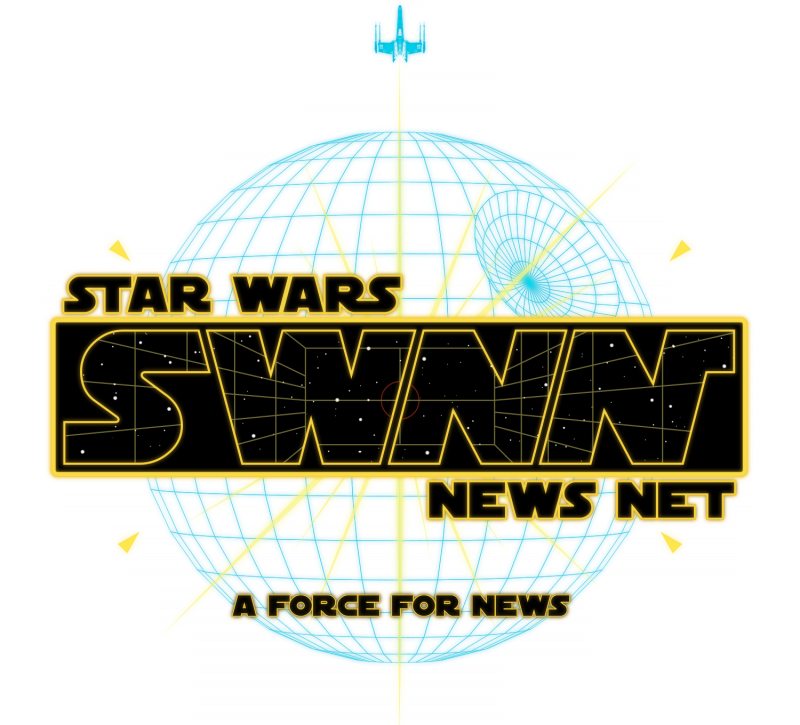 We decided to do a cross platform giveaway, so all our accounts will have a different prize. Thank you so much to our friends at Hasbro for sending us some of the toys we are giving away (some of them are not even released yet), we would rather share these with our readers than keep them for ourselves. In addition to the two figures (all different) that will be given away on all six of our accounts (12 figures total) we will add a pre-order for the upcoming highly anticipated book The Art of Star Wars: The Mandalorian (Season Two), which will be released in December.
We are giving away the following two toys together here on the site, along with a pre-order of Star Wars: The Mandalorian (Season Two):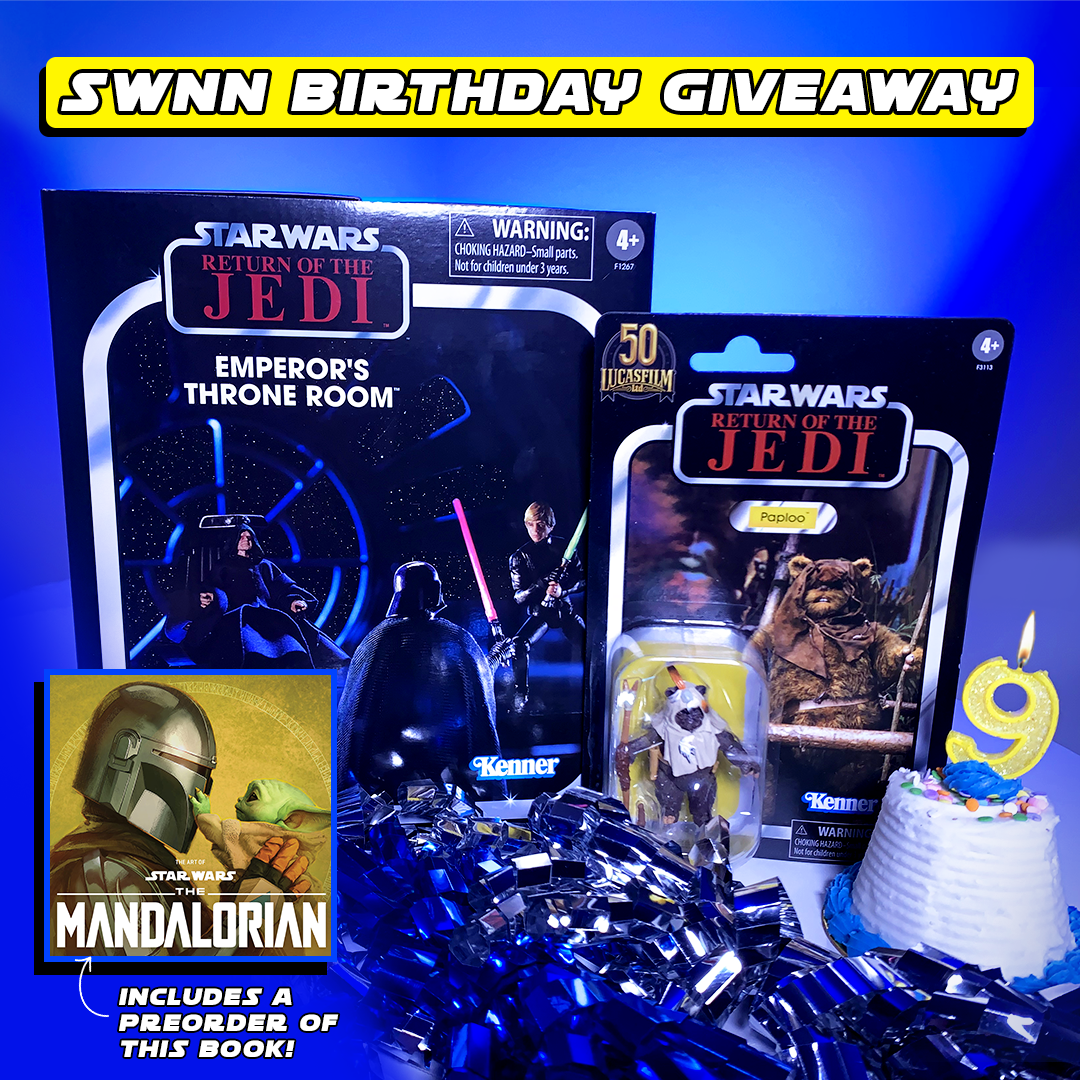 To be eligible to win the prizes above, comment below with which upcoming Star Wars release you are looking forward the most?
When the contest ends, we will pick one random winner from the comments section.
If you want to participate in the other giveaways held on our different platforms, you can find out how by visiting them by clicking their respective names:
Retweet our Tweet and follow us to have a chance at winning the pictured prizes in the Tweet.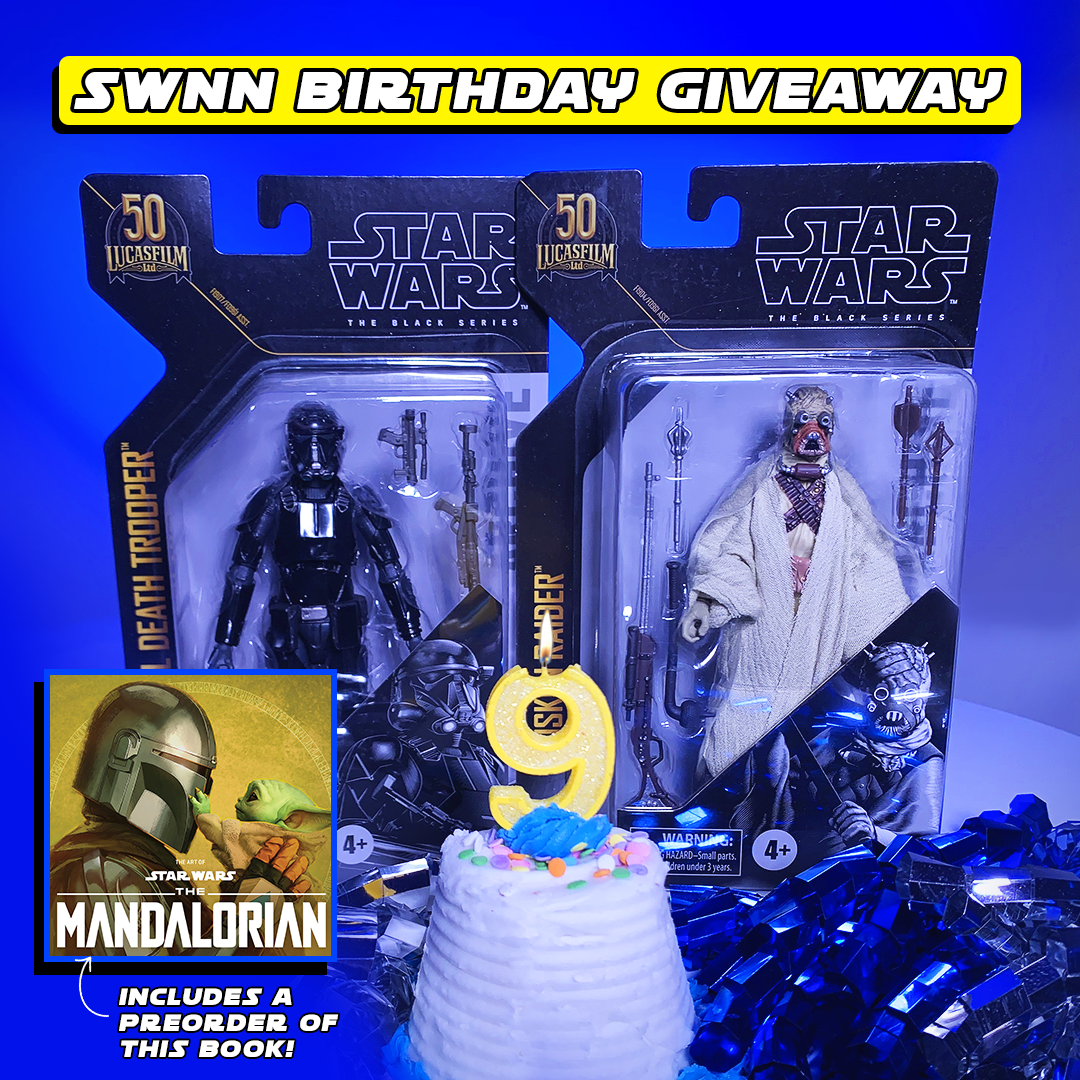 Like our post on Facebook and comment on the Facebook post which upcoming Star Wars release you are looking forward the most?
Follow us on Instagram and tag two friends in the comments of the post to have a chance at being the winner.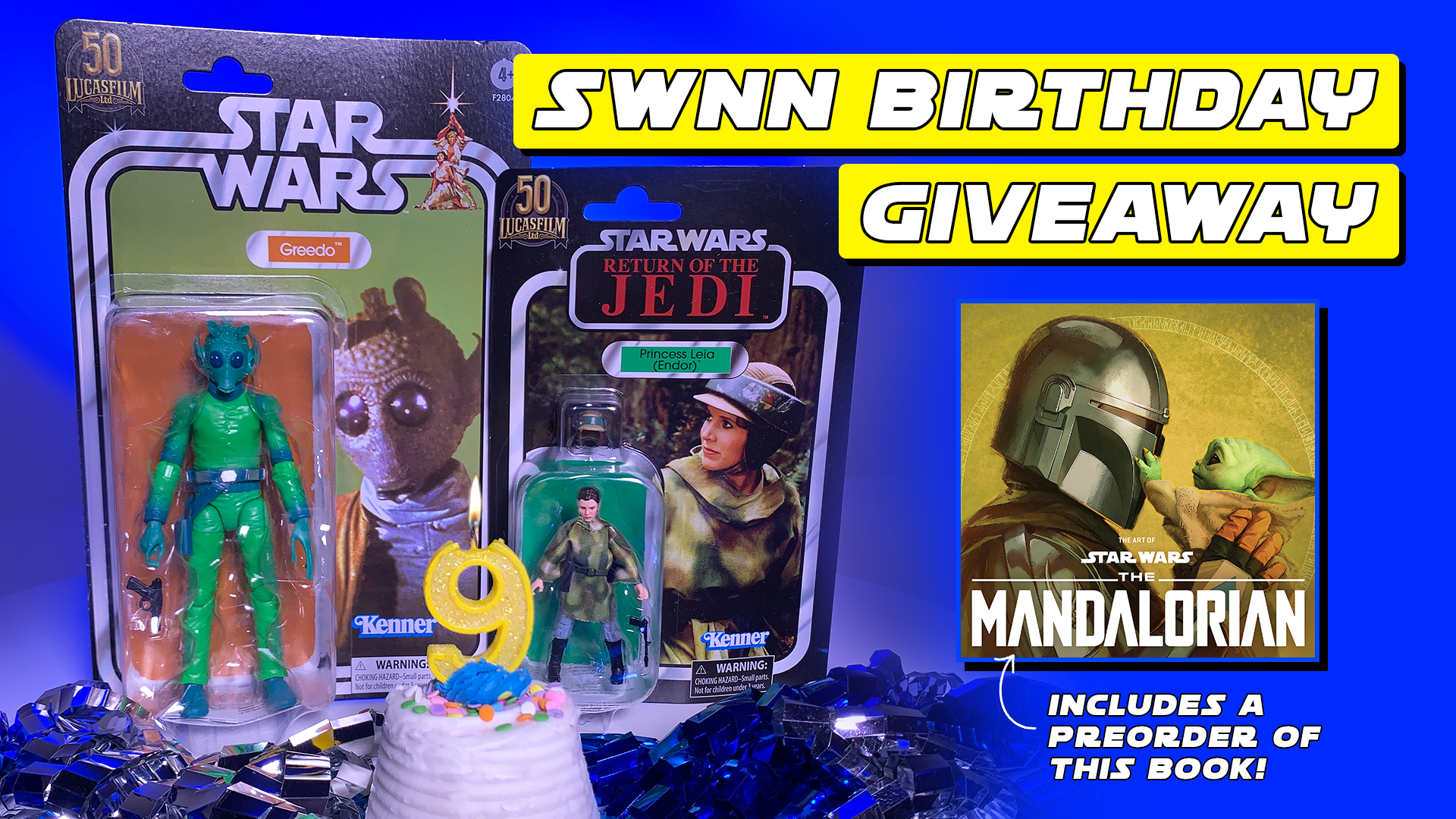 Post your reply which upcoming Star Wars release you are looking forward the most under the thread posted in the Cantina
Follow The Resistance Broadcast and the SWNN Instagram accounts and tag a friend in the comments who loves Star Wars.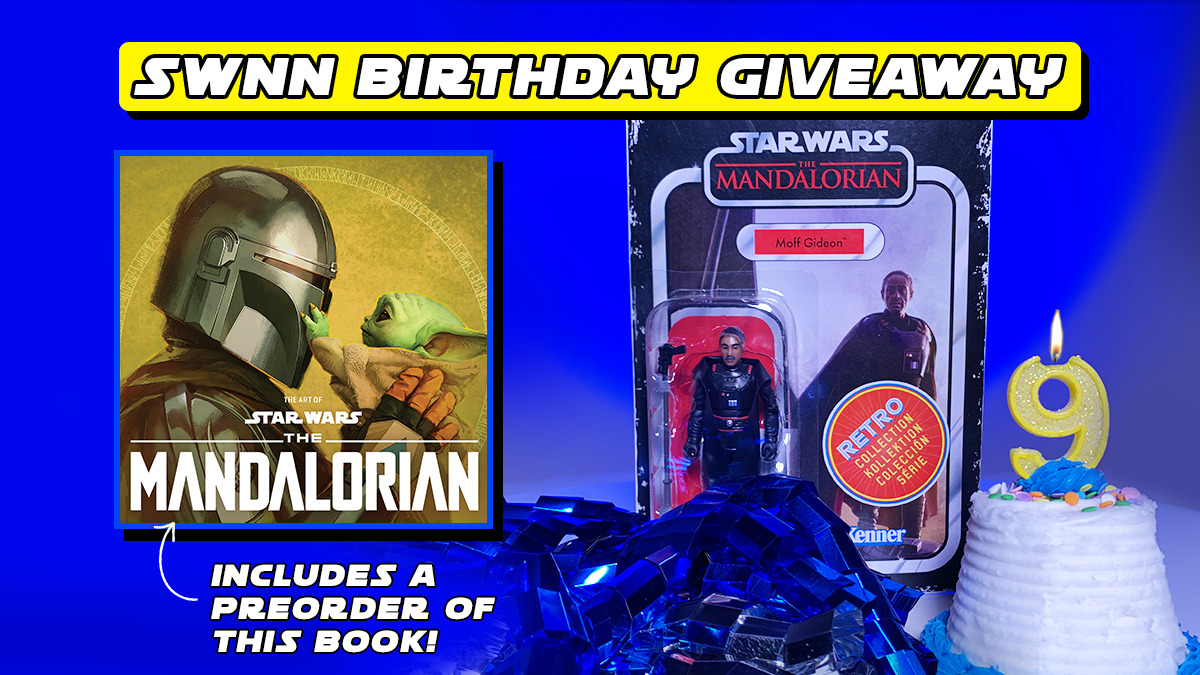 Follow The Resistance Broadcast and the SWNN Twitter accounts and retweet the tweet.
SWNN Social Media Giveaway Contest Rules:
1) Star Wars News Net is hosting this giveaway on Facebook, Instagram, and Twitter for it's 9th Birthday Celebration.
2) One winner will be chosen on each social platform at random and contacted through direct message after the conclusion of the contest.
3) If any winner does not respond within 48 hours of contact, the prize will be forfeited and Star Wars News Net will choose an alternate winner. Process will continue until a chosen winner responds.
4) This contest in no way sponsored, endorsed, administered by or associated with Facebook, Instagram, or Twitter.
5) Contest will close on 11/03/2021 at 11:00 AM EST.
Good luck everyone and thank you again for being part of the journey. With so much Star Wars content coming, I feel like we're just getting started…
…Oh, and stay alert in the following weeks, things might look a little different around here, who knows?
UPDATE!
And here are all the winners:
Steve Renner – SWNN site
Embo and His Pet Anooba – SWNN forum
Jason Stamps – SWNN Facebook
Shaun Sannerude – SWNN Twitter
Joey Pittman – SWNN Instagram
Dan Calhoun – TRB Twitter
Micah Harrison – TRB Instagram
We are going to reach out to all the winners. We just need the winner from here – Steve Renner to contact us, as Disqus hides all the info of the commenters.
Congrats to the winners, and thanks for all the kind words and support from all of you.