Weekly "Obi-Wan Wednesdays" Begin May 25 With Product Reveals
The Obi-Wan Kenobi hype train continues to roll.
Lucasfilm announced a new weekly series of merch announcements titled "Obi-Wan Wednesdays" that launches on Wednesday, May 25 — two days before Obi-Wan Kenobi debuts on Disney Plus. The ongoing special event will feature a variety of product releases that includes books, comics, apparel, toys, and more.
Paul Southern, Senior Vice President, Franchise & Licensing, Lucasfilm, Disney Consumer Products, Games, and Publishing, shared a note about the launch:
Star Wars fans are gearing up for a fresh look at the roots of the iconic battle between the light side and dark side with Obi-Wan Kenobi, and these new products will give them a chance to revisit favorite characters, as well as celebrate new moments as this epic story continue.
The lineup of the upcoming announcements includes collectibles and items from top Star Wars licenses like Hasbro, LEGO, Funko, Mattel, and others.
Today, for May 4, Hasbro kicked off the launch of merchandise around the highly-hyped Obi-Wan Kenobi series with an assortment of debuts that included a detailed Force FX Obi-Wan lightsaber and an amazing Black Series Darth Vader Premium Electronic Helmet.
Each Wednesday, you'll be able to visit ObiWanWednesdays.com at 10am PDT / 1pm EDT to explore the new releases and prepare to preorder most items the following Thursday.
Also, stay tuned for our full coverage of all the Hasbro reveals from today.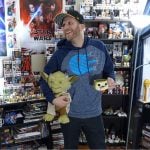 Tony Gorick is a self-proclaimed candy connoisseur with a passion for Star Wars and roller coasters. Whether he's working at his friend's arcade or watching classic Saturday morning cartoons, he does so with unsettling enthusiasm.