Happy #MakeSolo2Happen Day – Star Wars Fans Take to Social Media to Share Love For 'Solo'
#MakeSolo2Happen is a positive fan movement sharing love for Solo: A Star Wars Story and showing support for continuing the adventures of Han Solo, Chewbacca, and the other characters from the film in a follow up movie or a series on Disney Plus. Today is #MakeSolo2Happen Day! To participate just use the hashtag on your social media apps sharing why you love Solo and would love to see more of this story that was clearly set up to continue.
Join the Movement
To join the movement, simply use #MakeSolo2Happen any time you are on social media talking about Solo or your hopes for a sequel film or Disney Plus series! Since today is #MakeSolo2Happen Day, if you use the hashtag in 5 separate tweets on Twitter, you are entered to win this prize package.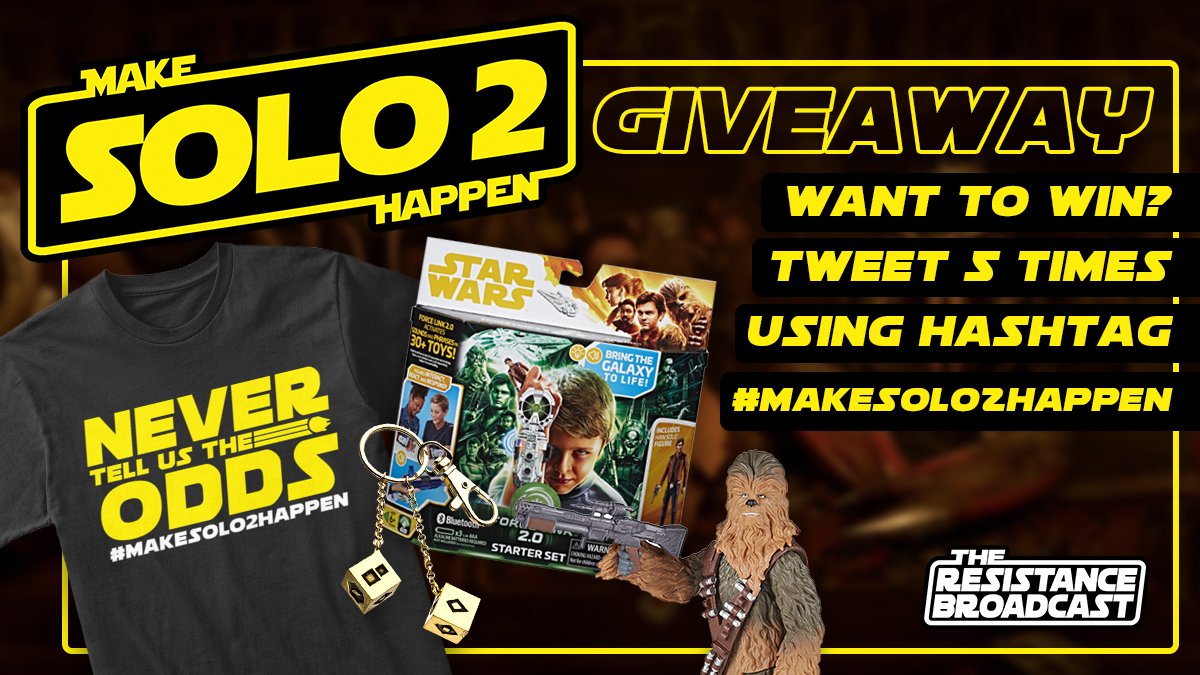 The Resistance Broadcast will be going live tonight, doing a live show at 8:30ET on our YouTube channel! The chat will be open so join us and fellow Star Wars fans for what will be an end of day party. Here is the link to the video below. Tell your friends, bring them along, and we'll see you tonight!
ABOUT THE MOVEMENT 
The hashtag was created by our own John Hoey, and has been an active campaign of positivity started by our podcast The Resistance Broadcast with John, James Baney, and Lacey Gilleran. But it isn't about us, it is about ALL of us. Here are fans of all ages sharing why they want to see Disney and Lucasfilm #MakeSolo2Happen!
#MakeSolo2Happen Went Viral
The hashtag made waves when the podcast launched #MakeSolo2Happen day on May 23 2019, celebrating the one year release of Solo. It became a top trending topic in the United States and internationally, even beating out the marketing campaign for the new Terminator movie which also launched that day. The hashtag was a top trending topic once again in 2020.
Acknowledgments
The movement has been recognized and acknowledged by many involved with Solo including:
Director Ron Howard
Writer Jon Kasdan
Joonas Suotamo (Chewbacca)
Erin Kellyman (Enfys Nest)
Ray Park (Darth Maul)
Producer and ILM Head Rob Bredow
Puppeteer Brian Herring
Composer John Powell
Creature Performer Nick Kellington
Sound Editor Matthew Wood
Even Lucasfilm's VP of live action development and production Michelle Rejwan spoke with us about it at the Global Press Conference for The Rise of Skywalker.
#MakeSolo2Happen SWAG!
If you'd like to buy a #MakeSolo2Happen T-shirt, they are available here on spring.com. The design for the logo (which was designed by James Baney), is also available on mugs, stickers, hoodies, and more!
This isn't a demand, this isn't a petition, it's simply a positive show of love for Solo: A Star Wars Story and our hope for more adventures with Han, Chewie, and the rest of the awesome characters from the film. So join the movement and let's #MakeSolo2Happen!