EA's 'Star Wars Battlefront' Titles Get Official OST Release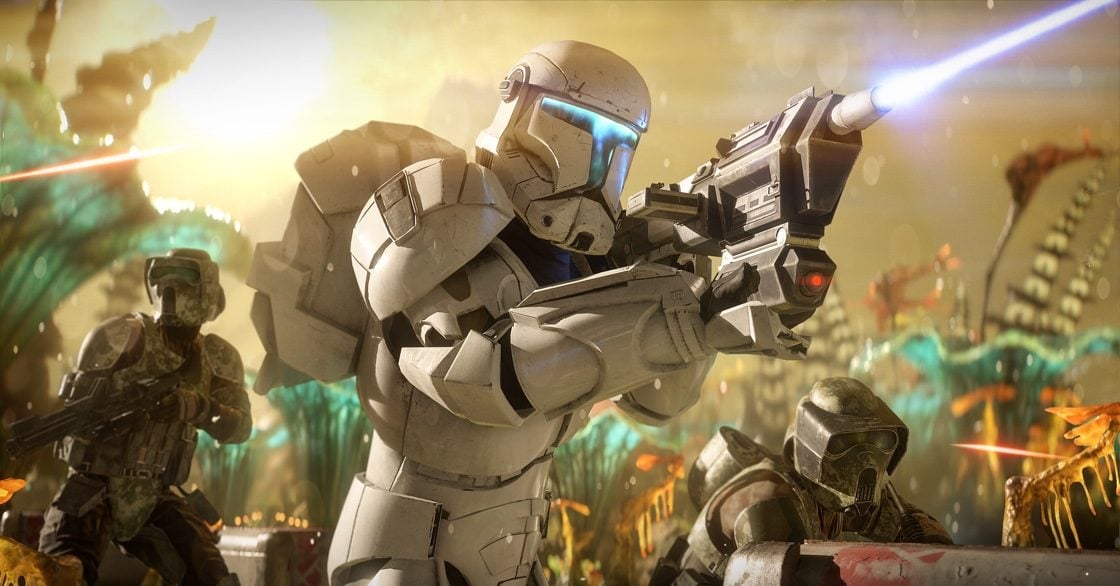 EA and DICE's Star Wars Battlefront titles are finally hitting retail and streaming services.
In a surprise move, Walt Disney Records is finally putting out Gordy Haab's outstanding original soundtracks for Star Wars Battlefront and 2017's Battlefront II after years of radio silence. Variety reported the news ahead of today's surprise drop.
The news arrives shortly after Epic Game Store gave away free copies of Battlefront II for a week, making the game hit 19 million unique new players. Post-launch development for the sequel was terminated last  year, but the game's devoted community is not showing signs of fatigue. This newfound success speaks volumes about how far it has come since its rocky launch.
Gordy Haab also scored Respawn's Jedi: Fallen Order and last year's Squadrons. His style is extremely close to John William's, and we hope he sticks around for future Star Wars game titles. Haab had this to say about working on both Battlefront games:
"I consider composing the original score for EA's 'Star Wars: Battlefront' series one of my greatest accomplishments. Creating new music for a game with such high expectations was a colossal task, only made more daunting by my own passion and desire to pay honor to my favorite franchise. And for this reason, I poured a lifetime of love into every note. As did the orchestra who performed it – and every person who helped bring the music to life."
Steve Schnur, president of music for EA added:
"Gordy Haab brought his own aesthetic to 'Star Wars: Battlefront' and 'Star Wars: Battlefront II,' while at the same time honoring the most iconic film music in history. Watching him bring these scores to life in the same studio and with the same orchestra that was used to record the original `Star Wars' has resulted in remarkable music that fans are finding just as timeless. These soundtrack albums are the proof."
Other Star Wars scores from Haab include BioWare's still-ongoing The Old Republic and the ill-fated Kinect Star Wars.
Francisco J. Ruiz is that guy who has watched Jurassic Park a thousand times and loves Star Wars. His hunger for movies is only matched by his love for video games. He graduated in English Studies from the University of Malaga, in Spain. As he keeps writing about what he enjoys (and doesn't) for websites all over, he's continuing his studies.