New Details On Visceral's Cancelled Star Wars Game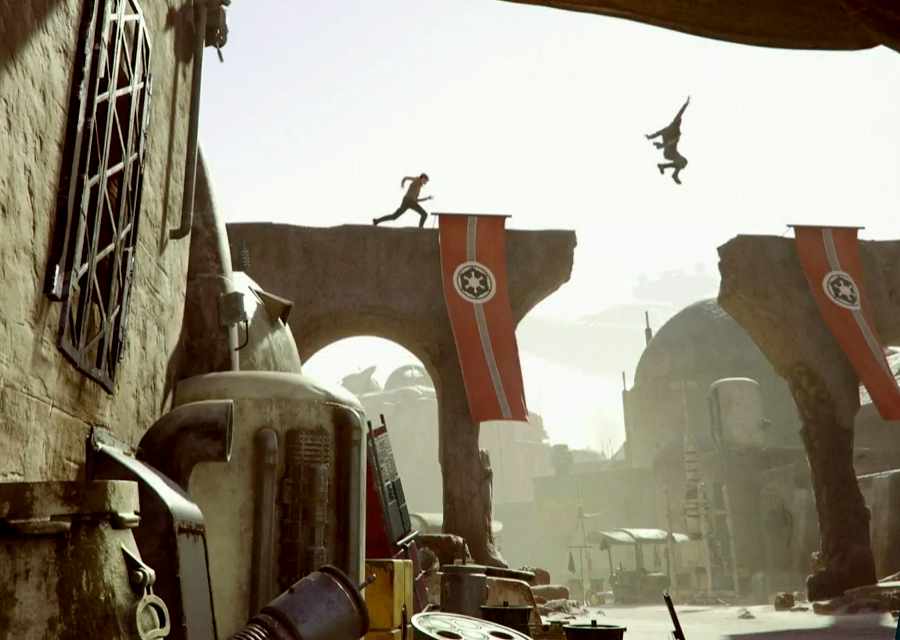 When it was announced three years ago that Visceral's single player Star Wars game was cancelled and the studio was to be closed, a lot of fans were disappointed with EA's apparent shift away from single player Star Wars games. Thankfully, Jedi: Fallen Order has since reaffirmed EA's faith in narrative-driven single player games, but a producer from Visceral's cancelled project has revealed some tantalizing details about the game's story.
In an interview with Eurogamer, the game's producer Zach Mumbach spoke about how the cancelled game would have been "the best Star Wars game ever made".
The game's lead character was well developed and would have been a cross between Robin Hood and Star-Lord (not far off from a Han Solo-type, considering Chris Pratt's Star-Lord was inspired by our favorite Corellian). He also revealed a number of levels were near completion before EA pulled the plug on the project. One set-piece involving an AT-ST chase was pretty much done.
Mumbach speaks a lot about how unorganized EA was, and how their lack of a larger strategy caused major upheaval at the studio. Visceral Games were known for crafting incredible single player stories, such as the Dead Space series, so when EA told them to make Battlefield: Hardline, they had to drastically change the studio's structure to deliver a quality multiplayer shooter. Then once they had delivered that, EA asked them to pivot back to a single player game again after all their top talent had already moved on elsewhere.
The timing was weird. The sequence of events was like – 'hey, we have a studio with their own engine who make really high quality single-player games – the Dead Space series – and we're going to take that studio, move them to Frostbite and have them make a Battlefield game'. OK, I'm fine with that. I stayed there and worked on that.

But we had a lot of people at the studio who were experts on narrative and single-player games and those people left. And that's fine – some of them went to Crystal Dynamics and worked on the Avengers game. That kind of stuff happens. Then we went and hired a bunch of multiplayer first-person shooter experts to help us with Hardline. Cool. So to ship Hardline and go 'hey you guys are now going to make a single-player third-person [game]…' That's the thing which is hard for me to get over.

Who's making this plan? There is no plan, obviously. We were experts at this [genre of] game two years ago and then we re-made our studio. And it was hard. And we pulled it off. And then it was like 'go back to what you guys did before'. And we were like 'well those guys who were good at what we did before left'.
Much of the excitement around the game centered around the fact that it was being directed by Amy Hennig, who was responsible for the first three games in the Indiana Jones-esque Uncharted series. Many gamers felt frustrated at EA's inability to take full advantage of having one of gaming's best storytellers at one of their studios, and so did Mumbach.
We had this leadership team come in from Vancouver… and not knocking them, they were in the same position I was in Army of Two. They were like 'we need to ship this thing, let's go, cut this, cut this, cut this'. And I'm thinking, this is effing Amy Hennig, we have the chance to make the greatest Star Wars game ever made and a possible Game of the Year contender. This isn't an Army of Two game.

I think we would have made the best Star Wars game ever made. The story and the setup and the characters… [were] set up for success but what we had to execute was going to take a while. I think the company saw that – 'hey you guys are eventually going to make a crazy good game'. At the time, when we got shut down, [EA exec] Patrick Soderlund was even like – what's the game with 'Winner, Winner, Chicken Dinner'? PUBG? – they even sent out a press release that was like 'no one cares about single-player any more'.

I just wish they'd figured that out two years ago.
All fans ever saw of the game was a shot of the main character stepping out into a sandy courtyard with TIE fighters flying overhead, but according to Mumbach there was a lot more footage we never got to see.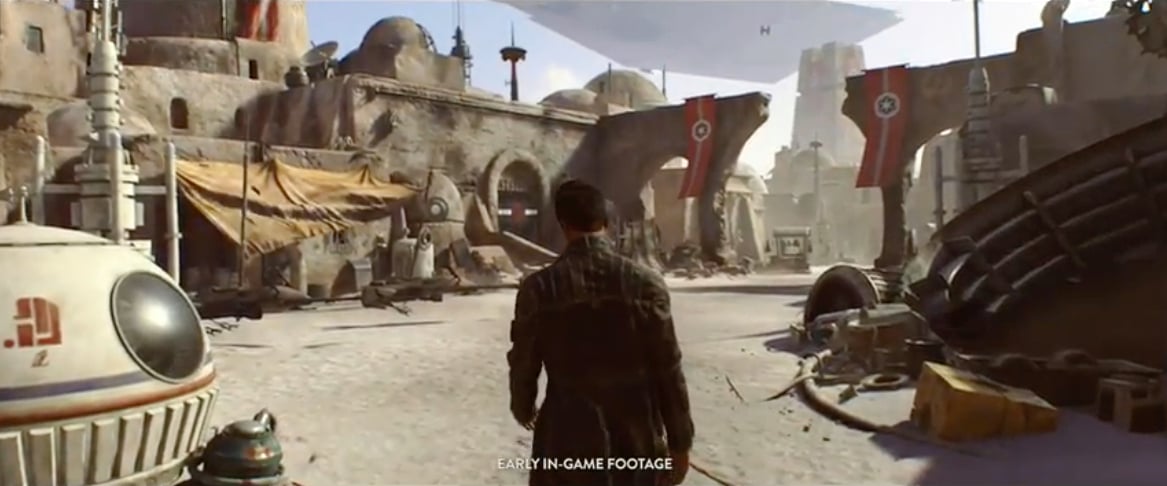 We just had a lot of gameplay people never got to see. We had levels, they weren't done but they were close. We had one set-piece which was basically done – we were putting the final touches on it right when the studio was shut down.

[It was] this crazy AT-ST moment which was really cool. You were on foot running from it and it was trying to hunt you down but you were more agile, slipping through these alleyways, barreling through and crashing and using all the destruction of Frostbite… You would have been like 'oh that's like Star Wars Uncharted'.
Thankfully, EA seems to be in a better place with Star Wars games now. Respawn are rumored to be making a sequel of some kind to Jedi: Fallen Order, and Star Wars Squadrons will be releasing in Holiday 2020. But this is only after they had already shut down Visceral Games, after a series of delays to Project Ragtag had seen the studio leak too much money. EA ultimately decided to cut ties with the project then and there to save money, rather than seeing it through.
"We were definitely sitting in one of the most expensive places to make a video game," Mumbach concedes. "But Jedi: Fallen Order was made in LA, one of the most expensive places to make a video game."
Fortunately, Jedi: Fallen Order ended up being one of the best Star Wars single player video games released in over a decade, but it's difficult not to wonder what might have been with Amy Hennig's cancelled project Ragtag.
Josh is a huge Star Wars fan, who has spent far too much time wondering if any Star Wars character could defeat Thanos with all the Infinity Stones.