Review: 'Star Wars: The Bad Batch' Episode Four 'Cornered'
Friday time! Star Wars is back on our small screens, as it has been for a couple of weeks now, with a new episode of The Bad Batch. After last week's episode felt like half-adventure, half-serialized storytelling, it was really interesting to see where the show would go next. After all, there are sixteen episodes this season, so there's plenty of room for some slow moments. We will talk about the new episode, titled Cornered, in a non-spoiler way, and then dive into all the goodness that went down for those of our readers who have already watched it. Shall we begin?
Cornered was directed by Saul Ruiz, and written by Christian Taylor, with Matt Michnovetz credited as story editor. If we are going to talk about slow moments, this episode definitely isn't one of them. Even though it is initially teased as yet another land-on-a-planet-while-we-wait-for-a-thing type (much like half of last week's episode), we quickly realize this is not the case, and they clearly earned the title Cornered.
The fourth episode of The Bad Batch is certainly one of the most entertaining ones so far. Even though it doesn't spend its 25 minutes setting up big things and talking about the larger story, they managed to raise some questions about it while being another episode of the week. And I mean that in the best way possible. There is a lot of payoff for the relationship they set up in the previous two episodes between Hunter and Omega, as well as Wrecker and Omega. In the meantime, while Tech is once again relegated to the background, Echo receives a very interesting character arc. Let's dive in.
Spoilers ahead for The Bad Batch: Cornered
Let's address the big elephant in the room first. After being advertised for months as part of the show, we finally saw Fennec Shand in the series, although they never gave her a name until the credits rolled. As we knew, Ming-Na Wen voiced the character, and the portrayal of Fennec, both through her voice and through her actions, was everything we could have imagined. When she was first introduced in The Mandalorian (season 1), we were told that she was this great assassin, one you should be lucky not to cross paths with. And even though the episode did deliver on that end, Fennec was behind a dune for a big chunk of the runtime.
Not this time around, though. She is introduced as the antagonist of the episode very early on, and after she first finds Omega, we see her in an action set-piece followed by another action sequence. She was also a sneaky one, and showed a lot of range in her abilities — when she first finds Omega, she convinces her to go with her, instead of just grabbing her against her will like a stormtrooper would have done, for example (something not very wise to do with a child in the middle of the street).
After that, she only encountered two members of the Bad Batch, but she managed to best both of them. Wrecker was not a problem in the least and took him out with a single punch, while Hunter was a bit more careful, but still got his ass kicked. The problems came for her when both Omega and Hunter stroke from both ends of the frame, which forced her to jump off the ship at the very end.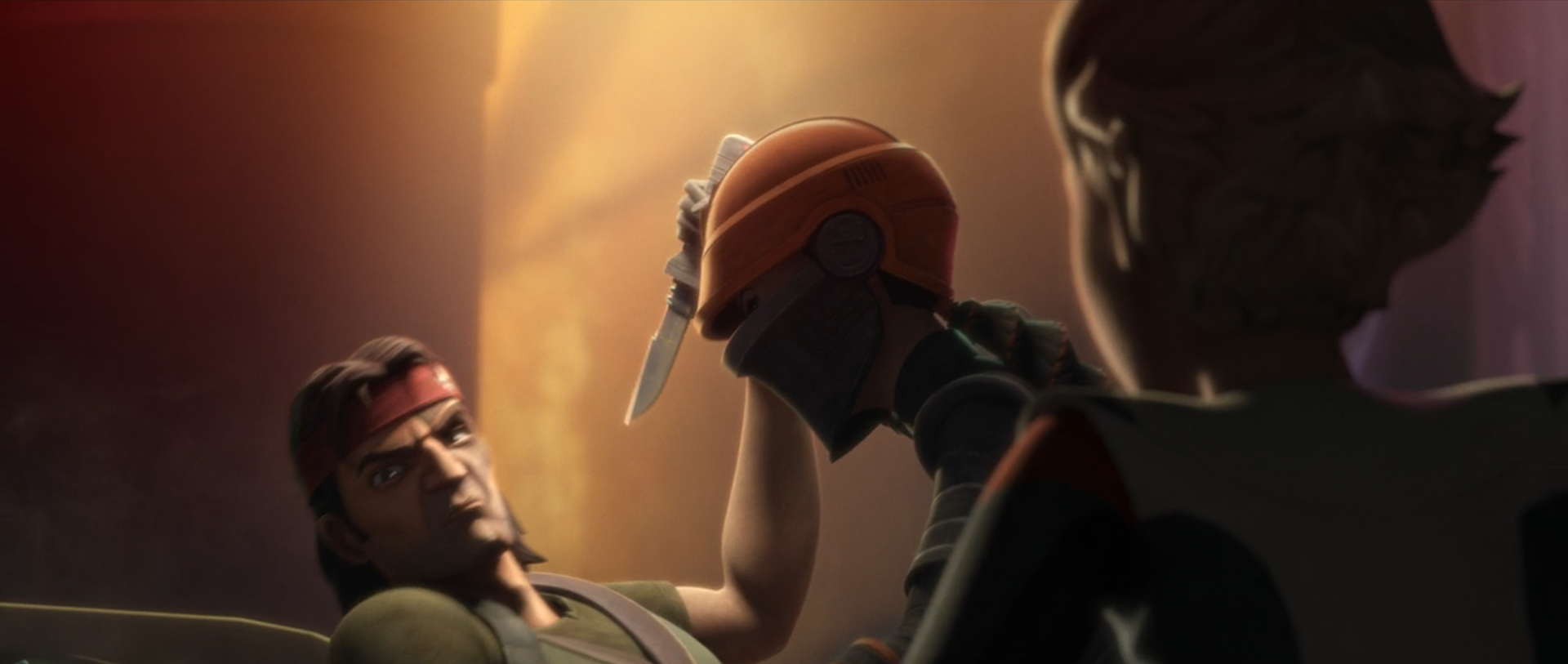 This episode clearly set up Fennec Shand as the overall secondary villain of the season, the bad guy the Bad Batch will confront when they are not after Crosshair. And a formidable one, by the way. It will be interesting to see how the crew manages to fight her when they are not spread around, something that was the case in both last week's and this week's episode. Hopefully, in episode five, the Bad Batch will be all together as a team throughout the episode, so that we can have a sense of their team dynamics once again. We haven't really seen this since episodes one and two, and a couple of minutes at the beginning of three and four.
As far as Crosshair goes, I'm glad they didn't include him in this episode. Even though I'm quite invested in his storyline, and I can't wait to see more, he wasn't necessary at all for this episode. This allowed Cornered to flow better, as well as give more relevance to the events that were happening. If Crosshair had shown up, maybe we wouldn't have seen Fennec as such a big deal, or we wouldn't be thinking of her as a recurring character going forward.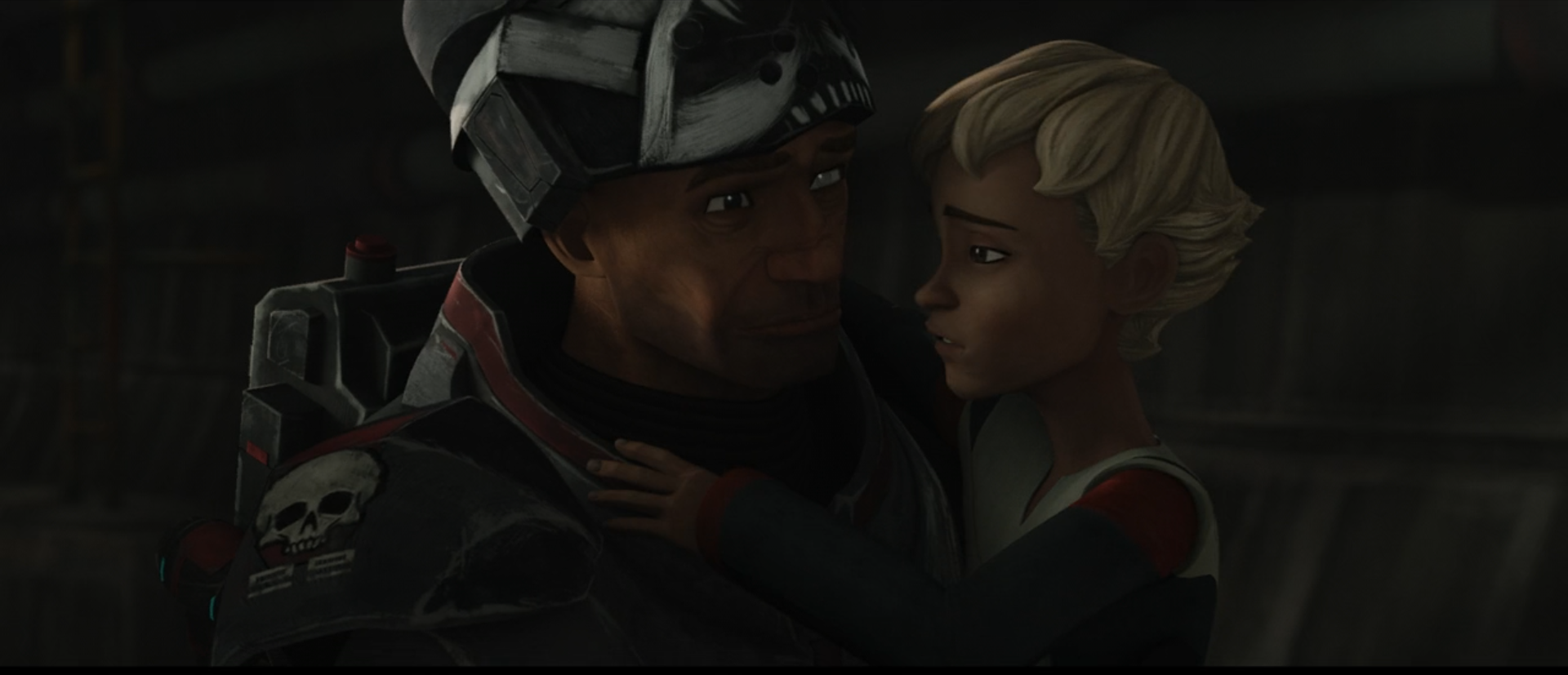 The other part of the episode was really interesting for me too, and I have to wonder if they are setting up an overall arc for Echo. Tech is back doing his thing of really complicated space stuff for us earthlings to understand, while Echo is sent by the writers into a side quest. In desperate need of credits, Hunter decides to take advantage of his really droid-like costume and sell him as a droid. Echo is then forced to lay low for a while, but when the Bad Batch need him again, he goes on to (as Korg from Thor: Ragnarok would say) start a revolution.
He convinces the droids from the backroom to join him and repair his ship. This goes against what the protocol droid in charge is saying, but Echo doesn't care. With him still looking for a place in the world, even inside his newly found team, and him being half-cyborg at this point, I wonder if they will place him as a bridge between the worlds of clones and droids. He already assumed this role today, and I assume it will not be the last time something like this happened. Very interesting stuff indeed.
So where does this episode leave us? As I said in the beginning, this was a very entertaining episode that even though it didn't really advance the overall storyline, it did raise some questions about what is going on, which was clearly setup for what's to come, as the Bad Batch themselves brought up in the end. Fennec Shand is after Omega for a reason that we still don't know. The Kaminoans probably sent her (although we are just assuming that — however unlikely, it could be someone else we haven't met yet), but the writers are clearly setting up something deeper.
Omega is no doubt a very important clone, and her relevance for the grand scheme of things in the Star Wars canon story is still to be revealed. This is also great news overall, as Lucasfilm seems to care a lot for every property they produce, and they always try to keep the viewers guessing, as well as make every show and movie feel relevant inside the franchise as a whole.
To wrap up, I'll just reiterate that this episode was wonderful and everything I could have dreamed The Bad Batch would be — entertaining action sequences that develop character and raise a lot of questions about what is going on around them.
The next episode will drop next Friday, and while you wait, make sure to check out James' spoiler review of the fourth episode of The Bad Batch:
Miguel Fernández is a Spanish student that has movies as his second passion in life. His favorite movie of all time is The Lord of the Rings, but he is also a huge Star Wars fan. However, fantasy movies are not his only cup of tea, as movies from Scorsese, Fincher, Kubrick or Hitchcock have been an obsession for him since he started to understand the language of filmmaking. He is that guy who will watch a black and white movie, just because it is in black and white.