May the 4th Celebrations – Star Wars Saga Facts, Figures and Images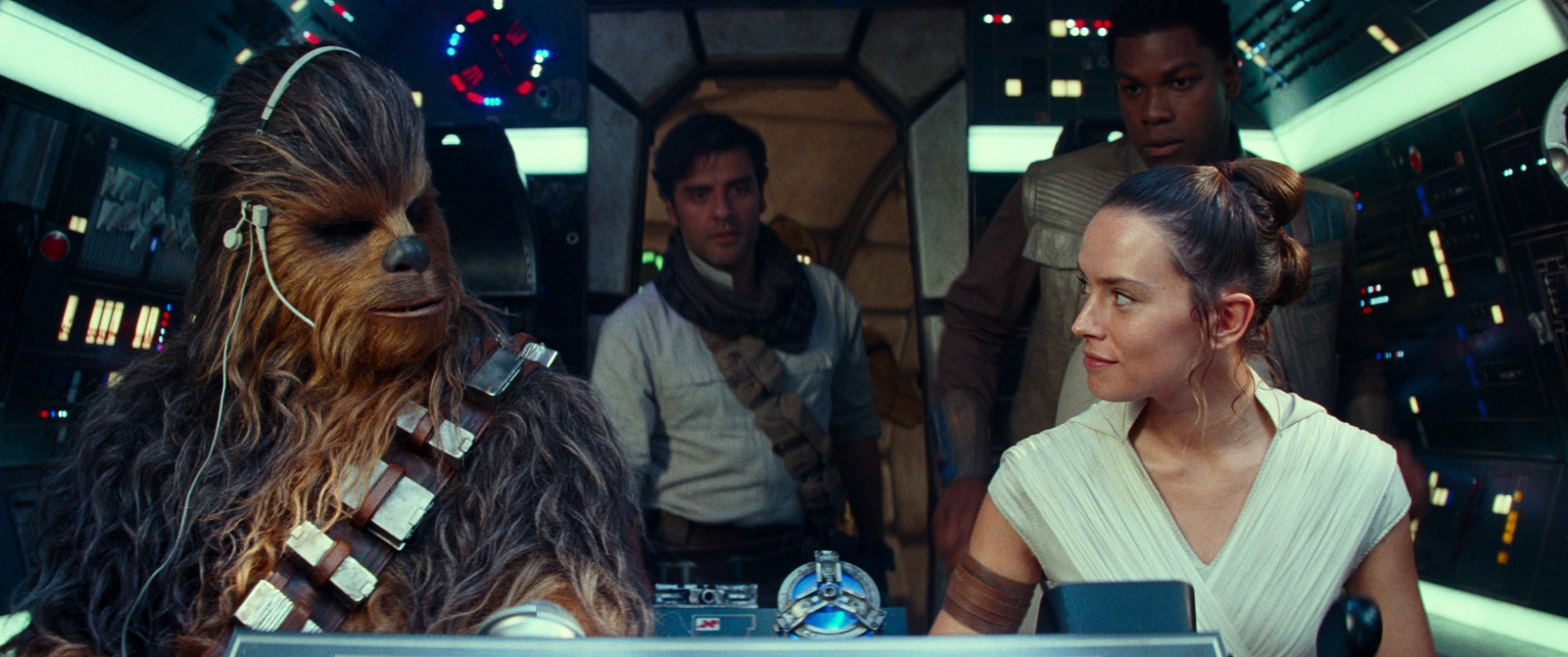 For 'Star Wars Day', May the 4th, Disney+ has a lot of stuff going on that we'll be reporting. Firstly, the final episode of The Clone Wars: 'Victory and Death', the release of Disney Gallery: The Mandalorian, a behind the scenes look at the making of the series, and of course the release of The Rise of Skywalker on the streaming service.
In the lead up to that Disney have released a list of facts, figures, and some high-def pictures for us to get us all pumped up for the celebrations!
The first part is all about The Rise of Skywalker, covering facts and figures from all parts of the creative process.
The second is assorted facts from the first six entries in the Skywalker Saga and finally facts encompassing multiple Star Wars movies.
Some Fun Facts and Figures about the filming of
Star Wars: The Rise of Skywalker
PRODUCTION
• 11 Pinewood stages, totalling 231,715 sq ft
• Stages housed approximately 21 different sets, plus an additional six sets, which were shoot on the North Lot, South Lot and the Paddock Tank. Also shot at Cardington, Black Park, Ivinghoe Beacon, Shepperton and Jordan adding another 17 sets.
COSTUME
• At their busiest time, 28 costume makers working and five costume cutters
• 110 fabric suppliers used, from 12 different countries
• It took two people 32 minutes every morning to dress C3P0 in his costume on set
• Rey needed a total of 27 pairs of boots to cover the whole shoot, as well as her stunt and picture doubles
• Due to the hot weather in Jordan, the principal cast and stunt performers had to wear cooling vests under their costumes, that pumped iced water around their bodies
• To power Kylo Ren's helmet, 72 rechargeable batteries were used in rotation
CREATURES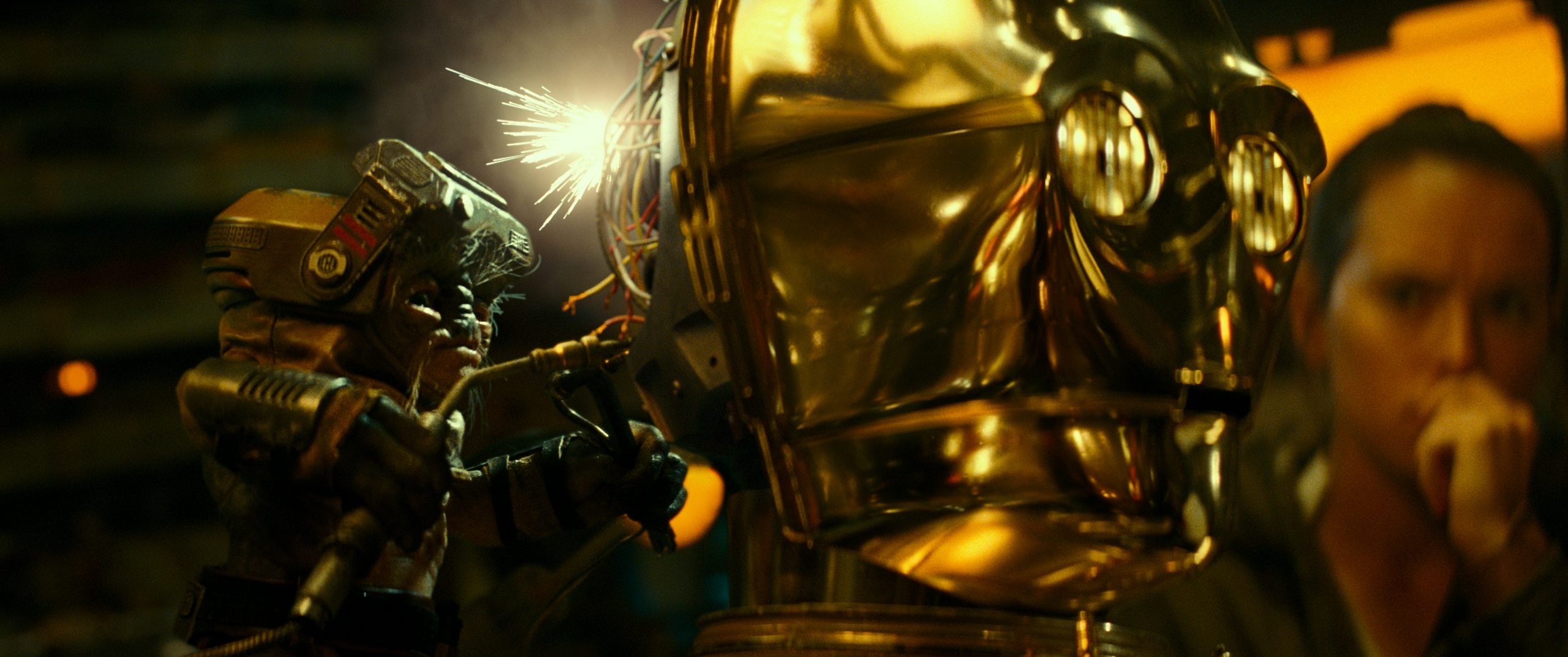 • AKI AKI's – the Festival of Ancestors scene probably has the most creatures ever seen in a shot. There are 70 x foreground fully animatronic characters with legs and arms ,140 x mid-ground and 250 x background masks, as well as 25 x other alien animatronic creatures and droids and 14 x hand puppet child Akis.
• SERPENT – the longest creature made at 25 meters and puppeteered by somebody rolling around inside the body!
• MAZ – the most complex animatronic, full puppet from waist up that the team has ever made…. JJ requested a fully robotic Maz animatronic that could speak, interact and improvise live on set with the other actors. To solve this challenge, 94 custom actuators were squeezed into Maz's diminutive frame, all controlled by just three puppeteers. An Inertial Measurement Suit and Gloves was combined with specially written software to capture the motion of the performer and transfer all the subtleties and precision of her performance direct to the Animatronic
• BABU FRIK – the Babu Frik puppet was only nine inches tall but was packed full with movements and features. It had three sets of fully dexterous hands and five interchangeable mechanical expression heads, each fitted with 12 servo mechanisms, in a space no bigger than a tennis ball. In all, it took seven puppeteers to bring this tiny character to life!
OTHER FACTS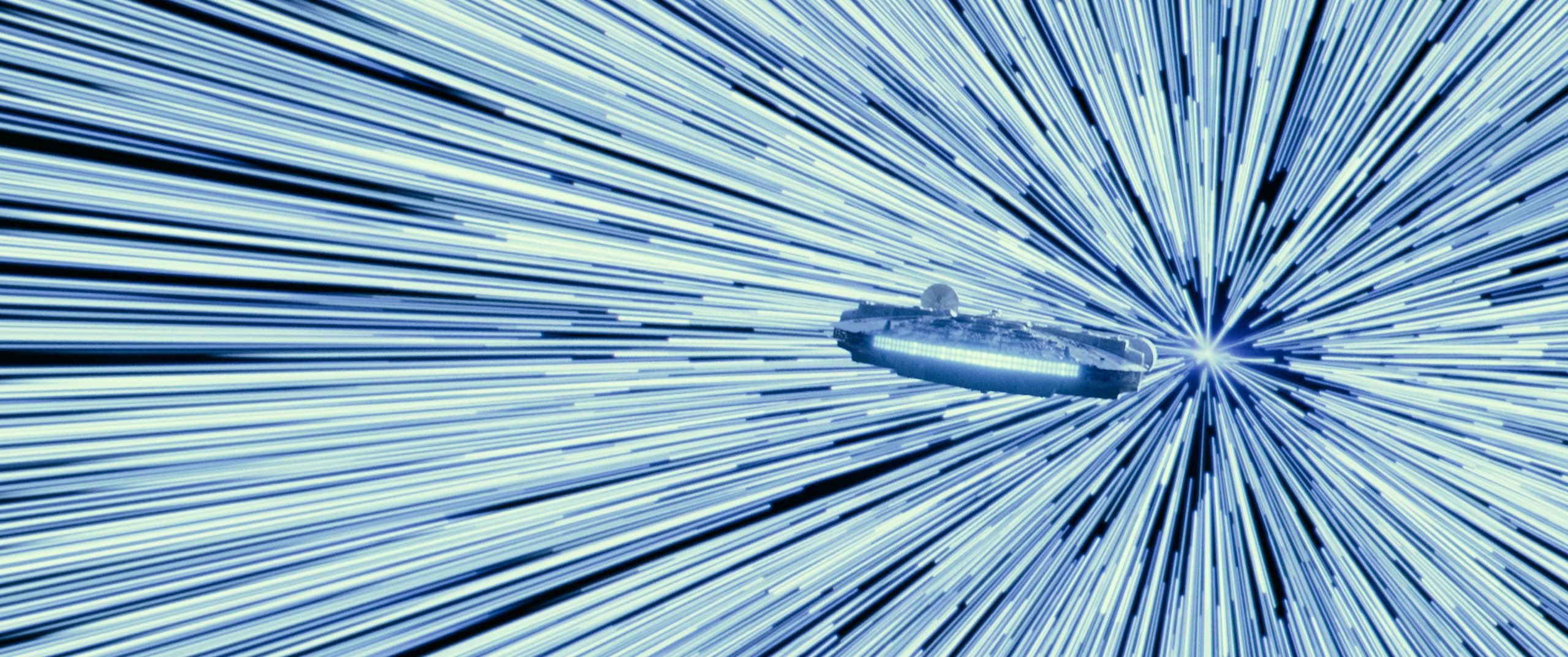 · The amount of creatures airfreighted to Jordan could have filled their own cargo plane. The department also sent 3 x 40ft containers.
· Father & son, Warwick Davis and Harrison Davis play father & son Ewoks.
· 150 crew and 63 puppeteers on the books. Largest crew to date.
· 584 creatures and droids made. Largest number of all the films. Including 12 x horse costumes, and two x special FX horse rigs.
· The most eyes…to outdo 6 eyes from Solo….. and nick-named "loads-of-eyes", the creature from Kiminji had 20 independent eyes, operated by 48 servos motors.
PRODUCTION DESIGN featuring Action Vehicles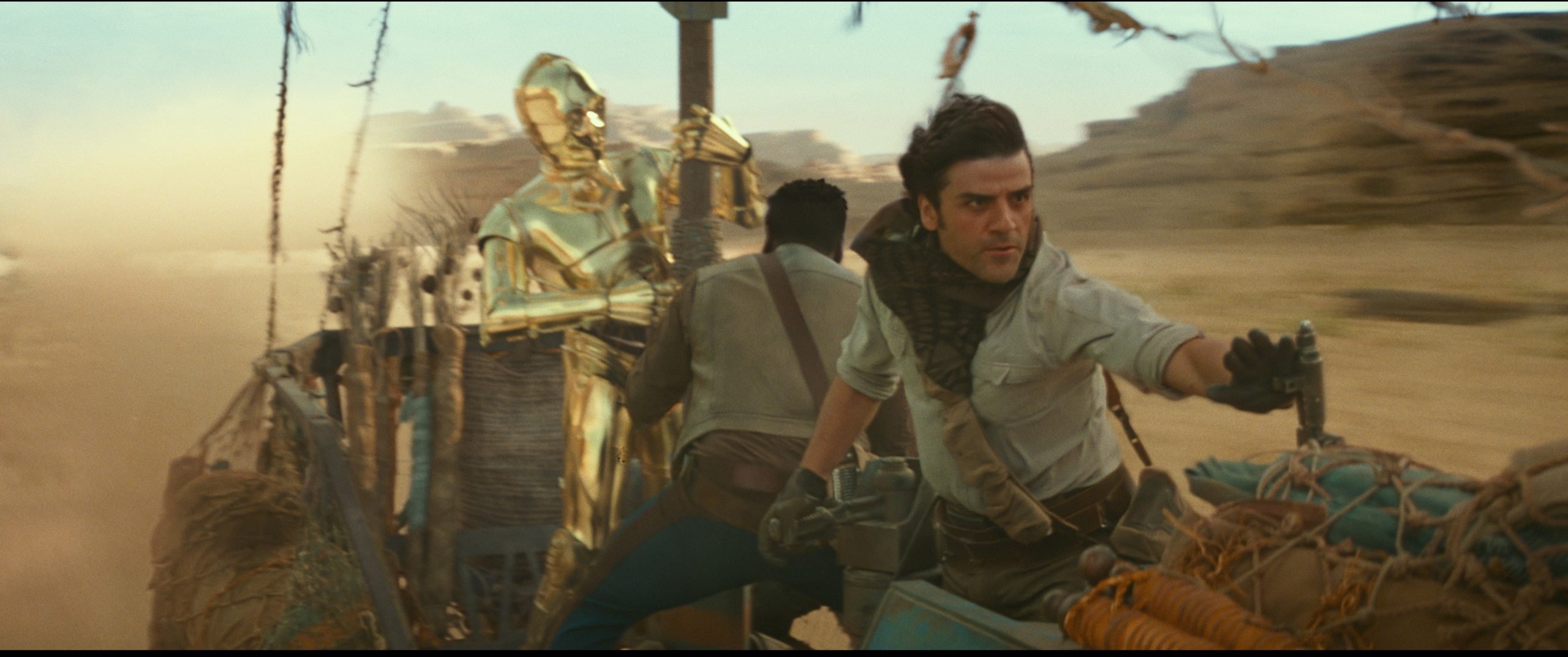 • The Sandcrawler shot in Jordan was a scaled down miniature that took over three weeks to build.
• The Kijimi set was the largest set built on The Rise of Skywalker. JJ suggested it was so vast that you could shoot an entire movie on it.
ACTION VEHICLES
• Pasaana Speeders – these vehicles started life needing to navigate marsh/wetland/everglade terrain but as the script developed, the landscape of Pasaana changed. Still, the general design behind the vehicles still worked.
• For the red Hero vehicle, two versions were built. One on the same V8 base as those used in Solo which could drive freely through the desert terrain and a more complete, "picture ready" version was built on am 'XY' rig. This rig involved two lengths of track on which motion bases were mounted; the vehicles were attached to these and a third track for a camera crane to move back and forth. This gave the impression of total independent movement
• An additional third version of the blue speeder was built to flip forward as it was initially scripted to be hit by an explosion.
• First Order Pursuit Bikes – production purchased two military spec Sand-X T-ATVs (Tracked All-Terrain Vehicle), a snowmobile and a Quadro (a 4 wheeled scooter), imagining they would only ever really use the Sand-Xs in the desert, the Quadro for harder ground, and the snowmobile as a backup. However, the snowmobile was always the vehicle in action – it was stronger, handled better for stunt drivers, easier to service and much more reliable, even in the sand and heat! They also built a 'flip'version that sat on an SFX rig and 2 'soft' versions to attach to swings or to throw.
• Of the four background vehicles supplied for Pasaana's Festival of Ancestors, one was making its fourth Star Wars appearance, seen in Solo, Rogue One and The Force Awakens. This polystyrene block has now travelled well over 25,000 miles in the name of Star Wars.
• The Sea Skiff on the Stormy Planet, the Moon of Endor. The netting that stretches across the arms is made from an old school trampoline.
• The red cowlings on the version that Finn & Jannah sail, are a nod to Jabba's sail barge.
SET DECORATION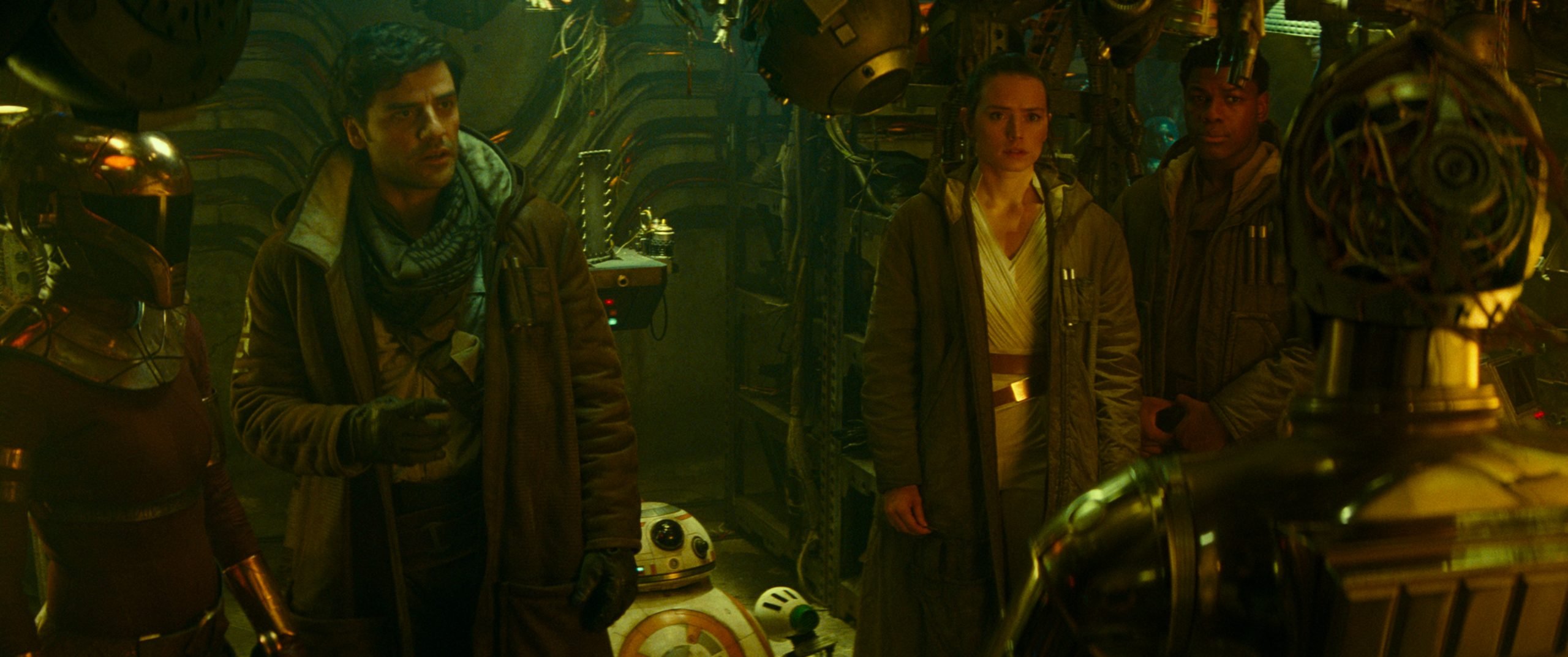 • In the Droidshop – 200 droid limbs, 500 droid parts,100 Droid heads, eight new full droids including the Battle Droid ("Roger Roger") and Clown Droid, thirty droids and partial droids on loan from Costume FX and Creature FX, one Droid bath, one Droid operating table, with three separate robotically controlled sections, and adjustable heights, 20 original lighting fixtures, and 43 Custom Star Wars style props to honour most of John Williams' Academy Award nominations (except the Star Wars one)
• On Ochi's Ship some switches are made using Lego Stormtrooper helmets, and there are a few Lego bricks hidden in plain sight in an homage to Falcon. The sofa, the console in the hold, and the wall canisters are inspired by "2001: A Space Odyssey"
SFX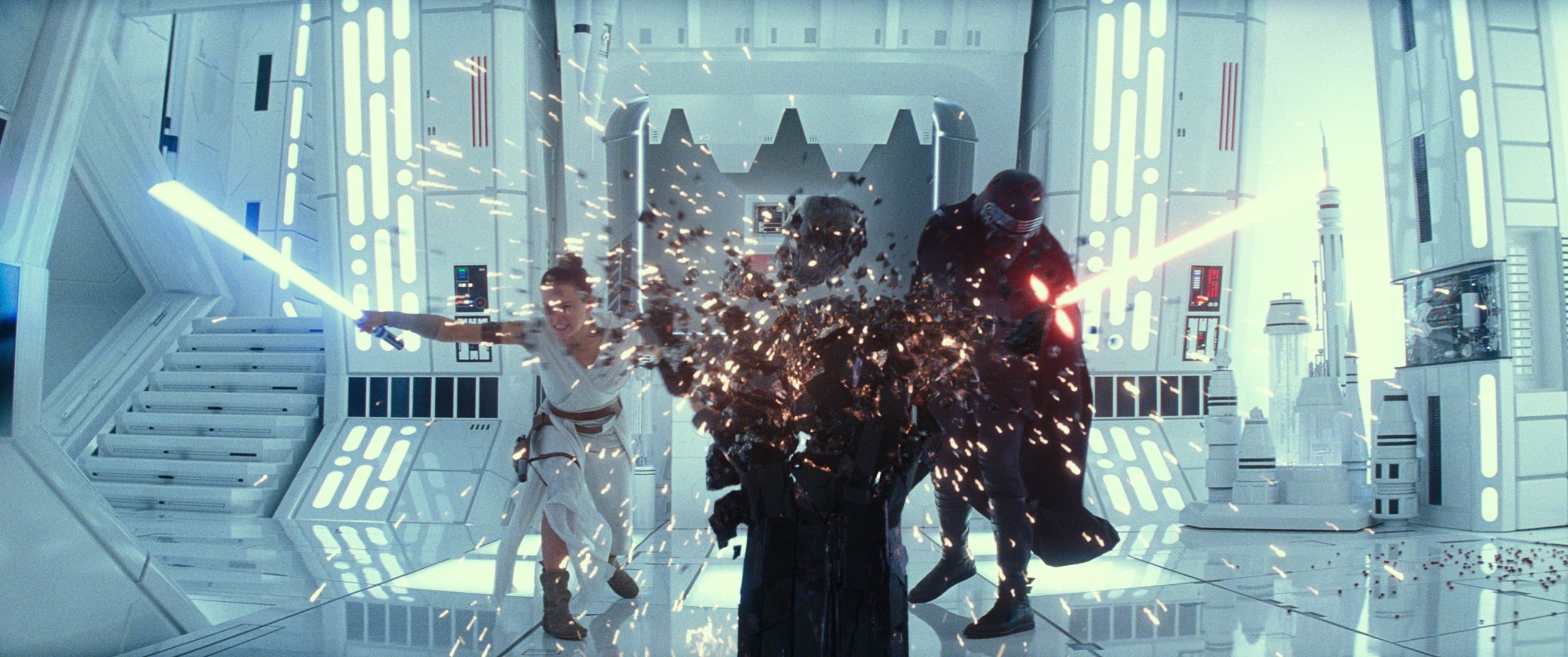 • On the Death Star set, water cannons pumped 5,000 gallons per take. Over half a Million gallons of water was used over three days of shooting
• 30 tonnes of black beans were shipped to Jordan to use as the sinking sand
• Six x 20ft containers were dug into the sand in Jordan excavating 100 tons of sand, seven x sinking sand rig were built into set, along with air conditioning and power installed
• Two x Hero four wheel drive bespoke Vehicle build in eight weeks, allowing to drive at speeds over 100mph
• 11, 780 pyrotechnic spark charges used on SW9
• An X-Wing was suspended 80ft above the ground with 3,000 gallons per second of water pouring out of it
• Two x Electric Buggies were driven by stunts at 40mph to simulating the movement of a horse
Extra Star Wars Facts
EPISODE I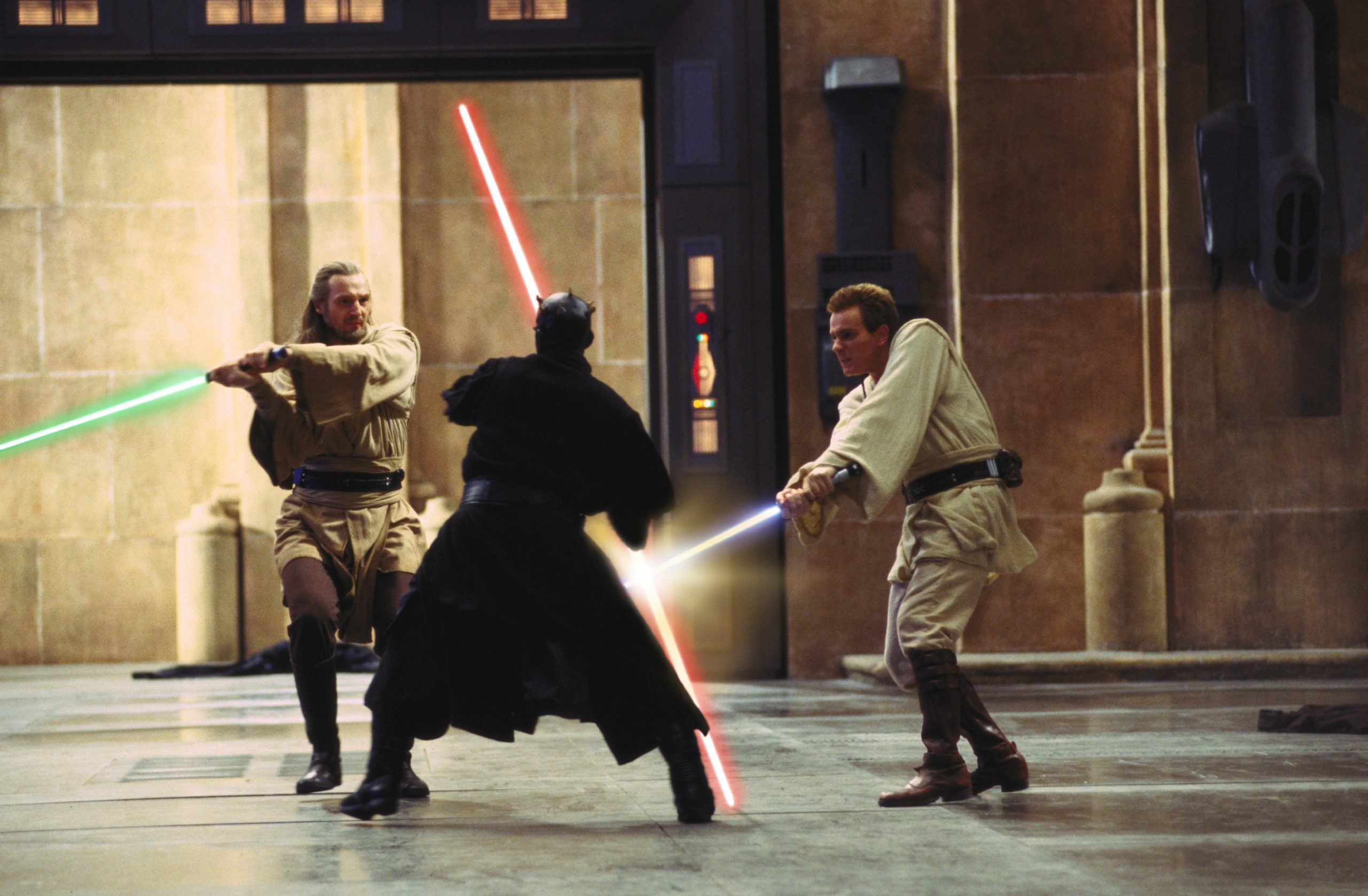 • The E.T. CG model built for the Special Edition release of E.T. the Extra Terrestrial was inserted into The Phantom Menace as a delegation in the Galactic Senate.
• Dominic West (Detective Jimmy McNulty from The Wire) played a Palace Guard in The Phantom Menace.
EPISODE II
• Every single armored clone trooper in Attack of the Clones was realized as a computer-generated creation, and no clone trooper armor was ever built.
EPISODE III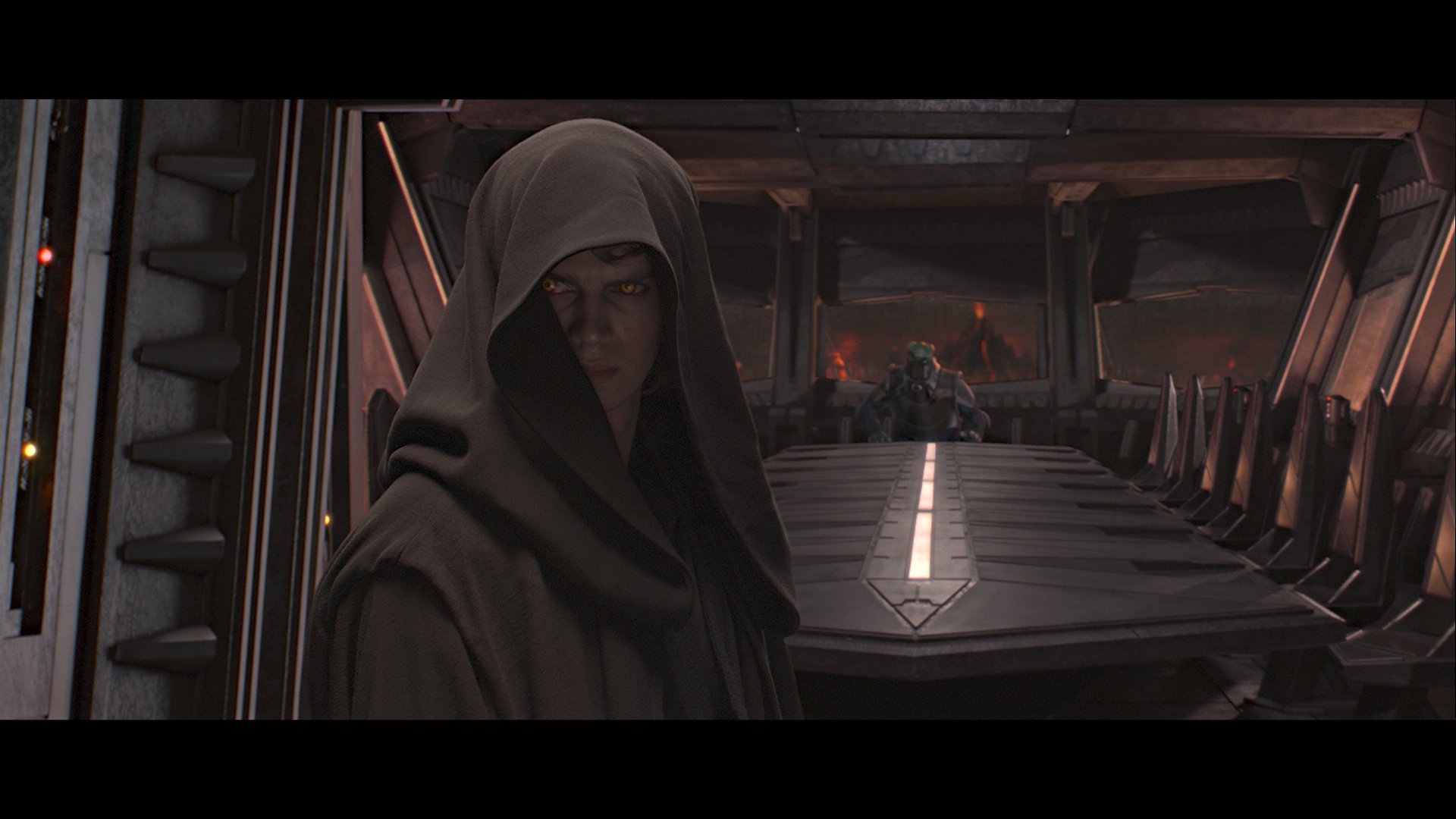 • George Lucas makes a cameo appearance in Revenge of the Sith as a blue-skinned background character named Baron Papanoida.
EPISODE IV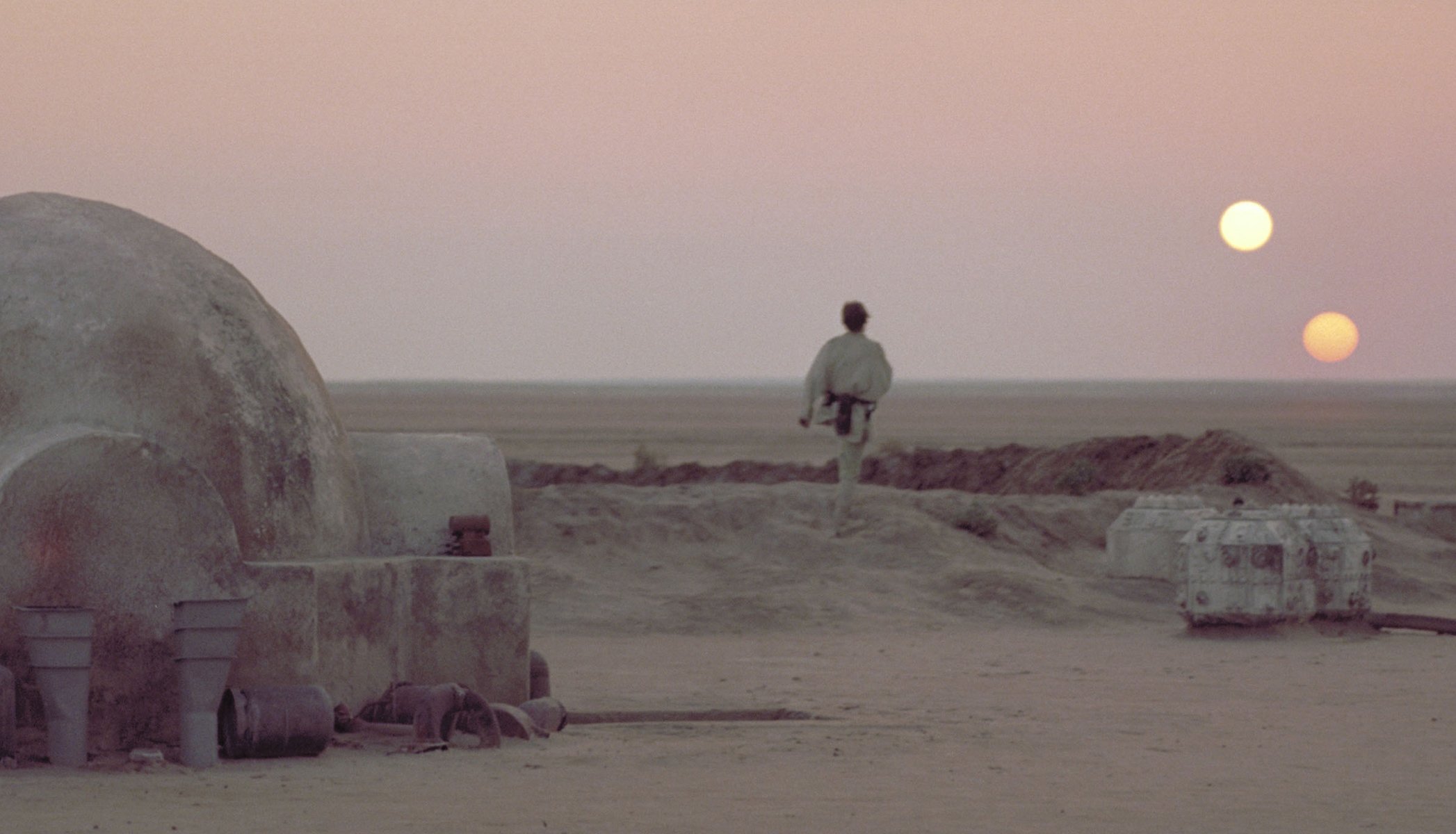 • The name R2-D2 stands for "Reel 2, Dialogue 2" a phrase which first emerged while George Lucas and Walter Murch were mixing THX-1138.
• Tatooine was originally named Aquilae in the draft scripts of Star Wars, before adopting a name very similar to the southern Tunisian city of Tataouine.
• Original lightsaber props were fashioned from camera flash bars.
• The sound effect for the blaster was created by tapping a cable wire.
• Peter Cushing was often filmed from the knees up because he was wearing only socks because his shoes were uncomfortable because they were too tight.
• Other actors considered for Star Wars include: Christopher Walker and Kurt Russell as Han Solo;
• Terri Nunn and Amy Irving as Princess Leia; William Katt as Luke
• Harrison Ford wasn't originally considered for the role of Han Solo. He was only brought in as a favor to read with the actors.
EPISODE V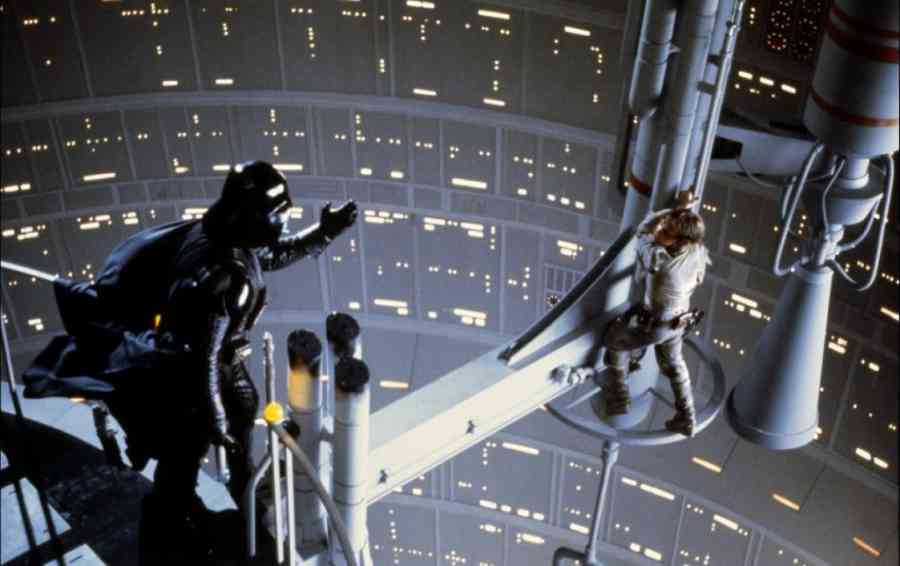 • To build up early anticipation for The Empire Strikes Back, Boba Fett appeared in cartoon form in 1978's Star Wars Holiday Special. A year later, Fett became available to fans as an action figure.
• John Ratzenberger, "Cliff Claven" from Cheers and Pixar voice acting staple, plays a Rebel officer.
• Han Solo's famous "I know" line was developed by Harrison Ford and Irvin Kershner while on set.
EPISODE VI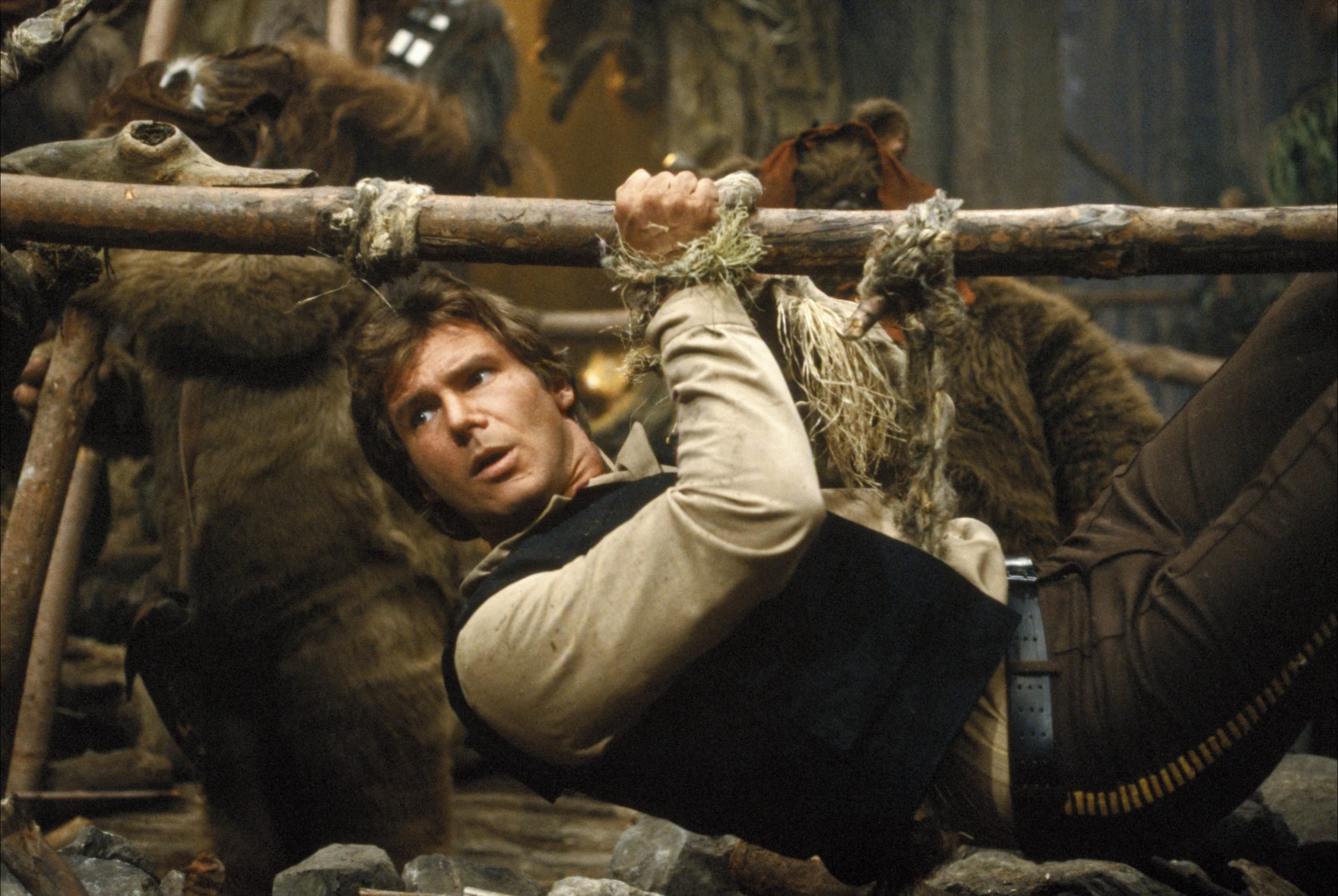 • During production of Return of the Jedi, the titles Revenge and the Jedi and Blue Harvest were used to throw people off. The title was always intended to be Return of the Jedi but the studio began promoting the film with the bogus title.
• Dengar appears in Jabba's Palace and Bossk appears in Jabba's Sail Barge in Return of the Jedi.
• The burp of Sarlacc was also used in Alien, both by Howie Hammerman
Sagа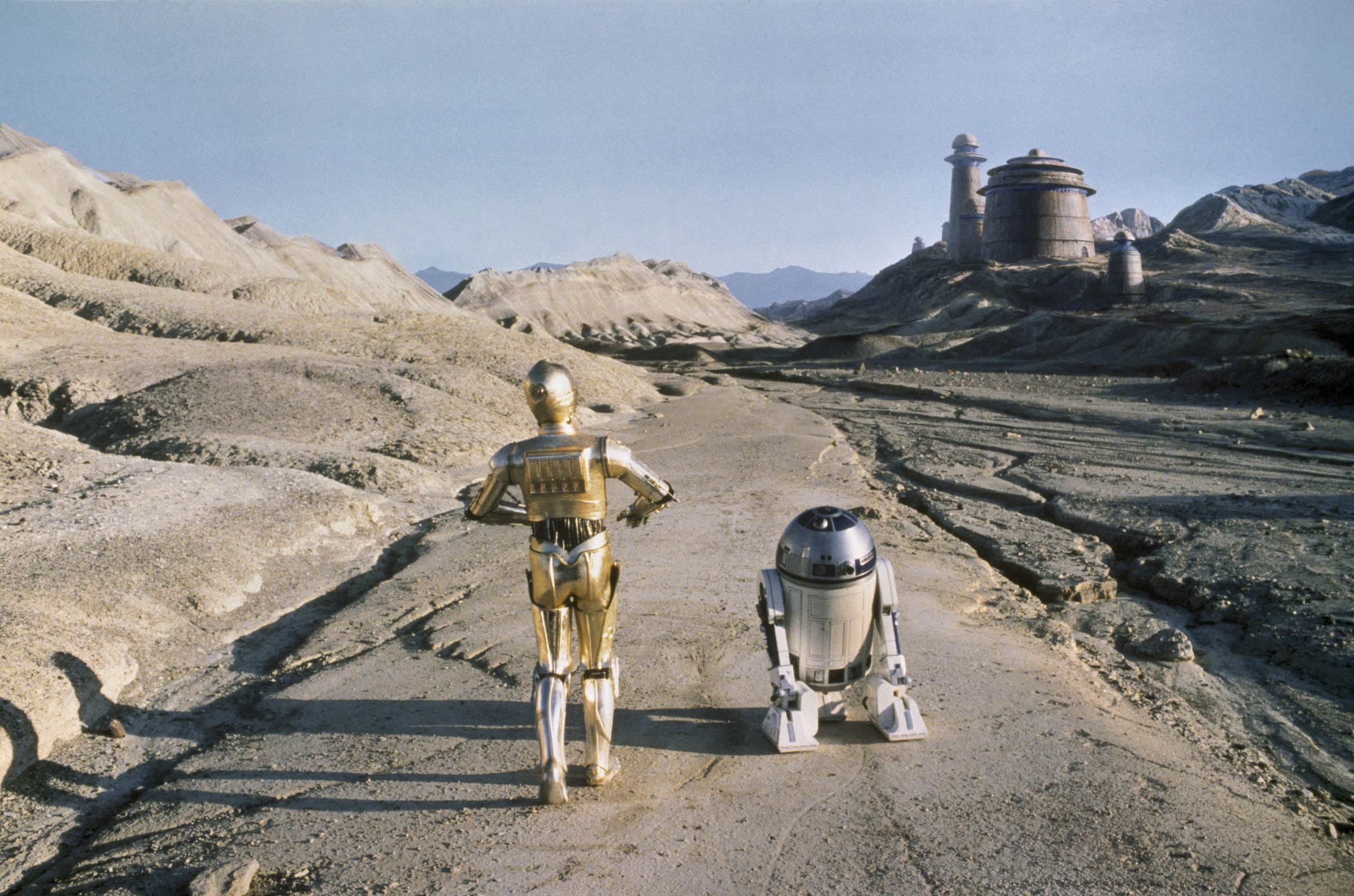 • A character has "a bad feeling about this" in each of the six films.
• The "Wilhelm scream" can be heard in all six films.
• Inclement weather has constantly impacted film production. The first week of shooting on the original Star Wars (March 1976) was delayed because the Tunisian location used for the desert planet Tatooine was hit with its first winter rainstorm in 50 years. A blizzard during the 10-day shoot in Norway on The Empire Strikes Back (March 1979) buried the filming location under 10 feet of snow. When the Episode I production moved to Tunisia, it was met by a ferocious thunderstorm on July 29, 1997 that destroyed most of the Podracer arena and Mos Espa sets.
• Keira Knightley, Sofia Coppola, and Rose Byrne have all played handmaidens in the Prequel trilogy.
• Denis Lawson (Wedge Antilles) is the uncle of Ewan McGregor (Obi-Wan Kenobi).
• Jeremy Bullock (Boba Fett), Anthony Daniels (C-3PO), Warwick Davis (Wicket W. Warrick, Wald) and Ahmed Best (Jar Jar Binks) have all appeared "unmasked" as background characters in the films.
• Six actors played Anakin Skywalker/Darth Vader in the Star Wars films: David Prowse, James Earl Jones, Bob Anderson, Sebastian Shaw, Jake Lloyd and Hayden Christensen.
So hopefully you learnt something and are pumped for whatever you have planned on 'Star Wars Day'; whether it's Clone Wars, Mandalorian, Rise of Skywalker, or Bullseyeing Womp Rats in your T-16.
Whatever it is, May the Fourth be with you, always.
Alex Newman is huge Star Wars fan and loves to keep up to date with the canon. He's also loved movies for as long as he can remember. He's a massive Disney and superhero fan but will watch anything. He's worked at a cinema, a comic book store and at Disney World but is currently working in radio in London!