Rumor: David Benioff and D. B. Weiss To Write Full Treatment for Star Wars Trilogy, Along With at Least One Script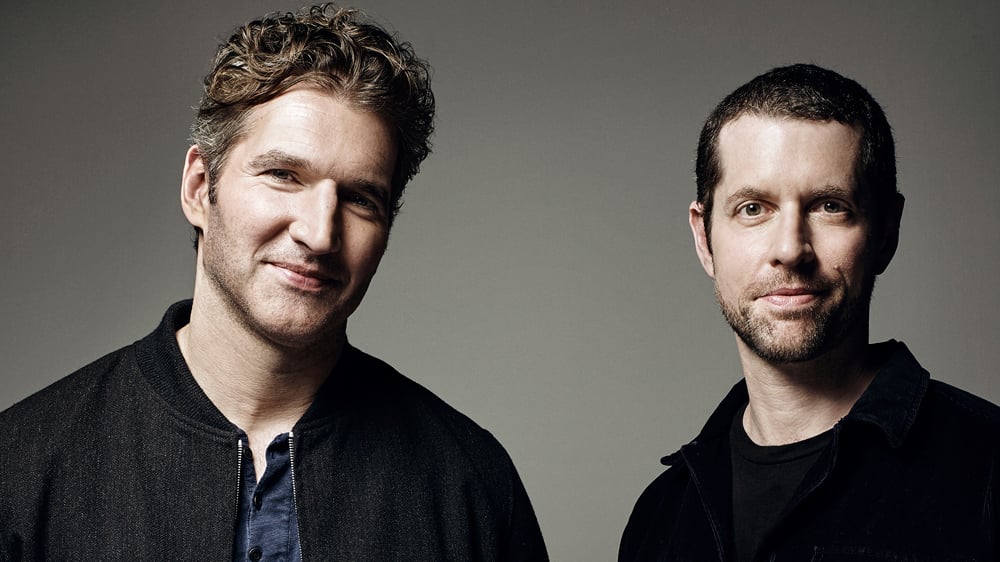 With Disney D23 within walking distance, this week has been an unexpectedly big one for Star Wars news, and with it comes a sort-of update on the movies coming from the showrunners of Game of Thrones. While it's been known that David Benioff and D. B. Weiss have been hired to work on a new trilogy of films, their level of commitment hasn't been fully clear, especially with Netflix snagging them for an exclusive deal – so this new information should help shed some light on what they'll be doing.
In a piece from The Hollywood Reporter concerning the Netflix movie and television deal, it was explained that Benioff and Weiss chose to not start development on their trilogy of films until Game of Thrones was completely finished. Starting work on the Star Wars projects may have been one of the reasons why they ditched their planned appearances at the San Diego Comic Con's Game of Thrones panel (fiercely divided responses to the final season of their show notwithstanding). Meanwhile, they're expected to do multiple projects for the company that revolutionized streaming services.
Where Star Wars is concerned, it specifically appears as though they're writing the overall treatment to the trilogy, and they're committed to doing the script for at least one film (likely the first installment in the series). THR notes that they were previously signed on to write all three movies, but they appear to be unsure if they're involved with the scripts to the other two movies. As of right now, there's no confirmation on whether or not they'll only be involved in the other two movies in a story capacity, so take this part of the report with a grain of salt – things can certainly change, considering that their Star Wars movies are still pretty far out. (We reached out to Lucasfilm for clarification, but they have not responded to us at this time.)
There have been some reports suggesting that Benioff and Weiss will be directing these movies, but that's never really been certain, since Lucasfilm only announced that they'd be writing and producing the projects. With their commitments tied up with elsewhere – including an adaptation of Dirty White Boys for Fox, which they were in discussions to direct – it seems likely that they'll stick to writing and producing credits on their Star Wars movies. But Netflix may not be too big of an issue, as one source speaking to THR says that the streaming giant is playing the long game with their television and film plans:
"It's not going to be 10 years [until] Netflix sees their first output; [Benioff and Weiss] have a lot of ambition."
As it stands, it appears as though Benioff and Weiss's first film will be the Star Wars project to hit after The Rise of Skywalker, with a scheduled release date of December 16, 2022. It's not clear if the other reserved dates of December 20, 2024 and December 19, 2026 will be home to their other two movies in the trilogy, or if they will have to share some cinematic real estate with Rian Johnson's own trilogy.
Special thanks to Twitter user @nick_field90 for the heads up.
Grant has been a fan of Star Wars for as long as he can remember, having seen every movie on the big screen. When he's not hard at work with his college studies, he keeps himself busy by reporting on all kinds of Star Wars news for SWNN and general movie news on the sister site, Movie News Net. He served as a frequent commentator on SWNN's The Resistance Broadcast.