Listen or watch below! On this episode of The Resistance Broadcast we talk about why Solo: A Star Wars Story deserves a sequel. From story-telling, returning characters, new characters, a wide open ending, to how well it was received by fans, we feel the biggest underdog in the franchise since the original Star Wars deserves a proper sequel and we get into why from every possibly angle. Will it happen? There's a very good chance it won't, but we are here to #MakeSolo2Happen!
This week in THE WILL OF THE FORCE, we ask ourselves questions like – Now that he is Supreme Leader, will Kylo Ren have a throne room and distinct throne in Episode IX?
To close it out we feature your tweets in RESISTANCE TRANSMISSIONS, did your tweet make the show? JOIN US!
WHY 'SOLO' DESERVES A SEQUEL
On this transmission of The Resistance Broadcast: John Hoey , James Baney, and Lacey Gilleran!
Be sure to subscribe to our YouTube channel or follow us on Soundcloud so you are alerted when new episodes post! If these formats aren't your thing, subscribe to us here on iTunes!
THE WILL OF THE FORCE
Will Lando Calrissian have more screen time than Luke Skywalker in Episode IX?

Last week we asked will Ezra's story be finished with an animated movie, if not will you be happy with it being completed through a comic book series?

Will the First Order have a new super weapon (like a Death Star or Starkiller) in Episode IX?

Will the stories of Rey and these characters be told in books or comics beyond Episode IX or will the movie in fact truly be the end of the Skywalker saga?

Now that he is Supreme Leader, will Kylo Ren have a throne room and distinct throne in Episode IX?

Will Poe Dameron relinquish a leadership role in the Resistance?
Our DISCUSSION this week is all about why Solo deserves a sequel!
Solo: A Star Wars Story fell victim to Disney's marketing among other things. But the film was overall well received by Star Wars fans. The movie had a perfect open ending and we are at that point still 10 years away from the events of A New Hope, leaving plenty of room for more adventures with Han and Chewie, as well as the continuation of Qi'ra's story with Maul and of course the surprise hit Enfys Nest. Will the home video sales salvage an opportunity for a sequel to Solo? The story set us up for it, but Disney is a business first, so let's talk about why Solo deserves a sequel!
RESISTANCE TRANSMISSIONS!
We pitch a question to you, and you fire away! This we we asked you, what is the biggest mistake in the sequel trilogy? We received a lot of great answers, and as always we picked the most fun and creative ones. Did yours make it on the show? Listen and find out!
We love the sequel trilogy so far, but like anything, we have our fun nitpicks too! How about you? For you, what is the biggest mistake in the sequel trilogy?

For example, J. J. Abrams admitted mistake of not having Leia hug Chewie after Han's death. #ResistanceTransmissions pic.twitter.com/6Co7AkYdHB

— The Resistance Broadcast (@RBatSWNN) September 7, 2018
BUY YOUR RESISTANCE BROADCAST MERCH!
The only way to support our ability to give you two free weekly episodes is by buying some of our awesome designs on a shirt, coffee mug, tank top, sticker, hoodie, pillow, anything! Simply go to our Resistance Broadcast store on TeePublic – check out our 30+ different design and pick what you like.
Our latest is our campaign to #MakeSolo2Happen! Grab yours on sale HERE – let's make it happen!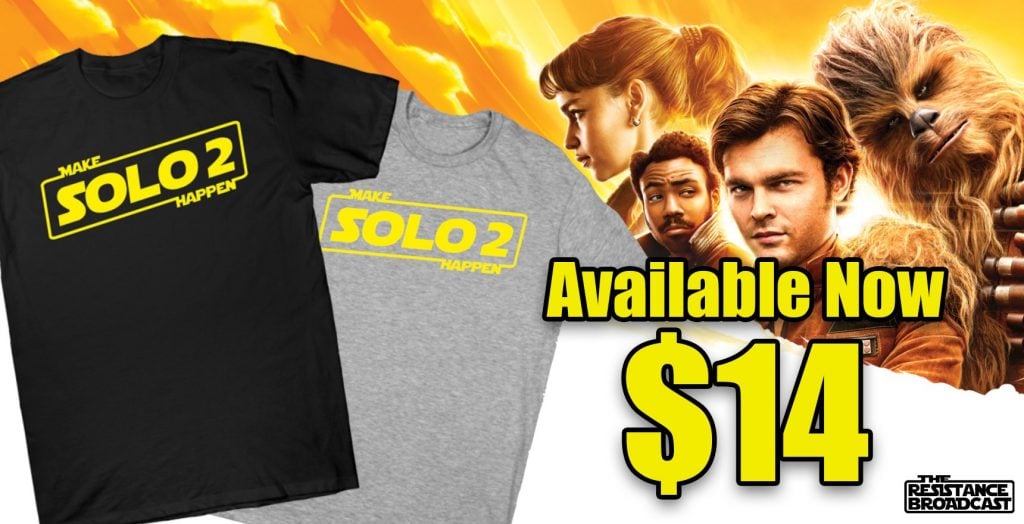 Special thanks to Matt Pasterick for our theme song!
John Hoey is the Co-Lead Editor and Senior Writer for Star Wars News Net and the host of The Resistance Broadcast podcast
"For my ally is the Force, and a powerful ally it is."
Click HERE to check out and comment on this topic in our forum The Cantina