Star Wars: Most Wanted Book Description Hints At Background For Solo's Story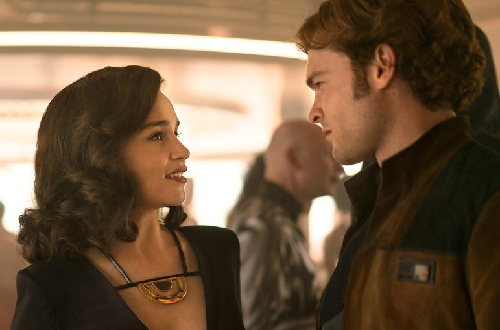 Solo: A Star Wars Story is set at three different points in a young Han's life, and at the beginning of the movie we're introduced to him as a street urchin with Qi'ra, a fellow Corellian. A new book description of Star Wars: Most Wanted helps set the stage for the first part of the movie's story.
The description surfaced on Amazon (hat tip r/StarWarsLeaks), and it reveals that Han and Qi'ra have known each other for a little while before the events of the movie:
"Set before the events of Solo: A Star Wars Story! Han and Qi'ra don't have a lot in common other than not having a lot. They're street kids on the industrial planet Corellia, doing whatever it takes to get by, dreaming of something more. They each jump at a chance to prove themselves in the perilous world of Corellia's criminal underbelly, only to discover they are on the same mission for the same unscrupulous boss. When the job goes disastrously wrong, Han and Qi'ra are on the run–from pirates, a droid crime syndicate, the Empire, and their boss–and will have to learn to trust each other if they are going to survive."
From the sound of things, it seems less like Qi'ra is a femme fatale that Han meets partway through his journey and more like a close friend — or an ally of convenience. Since Corellia is a major location in the Star Wars Galaxy and an area that hasn't really been explored yet on film, it should be neat to hear a canon depiction of what the world is like.
Grant has been a fan of Star Wars for as long as he can remember, having seen every movie on the big screen. When he's not hard at work with his college studies, he keeps himself busy by reporting on all kinds of Star Wars news for SWNN and general movie news on the sister site, Movie News Net. He served as a frequent commentator on SWNN's The Resistance Broadcast.