Updated with the Winners! Star Wars Funko Pop! Vinyl Giveaway!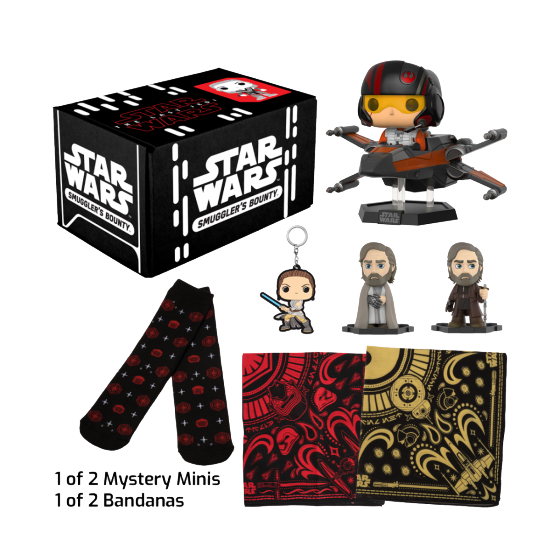 I've been collecting Funko Pop! vinyl figures for about 5 years now (ever since my wife surprised me with a Daryl Dixon figure on my birthday), and I'm not ashamed to say that I am running out of shelf space for the little guys. If you've not yet been bitten by the Funko bug, then I strongly suggest you take a look at the amazing list of pop culture properties that they span with their figures. From the small screen to the cinema, if there is a popular TV show or movie with any kind of fandom to speak of, you can about guarantee you can get a Pop! vinyl figure of your favorite character(s). But beware, it can become quite the obsession. Read on to find out how you can start your own Funko Pop! collection with our Star Wars Pop! vinyl giveaway!
As I mentioned above, my fascination with these little figures began with The Walking Dead, and it didn't take long for the fever to take hold. Somehow, Funko is able to capture the essence and general awesomeness of any character with a presentation that is also adorably cute and hilariously comical. What initially caught my interest with these figures was how they were able to make something as hideously grotesque as a walker from The Walking Dead still look like something you could give your toddler to play with.
Branching out from The Walking Dead, our family collection has grown to include the Beatles, Teenage Mutant Ninja Turtles, Disney Princesses, The Golden Girls, Sesame Street, and various other properties. Of course, no collection would be complete without its share of Star Wars figures, and needless to say we have plenty of those as well with Star Wars alone making up about half of our overall collection.
Recently, I got the opportunity to check out a few of the figures from Star Wars: Rebels, and I have to say, they are quite wonderful, ranking right up there as some of my favorite figures in our collection. We already had the Ezra and Chopper figures (which my son proudly displays in his room), and I was very excited when Funko sent us a Kanan, Hera, and Zeb figure to go with them (which have also mysteriously ended up in my son's room…).
The level of detail is pretty spot-on for the size and style of the figures, with the vibrant and smooth coloring taking center stage. The animated design of these characters really lends itself well to the Funko Pop! style, and the figures look even better in person with hues that tend to pop more in natural light than they do in the product photos above. The paint work around Hera's eyes especially stood out to me. You can't see it in the photo above, but there is some subtle variation in color around her eyes which looks quite nice. There's really not much else to say about these figures, other than that they look fantastic, and the quality is consistent with every other Pop! figure I own (which is to say I've not seen a dud yet).
One thing that separates the Star Wars Pop! vinyls from the rest, however, is that they are all bobble heads as well with each figure having its own display stand. I assume this is in effort to get around legal issues with Hasbro or something concerning the production of Star Wars figures. Collectors should note that other than the bobbling head on a spring (which barely bobbles really) there are no points of articulation for these figures. They look great on the shelf, but that's about it; the pose you see is the pose you get.
If you're interested in getting your hands on one of these Star Wars figures, now is your chance! Three winners will be chosen randomly from the comments below. One lucky winner will get their own Star Wars Smugglers Bounty Box of their choosing (see image above), and the remaining two will have their choice of the single Star Wars figures ($10 value) available here. (Note: the boxes will be shipped when they become available. They are pre-orders)
Additionally, if you use the links in this article (like THIS ONE) to order something from the Funko site you will get 10% off using the code SHOP10.
To be eligible for the giveaway, just tell us in the comments which character from Star Wars: Rebels you'd like to see make an appearance in a future live-action Star Wars story and why.
The winners will be announced next Monday. Note that Funko ships only to US and Canada addresses.
UPDATE!
The three winners are YaddleForPrez (Bounty Box), Jeff O'Connor (Funko figure) and Sarah Hass (Funko figure). We will contact the winner via email in the following days. Congrats!
Jordan Pate is Co-Lead Editor and Senior Writer for Star Wars News Net, of which he is also a member of the book and comic review team. He loves all things Star Wars, but when he's not spending time in the galaxy far far away, he might be found in our own galaxy hanging out in Gotham City or at 1407 Graymalkin Lane, Salem Center, NY.