Deadline Claims That Star Wars: The Last Jedi Was 2017's Most Profitable Film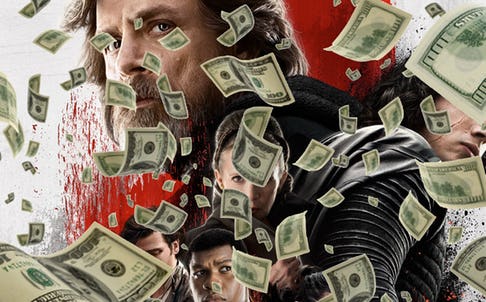 Deadline has run the numbers on Star Wars: The Last Jedi's box office take and has determined that it smoked the competition – and that's all before we get into the film's Blu-Ray, DVD, and Digital sales, meaning that the profit margins still have room to grow. So much for the tinfoil hat conspiracies claiming that the movie was a massive flop for Lucasfilm…
Life's been good for Lucasfilm so far when it comes to the Star Wars franchise under Disney: Deadline previously reported that 2015's Star Wars: The Force Awakens made a profit of $780M, making it far and away the most profitable film of that year. 2016 brought a similarly good tidings for the company as Rogue One was the third-most profitable film of that year with $319M, eclipsed only by Deadpool and The Secret Life Of Pets (both of which received huge profit margins on budgets a fraction of the size of that year's Star Wars movie). Now, it's looking like 2019 will similarly continue Lucasfilm's winning streak with expenditures closer to the latter movie and profit margins greater than it, as Star Wars: The Last Jedi is 2017's most profitable film with a $417M haul – which, again, comes before we factor in things like home video sales. For frame of comparison, the Top Ten were as follows:
Star Wars Episode VIII: The Last Jedi – Disney (Lucasfilm), $417M
Beauty And The Beast – Disney, $414M
Despicable Me 3 – Universal, $366M
Jumanji: Welcome To The Jungle – Sony Pictures, $305M
IT: Chapter One – Warner Bros. (New Line), $293M
Wonder Woman – Warner Bros. (DC Films), $252M
Spider-Man: Homecoming – Sony Pictures/Disney (Marvel Studios), $200M
Thor: Ragnarok – Disney (Marvel Studios), $174M
Guardians Of The Galaxy Vol. 2 – Disney (Marvel Studios), $154M
Get Out – Universal, $124M
Granted, this comes with the caveat that Star Wars: The Last Jedi still made around $700M less than its predecessor, as many detractors of the film will be quick to point out to you (even though percentages are what really matter here – The Last Jedi is the first movie to a sequel that made over $2B, so this is relatively uncharted territory for box office analysis). So why, pray tell, isn't the movie only marginally profitable for the company if Star Wars: The Force Awakens made a $780M profit off of a gross that was $700M greater? The short answer is that it's not an apples-to-apples comparison: each market a film releases in only gets a certain percentage of the profit, which varies based on where the movie is playing. Presumably, this is why it's not necessarily a big deal that The Last Jedi didn't make waves in China with a paltry total just edging past $40M, while The Fate Of The Furious made nearly $400M there for a global total of $1.2B and yet it didn't even crack Deadline's Top Ten – very little of a movie's box office gross made in China actually reaches the production company. Furthermore, The Last Jedi was a considerably less expensive movie for Lucasfilm to make than The Force Awakens, which gave the film more room to actually profit.
The pressure's still on for Solo: A Star Wars Story to deliver, but as of right now, the Star Wars franchise is looking like one of the safest franchises ever at the modern box office. With $1.516B in Lucasfilm's pockets without counting the mountains of cash made off of licensed content, it's safe to say that Disney is recuperating their $4B investment pretty quickly.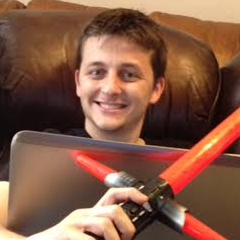 Grant has been a fan of Star Wars for as long as he can remember, having seen every movie on the big screen. When he's not hard at work with his college studies, he keeps himself busy by reporting on all kinds of Star Wars news for SWNN and general movie news on the sister site, Movie News Net. He served as a frequent commentator on SWNN's The Resistance Broadcast.