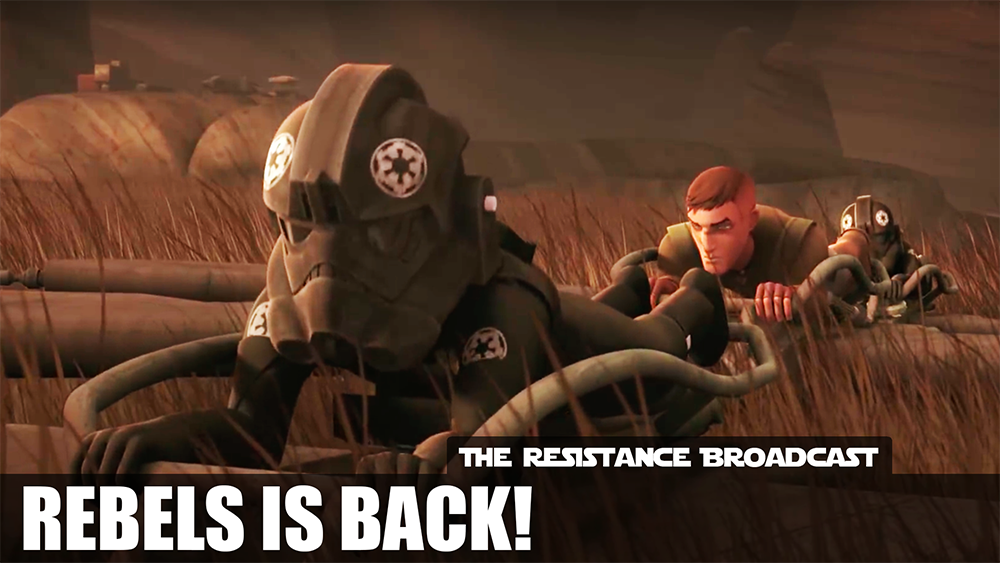 On this episode of The Resistance Broadcast, we discuss….
Poll Results; Rebels Preview Clips 'Jedi Knight' And 'Bring Her Back' Discussion; Paul Inglis Hired As Art Director For Episode IX; Scoundrel's Rundown; Tweeting With The Resistance; Final Thoughts.
Leaders of the Resistance: John Hoey, James Baney, Patric Covey.
'Jedi Knight' Clip: here
'Bring Her Back' Clip: here
Paul Inglis hired as art director for Episode IX: here
John's NYC Hasbro Toy Fair Coverage: here
It appears we have a fan in the Senior Brand Manager for Star Wars @hasbro! Greetings from @AndyOchiltree! #StarWars  #HasbroToyFair pic.twitter.com/BAnLCKZOey

— SWNN (@StarWarsNewsNet) February 17, 2018
We are celebrating the release of a certain upcoming film by creating new versions of our popular "Triple Solo" design on TeePublic. Here is a teaser of what you can expect to see starting tomorrow! Can you figure out what inspired us? #StarWars
————————https://t.co/YPMDxtLOOZ pic.twitter.com/P3wlm6WjQN

— The Resistance Broadcast (@RBatSWNN) February 17, 2018
Check out all of our new shirts available at our storefront for a limited time only:
When someone says you have a body like a brick….THIS isn't what we were expecting. Check out the new Lego Kylo Design and print it on anything you want! #StarWars #KyloRen #Lego
—————–
MORE INFO:https://t.co/ASJRIhwrz8 pic.twitter.com/Oiz9Gjuki4

— The Resistance Broadcast (@RBatSWNN) February 18, 2018
Tinky Winky, Dipsy, La La, and POE?! Yeah that's right, the little red guy grew up to be the best pilot in the Resistance! Check out this design and print it on so many different things! #StarWars #Funny #Tees
————
MORE INFO:https://t.co/91pKHZDOcK pic.twitter.com/E3UKIRIFPI

— The Resistance Broadcast (@RBatSWNN) February 18, 2018
Our best selling shirt now has #SoloAStarWarsStory variants, color themes matching the character posters of Han, Lando, Chewie, and Qi'ra! They're on sale now in our teepublic store! Grab your favorite now! #StarWars https://t.co/a7GRBd5Cby pic.twitter.com/1uE2F02SZp

— The Resistance Broadcast (@RBatSWNN) February 19, 2018
Don't forget to check out more of our designs in our store at https://www.teepublic.com/user/resistancebroadcast. Help support our show moving forward and grab some merch from 'The Resistance Broadcast'!
f you would like to submit questions for the show you can tweet at us on our Twitter account @RBatSWNN, message us on the Cantina Forum in the questions and comments thread, or send an email to resistancebroadcast@gmail.com. As always, let us know if you have any episode feedback so we can make sure these episodes get better every week. Your support and comments are highly appreciated!
Special thanks to Matt Pasterick for our theme song!
Click HERE to check out and comment on this topic in our forum The Cantina