'Star Wars: Clone Wars' and the Predicament of Streaming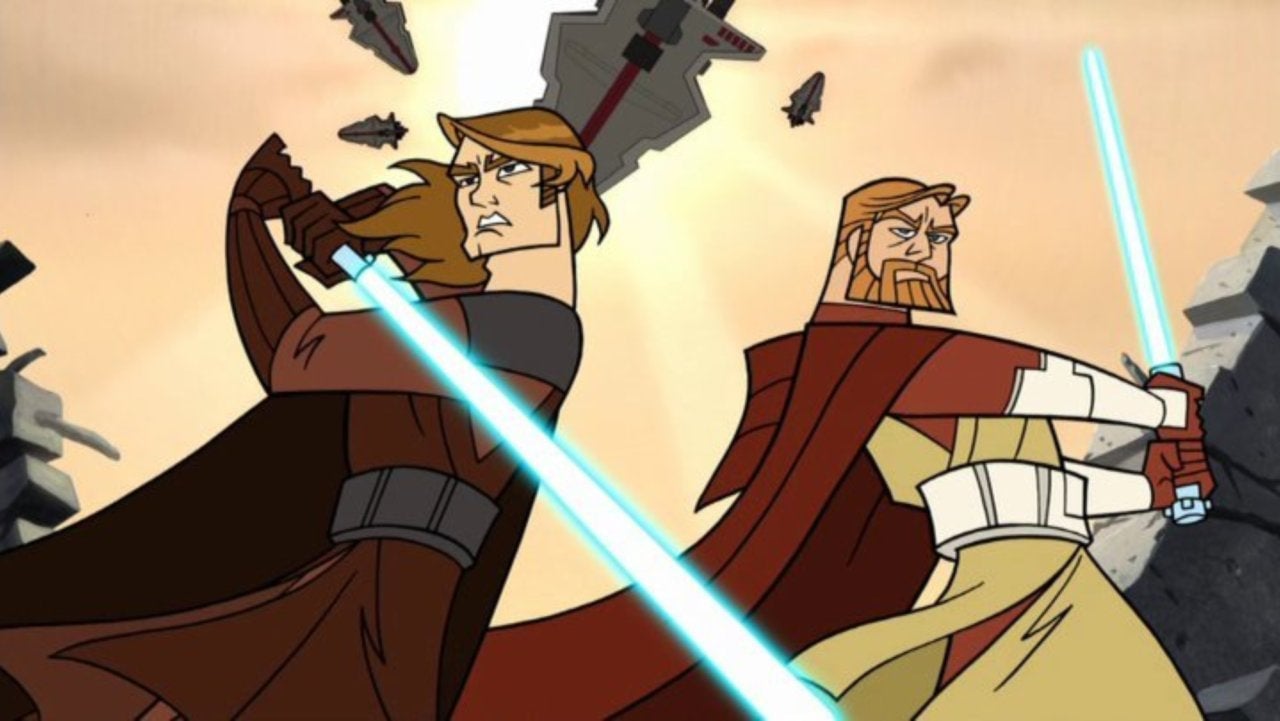 As the streaming wars continue with WarnerMedia's HBO Max entering the fray today, some questions must be asked about content that gets caught up between multiple parties due to legal questions. Case in point, one major contribution to the history of Star Wars media, Clone Wars, is nowhere to be found on either that service or Disney+. Here's why it represents an interesting dilemma in the age of streaming.
Once upon a time in 2003, Genndy Tartakovsky introduced the world to Asajj Ventress in Star Wars: Clone Wars. No, that's not the show that Dave Filoni and George Lucas spearheaded later in the decade – that's The Clone Wars. But all the same, Tartakovsky spearheaded a hand-drawn, twenty-five-episode microseries that would tell various tales from the Clone Wars, with the first twenty episodes only doing so in two or three minutes apiece. Meanwhile, the last five episodes quadrupled to quintupled their running time to tell longer stories, ultimately culminating in a narrative that showcased the invasion of Coruscant and the kidnapping of Supreme Chancellor Palpatine by General Grievous, ending the series a few minutes just before Obi-Wan and Anakin begin their rescue operation. While the series is non-canonical to Star Wars following the Legends decision, the series was still alluded to in its successor; for instance, it made Ventress a more well-rounded character, and it even semi-canonized the show's final arc by mentioning that Shaak Ti was unable to stop General Grevious from kidnapping Supreme Chancellor Palpatine.
For a time, the series was held in higher regard than The Clone Wars, before the latter show truly found its footing; even then, it's still celebrated by fans as a shining example of what Star Wars can do in an animated format. It's why, when Disney+ was formally released as a service, a number of fans were disappointed that the series was nowhere in sight. In spite of Disney+ exclusively hosting the majority of the animated and live-action Star Wars content that's ever been produced, there were some notable exceptions, and Clone Wars was the most widely-noticed omission. The truth of the matter is that it's not Lucasfilm's fault that the series isn't on Disney's streaming platform – it's a matter of licensing.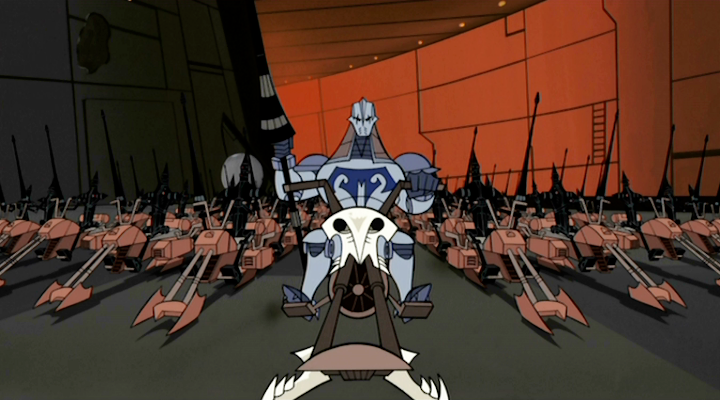 2003 marked the year that Lucasfilm Animation got their start, but they were surprisingly not involved with the Clone Wars microseries. (Their focus was on a few LEGO Star Wars tie-ins and what would become The Clone Wars, given that their animation is digital rather than hand-drawn.) Instead, Lucasfilm's 2003 series was made as a joint agreement with Hasbro (who wanted more toys to sell between Attack of the Clones and Revenge of the Sith), Twentieth Century Fox Television, and Cartoon Network. Fox is no longer a problem since Disney acquired those assets between 2017 and 2019, and Hasbro had nothing to do with the making of the show itself, but the last problem lies elsewhere. The show was made in-house at Cartoon Network with a team led by Genndy Tartakovsky, fresh off of his original run of Samurai Jack episodes. This is different than The Clone Wars, which was made entirely by Lucasfilm and was merely distributed by Cartoon Network for the first five seasons – Cartoon Network outright owns a stake in these Clone Wars shorts.
Because of that, WarnerMedia, the parent company of Cartoon Network, has a call to make about where these shorts are redistributed. So far, that call has been "pretty much nowhere". Cartoon Network released Star Wars: Clone Wars DVDs back in 2005, before and after the release of Revenge of the Sith; the show was never upgraded for the Blu-ray format. And by their nature as promotional releases for a toy line and eventually Revenge of the Sith itself, redistributing the Clone Wars shorts are not high on WarnerMedia's list of things to do, since promoting their stake in Star Wars would directly benefit Disney, one of their biggest competitors. Even if WarnerMedia could make a move to put the show on HBO Max, they would likely be met by push from Disney to have it on Disney+ instead, and vice-versa. So the only way that you're going to be able to watch these shorts legally, as of right now, will be by ponying up to buy either an unopened DVD copy of this microseries (which are becoming increasingly rare), or by taking your chances with getting a used DVD.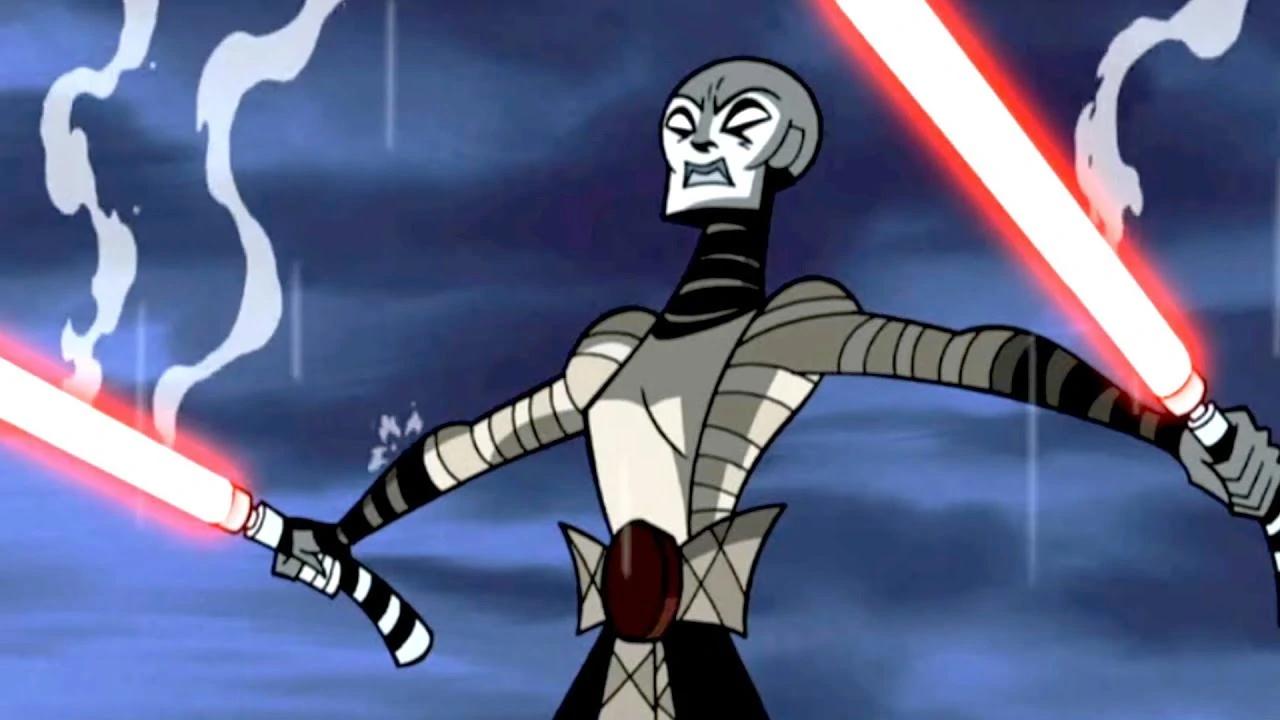 We personally think that these Clone Wars shorts deserve to be seen by a younger generation of fans, and by fans who missed out on them. Unfortunately, this means that the only way to currently watch the series online is through less-than-legal means – which we don't encourage, let's be clear. But does that mean that it's hopeless that WarnerMedia and Disney could ever reach a deal? In spite of what you've read earlier, don't count that out. While Disney+ is being sold on having a library of first-party content that will never leave the service (aside from a few things that had to temporarily be taken down due to licensing issues), Disney CEO Bob Iger has signaled that Disney would be "glad to license [content] from third parties [on Disney+]", and that would logically include stuff like this. HBO Max will also license content from third parties, and that could potentially include Lucasfilm's content, even though such a move would be unlikely with Disney+ becoming the streaming service for Star Wars content. Lucasfilm could also outright purchase the series from Cartoon Network, which seems less likely. A licensing agreement for Clone Wars on Disney+ would be ideal, but it's also possible that the show could stream on both it and HBO Max as a potential compromise.
There are options out there, but right now, the show is low priority for both WarnerMedia and Disney. Both companies have large enough libraries of content that a promotional series from the mid-2000s that isn't in high rotation these days is more of a niche thing and not worth sorting things out over. The bigger draw will be whatever original content that both services are going to produce, with Disney+ reportedly preparing the field for a new animated Star Wars series. It shouldn't be unthinkable that these companies may be looking toward taking advantage of what content they own and adding it to their streaming services whenever they can – which is why Justice League is getting a director's cut – and perhaps we'll see more of the old Star Wars shows get added to Disney+ over time as those licensing issues get worked out, but still… Star Wars: Clone Wars being owned by two separate companies is just one of many odd predicaments of streaming.
Star Wars: Clone Wars is available to watch on DVD, but unfortunately, it doesn't seem like it's going to stream anywhere anytime for the time being.
Grant has been a fan of Star Wars for as long as he can remember, having seen every movie on the big screen. When he's not hard at work with his college studies, he keeps himself busy by reporting on all kinds of Star Wars news for SWNN and general movie news on the sister site, Movie News Net. He served as a frequent commentator on SWNN's The Resistance Broadcast.