Sacrifices and Heroes Are Not Forgotten On Jedha In Marvel's Star Wars #42
Luke, Leia, and Han have come a long way on Jedha. As the Empire, with the help of Queen Trios, continues it's operation to strip Jedha of whatever kyber it has left, our heroes learn more about themselves and their place. Marvel's Star Wars #42 continues to push our heroes closer to the people we meet in The Empire Strikes Back, and shows them they didn't get to this place on their own. SPOILERS AHEAD….
At the conclusion of issue #41, Chewbacca returned with some valuable intelligence for Leia, Han, and Luke. He was able to get his hands on the technical schematics of the Leviathan, the monstrous drilling rig Queen Trios has unleashed on the fractured Jedha. The schematics don't offer a lot of good news for the Rebels and the Partisans. The Leviathan is a beast, not only capable of cutting into Jedha's core, but also fending off any attack the Rebels and Partisans have to throw at it. As we've learned in Star Wars, even the biggest weapons have their weaknesses, and the Leviathan is no different. Leia volunteers Artoo and Threepio to slice into the security system and allow a team to get onboard the ship. Once onboard, they plan to shut down the defense systems and cut the Imperial control over it's systems.
By far the coolest thing in this arc is this moment between Luke and Ubin, discussing the heroics of Jyn Erso and her team of Rebels. Rogue One is a film that gets better every time I watch it, so the silver lining of this very mediocre arc has been revisiting the setting where this amazing Star Wars story took place. The dialogue provides a nice stitch of connective tissue between the Original Trilogy and Rogue One. I assumed Jyn and the rest of Rogue One were lauded in the halls of the Rebel Alliance (and eventually, the New Republic), but it's nice to see the heroes that followed them recognize their role. Luke points out that if they had not sacrificed everything, his daring run in the trench of the Death Star would have been for naught. Luke's still coming down from a pretty traumatic experience of looking death and the dark side in the eyes. He's realized his quest to become a Jedi and knowledge of the Force approached a selfish pitch and his friends need him in this fight. Leia joins the conversation, pointing out that heroism is a sacrifice, and that it pushes those who don't yet realize they are heroes to become them. Great moment here by series writer Kieron Gillen.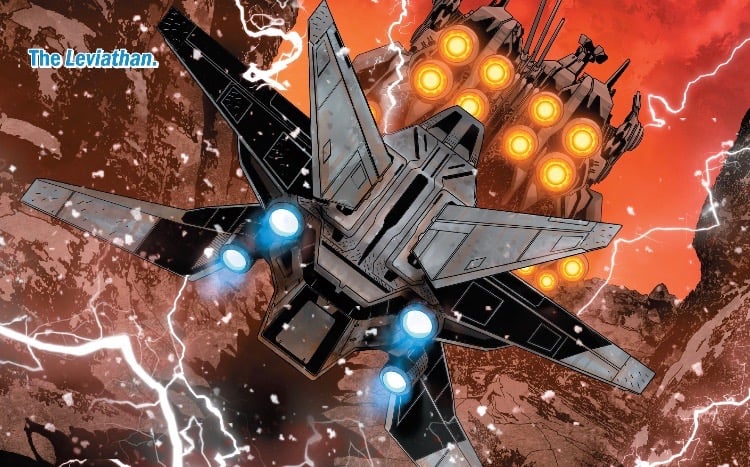 This frame, right here, is the best look you get at the Leviathan. Yes, I know it's a big ship, but with how much we are told it's impenetrable and indestructible, we really don't get much of a look at the thing. Here I go: artist Salvador Larocca NEEDS TO GO! I know, I've gone off about this in every review, but this frame is another example of his shortcomings hindering the story. Not to mention he pretty much traces every character face from a frame of the film. There is a frame where Leia's face looks like it was literally cut-and-pasted from ROTJ to a headshot from TESB. Not sure how this kind of thing gets to print, but the story and the book deserve better. Move along!
Leia, Luke, and the droids manage to get aboard the Leviathan via a shipping container. The mission to disable the ship begins, but little do they know, there are a few other passengers aboard.
Commander Kanchar and Queen Trios have made their way down to oversee the final flight of the Leviathan. I imply finality, because Trios pointed out in an earlier issue the drill rig is so large they won't be able to get it off Jedha once it's served it's purpose. For some reason, I assumed they were hanging out in the Star Destroyer in orbit. Nevertheless, Kanchar and Trios learn that an attack on the Leviathan is imminent. Trios is actually the one who encourages Kanchar to kill everything. My theory about her turning on the Empire at the last minute is diminishing, but I'm holding out a sliver of hope she doesn't forget what Vader did to her home world of Shu-Torun, all to simply demonstrate what happens when worlds go against the Empire (you can read our reviews of those Darth Vader issues here, if you want to learn more about Trios).
As Han and the Partisans prepare to fly the Millennium Falcon as back-up for Leia and Luke, the here come the stormtroopers. A firefight ensues and Benthic is hit. He's not killed, but Han and the Partisans barely make it aboard the Falcon to escape.
I don't HATE Larocca, and I'd like to offer a compliment. This frame made me chuckle and smile, as it captures a familiar sight Imperials have become used to when it comes to the Millennium Falcon. I'm a fan of visual cues like that and I could hear John Williams' score in my head, as well as the Falcon's roaring engines. Good times!
Leia and Luke are debating about how to try and take the bridge. They debate, but realize each of them has an important and unique role as a leader in the Rebellion, and the only way they'll succeed aboard the Leviathan is if they do it together. There is an underlying theme of this issue, and that is each of them realizing their leadership in the Rebellion. Luke is beginning to see the Rebellion needs him as a soldier right now, and the Force will find him eventually on his journey. Leia, whose leadership is already solid, is helping lift these two up and realizes her position to help those around her become their own leaders in the Rebel Alliance. Leia's been in this fight much longer than Han and Luke, and she's certainly become a teacher to them both.

Han has his own waking-up to leadership. I love Ubin, but she's willing to lead the partisans to their death, and we've seen Han lecture her about unnecessary sacrifice of life. Aboard the Falcon, Ubin's tune hasn't changed much, but Han's done talking. He tells the Partisans he's taking over and has a new plan. Privately, Chewie commends him for taking control of the operation. Captain Solo has arrived!
Just as Commander Kanchar is about to shoot down the Falcon, Luke Skywalker arrives to save the day. Once again, a frame that could have been much more "epic" is confined and constrained. Kanchar's cyborg limb looks like it's about to go toe-to-toe with the Skywalker lightsaber. Hopefully, we'll actually be able to get a good look at this fight and it won't just be tight frames of Luke's face traced from screenshots. Sorry, Salvador, but I had to say it.
Han and the Partisans land on the Leviathan, but their party was expected. It's typical Solo territory, blasters and shouting. Leia is looking on from above and realizes she's going to have to get control of the bridge quick, or Han and the Partisans aren't going to make it. Someone else onboard introduces herself to the Rebel princess.
Queen Trios has arrived to the party. Again, I still think there's a chance she's going to turn and join the Rebellion, but I'm now saying that's a long shot. Whatever happens, I'm excited to hear the conversation between these two. They are both royalty who have seen their planets ravaged by the Empire. Leia's perspective is much different from Trios, as she was against the Empire since she was a teenager. I could see Trios identifying with Leia and her loss of Alderaan. Leia could appeal to Trios' royal obligations to protect her people and offer them a place in the Rebellion. This is a fascinating scenario and I think these two characters have a lot to talk about.
Artwork aside, a solid issue. I'm very pleased with how writer Kieron Gillen is starting to wrap this up. I loved Rogue One mentioned. Trios is a monumentally better adversary than Kanchar, who like these over-elaborate Imperial commanders is starting to just seem goofy. Leia, Luke, and Han are certainly growing in this arc and it's nice to see some real development.
Oh, and I'd be remiss if I didn't suggest a new artist for Star Wars, just in case Marvel reassigns Mr. Larroca. The covers of this series have been great! Give artists David Marquez and Matthew Wilson a shot.  Seriously! If the artwork of the actual story was half as good as the covers they've been producing for "Ashes of Jedha", my ratings would be much higher on average.
RATING: 6/10
Kyle Larson lives in Portland, Oregon. When he's not running trails, he's reading and writing.