UPDATE! Some Updates On Solo: A Star Wars Story – Including a First Look at the Cast? Possible Cameos, & Trailer Coming Soon?
Now that Star Wars: The Last Jedi is finally out, the focus will naturally shift to Solo. Take a look inside to get a glimpse at some merchandise leaks and learn when we might get our first look at the movie.
First up, I'd like to point out the only visual leak that we have – Thandie Newton's appearance in the film, as recreated by LEGO (and a returning character from a new set that suggests there could be some kind of cameo):
Thandie Newton's character from Solo (LEGO minifig) from StarWarsLeaks
The image of Thandie Newton's LEGO-ified character is decidedly not an Imperial outfit, like it was suggested by one of the photos shared by Ron Howard on Twitter. Meanwhile, there are apparently a few subtle details separating Boba Fett's appearance here from how he's appeared previously, which may or may not indicate that he'll get a cameo in Solo.
Next up is some listings regarding the merchandise. First, there are a list of 11 Funko POP! bobbleheads for Solo, along with one for The Last Jedi:
Solo: A Star Wars Story Funko Pops spotted in GameStop pre-order list, release date 04/06/18 from StarWarsLeaks
Meanwhile, Brickfanatics have just seen this image indicating when the next set of LEGO are going to arrive:
There will be five LEGO sets released in time for the movie along with two buildable figures – and it's been suggested that the two sets related to The Phantom Menace and Revenge Of The Sith teased in the image above, are unrelated to the Solo line. Curiously, there's a discrepancy between the given "sell date" on the Funko toys and the date that the LEGO arrive. It could be that the store gets stocked with Solo Funko toys two weeks ahead of the actual toy event and that they aren't actually sold until then.
One more thing worth noting is that a finding from Yakface indicates that at least half of the next wave of Black Series toys will be based on Solo, with one toy in particular implying that a certain character may be making another appearance:
2x Han Solo
2x Imperial Range Trooper
1x Captain Lando Calrissian
1x Grand Moff Tarkin
1x Death Squad Commander (40th Anniv. repack)
1x Jawa (40th Anniv. repack)
So yeah, there's a chance that Tarkin might be in the movie, in addition to (maybe) Boba Fett. It's difficult to tell with the way the list is written – and I can't wait to see whatever this "Range Trooper" is. So far, these merchandise lists seem to indicate that a good portion of the content that will hit on the next big marketing event will be related to previous films as opposed to just focusing on Solo, which to me indicates that there's more reused content in this film than there has been for the others. It also suggests that Disney has more modest financial expectations for the film. (If it doesn't make $1B globally but otherwise makes a lot of cash, that's okay.)
In addition, Cinelinx author Jordan Maison has recently been saying that we should expect the first wave of visual content to arrive very, very soon:
Welp…we'll definitely be seeing some #Solo stuff within the next 2-3 weeks. #StarWars

— Jordan Maison (@JordanMaison) December 21, 2017
https://twitter.com/JordanMaison/status/943871211586678784
At this point, I think that Lucasfilm is about ready to kick the ad campaign for this movie into overdrive. Marketing on this movie was always going to be weird with the way Lucasfilm promotes their movies (as, so far, we have not seen a preview for next year's Star Wars film attached to this year's Star Wars film), as it would have been with The Last Jedi had that released in May of this year as originally planned.
Lastly, there's a little detail in the next issue of Empire that I feel is worth discussing. While the article doesn't really tell us anything we don't already know, it does hint that the golden dice that appear in the Millennium Falcon's cockpit will play a role in the movie.
If that's the case, then this would serve as a nice bit of connective tissue between Solo and The Last Jedi, where the dice were symbolically used to reunite Han with Luke and Leia at the end. In any case, it won't be long before we learn a lot more about this movie, so stay tuned.
UPDATE!
Reddit also has another image from Solo posted on their site. Here it is: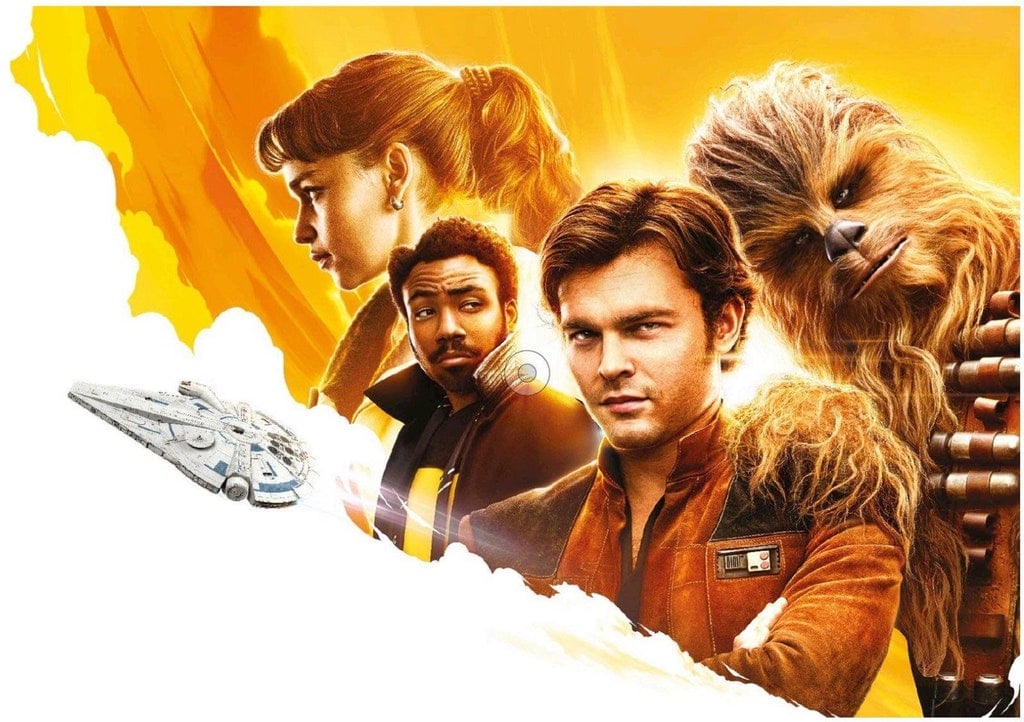 The art looks really great and too good to be fan made. Some sites got responds from Disney reps that they don't know about this image, but I wouldn't be so quick to dismiss it as fake. Actually other sites got takedown notices for it. As we said on Twitter in time we will see…
I wouldn't be so quick to call that #Solo art "fake". Disney tells one site they don't know about the existence of this image, and LFL tells another site to take it down. It just looks too good for your random fan art. We will see…

— SWNN (@StarWarsNewsNet) December 27, 2017
And thanks to our reader KyloRen here's the actual source of the leak: Licensing Russia. Definitely seems legit.
Grant has been a fan of Star Wars for as long as he can remember, having seen every movie on the big screen. When he's not hard at work with his college studies, he keeps himself busy by reporting on all kinds of Star Wars news for SWNN and general movie news on the sister site, Movie News Net. He served as a frequent commentator on SWNN's The Resistance Broadcast.