Leia's Plan Comes Together in Marvel's Poe Dameron #22
As many of us are still trying to process The Last Jedi and looking to what Episode IX will bring us in the future, comic book writer Charles Soule and artist Angel Unzueta take us back in time before The Force Awakens in Marvel's Poe Dameron #22. In this issue, General Leia Organa leads Black Squadron on a mission to free the explorer Lor San Tekka from a prison on Cato Neimoidia. The General's plan is solid, but some unknown variables threaten to unravel it at the seams.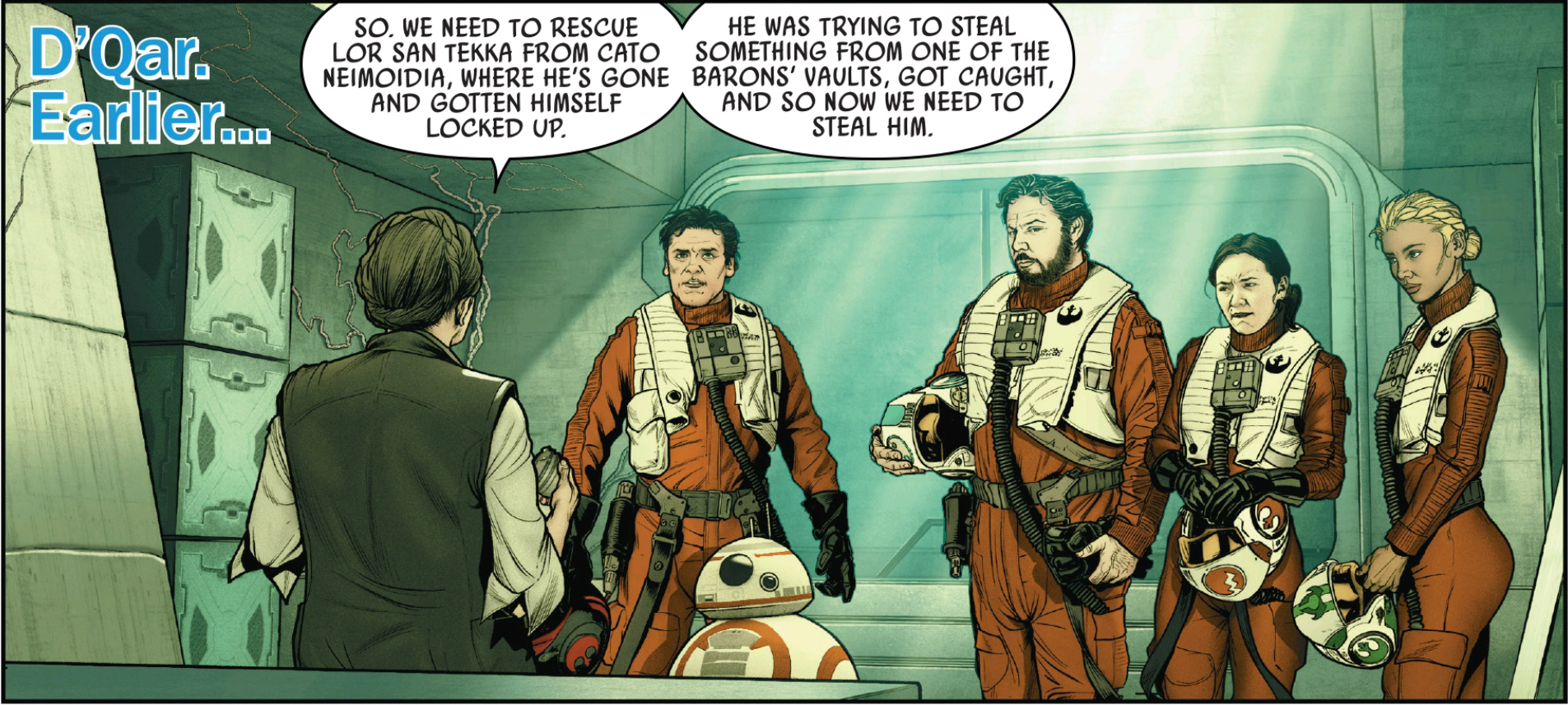 Although it's had its ups and downs across the 20+ issues, the Poe Dameron series has been a pretty good Star Wars tale up to this point. Starting off with the premise of tracking down Lor San Tekka, who may be able to provide some insight into Luke Skywalker's whereabouts, Poe and his Black Squadron have taken a few detours from the mission. Now, however, that mission is back on track as we draw closer and closer to The Force Awakens in the timeline of the series.
The "Legend Found" story arc is one of the better ones of the series thus far, and this issue (part III of this story) is possibly the best single issue to date. I loved just about everything in this issue, from the "Ocean's Eleven" vibe (Organa's Six?) to the prequel era callback with the droid fighters. This issue had all of the components I look for in a good Star Wars story.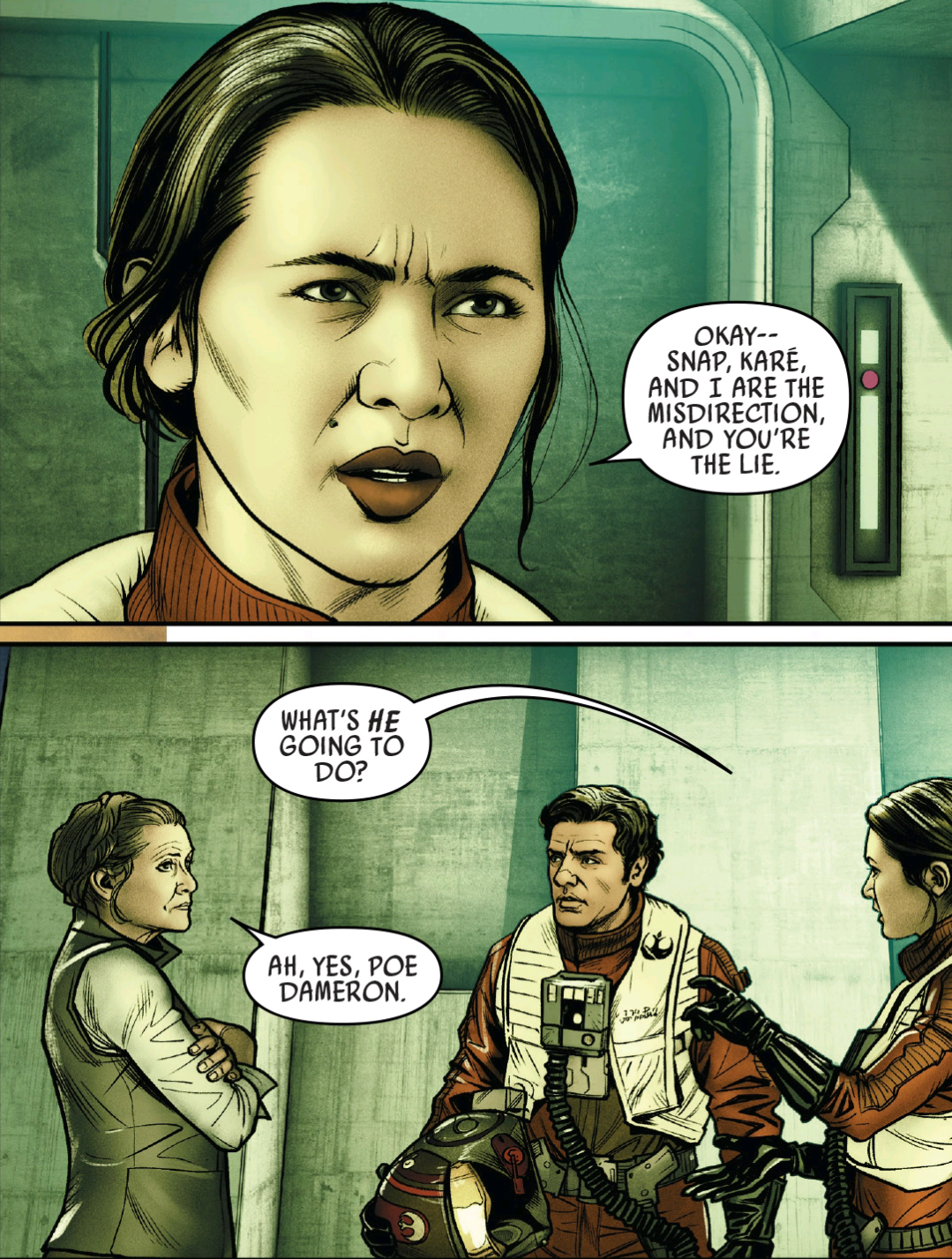 I love it when a well made plan comes together, and I really had fun following along in the story as the panels cut back and forth from Leia detailing the finer points of her plan to the crew in the hours before the rescue to the plan actually being executed in the present. That's part of what gave it that "Ocean's Eleven" vibe, and for this story, I thought the device really served the narrative quite well.
The plan was to break in to the vaults of the Cato Neimoidian Baron Maccon, where Tekka was being held, and to do so, Leia had to pull a successful confidence job to gain access to the otherwise impenetrable vault. The job would be carried out in four steps – for the first step, Leia would provide the lie, gaining initial access to the vault by presenting herself as a potential client of the baron, hoping to store several wardrobes of valuable dresses owned by her mother in his vault. The next step involved a distraction from Black Squadron as they assaulted the baron's stronghold, posing as pirates. With the baron's defense forces distracted, Poe is revealed as the third step – the inside man.
After being smuggled into the vault in a hidden compartment in one of the wardrobes, Poe was able to find Tekka and sneak him out of the facility. However, like any good heist story, there's always an inevitable kink in the plan, and step four – luck –  has to come into play. Unfortunately, lady luck was not on their side as Commander Malarus and Agent Terex arrive to steal Leia's ship and Poe's X-wing (along with BB-8 and Lor San Tekka!), leaving us with a cliffhanger for the next issue.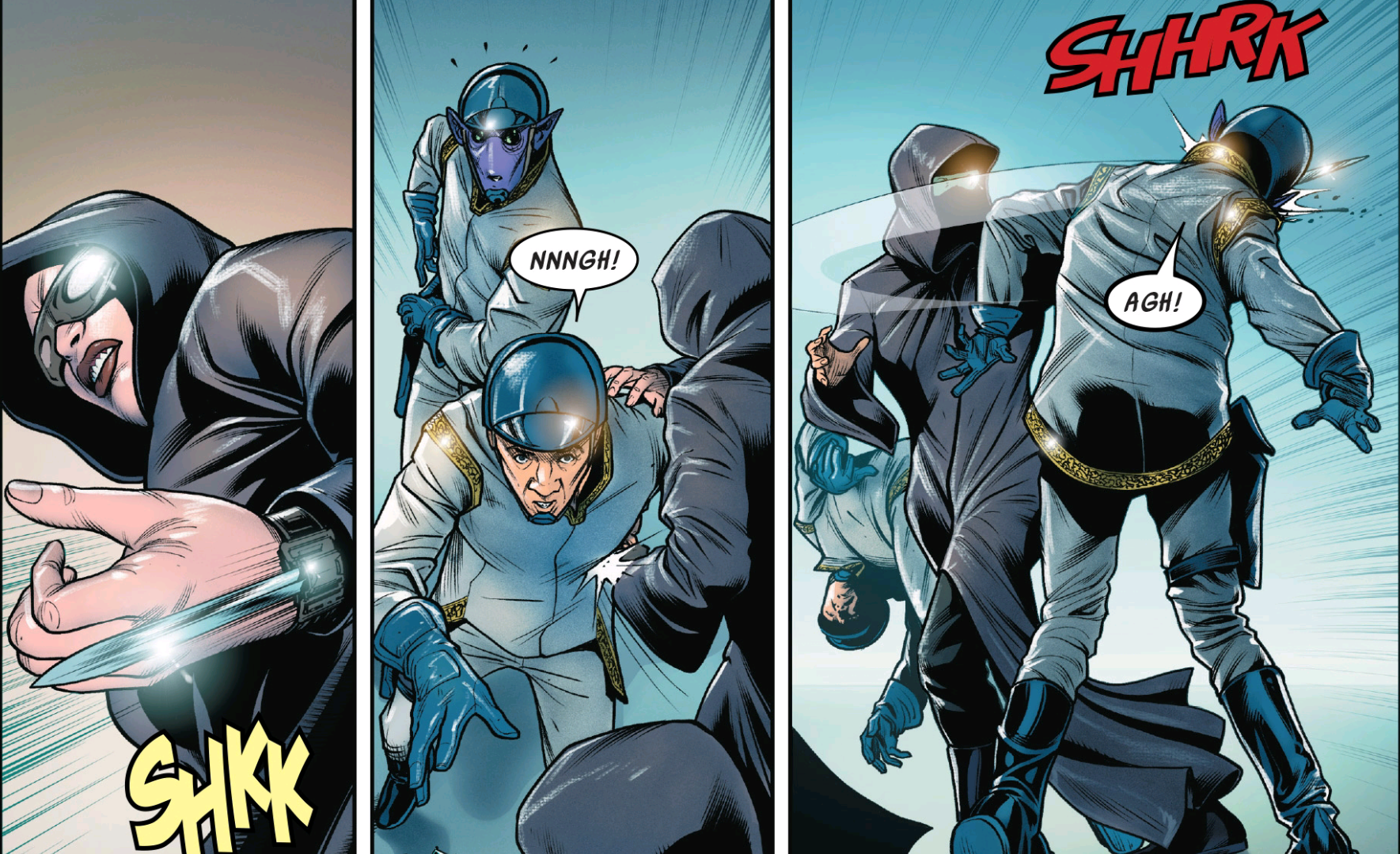 One of my favorite aspects of this issue was seeing firsthand the influence that a life being married to Han Solo has had on Leia. She notes that she has spent quite a bit of time with smugglers, and she has picked up a thing or two along the way. Even though Han is not present in the story at all, his spirit was very much felt in the qualities of his that have now become a part of Leia's character as well.
While she was laying out her plan to the team, I couldn't help but think about Han leaning back against the bench in Chalmun's Cantina in Mos Eisley, lying to Greedo about having Jabba's money while distracting him with his hand just before frying the poor Rodian and leaving the bar with no small amount of swagger. I feel like this comparison was intentional on Soule's part, and for me, it worked beautifully.
One of the surprising things about this story is that Poe actually meets Lor San Tekka and brings him to safety. I assumed when this series started that it would lead up to the moment where they first meet in the opening of The Force Awakens, however, as this issue revealed, the two actually meet before that point, and it will be interesting to see how the story develops moving forward. Will Poe catch up to Malarus and Terex and rescue the explorer once again? Or will the next time they meet actually be on Jakku in The Force Awakens?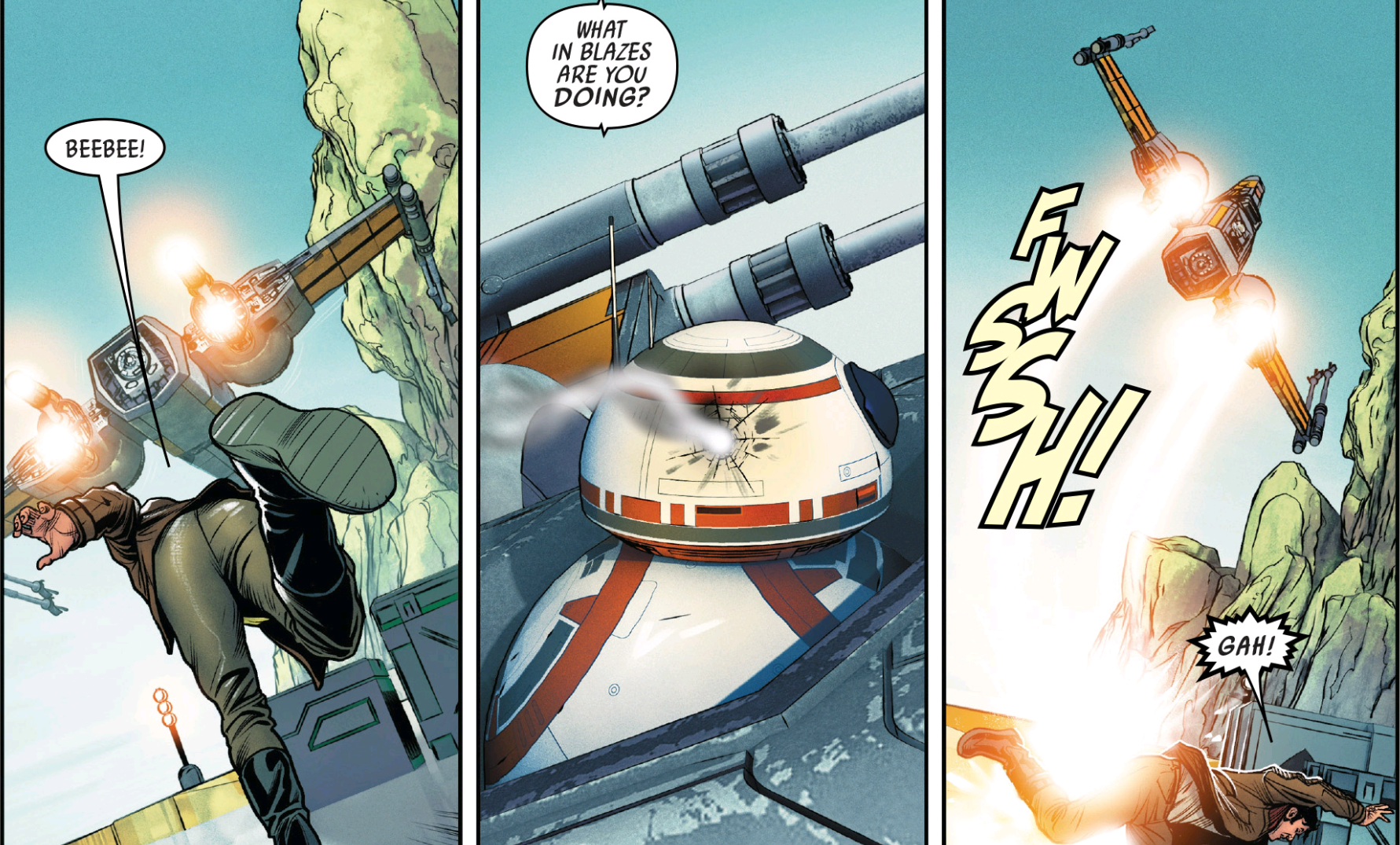 It's possible that Tekka is just on to something at this point in the story concerning Luke and that he doesn't yet have the map to Ahch-To. Perhaps we will see how he acquires the map at some point – with the series coming to a close when he contacts Leia to meet him on Jakku to pass it along. Time will tell, but for now, I am looking forward to seeing how the current situation will be resolved in the next issue.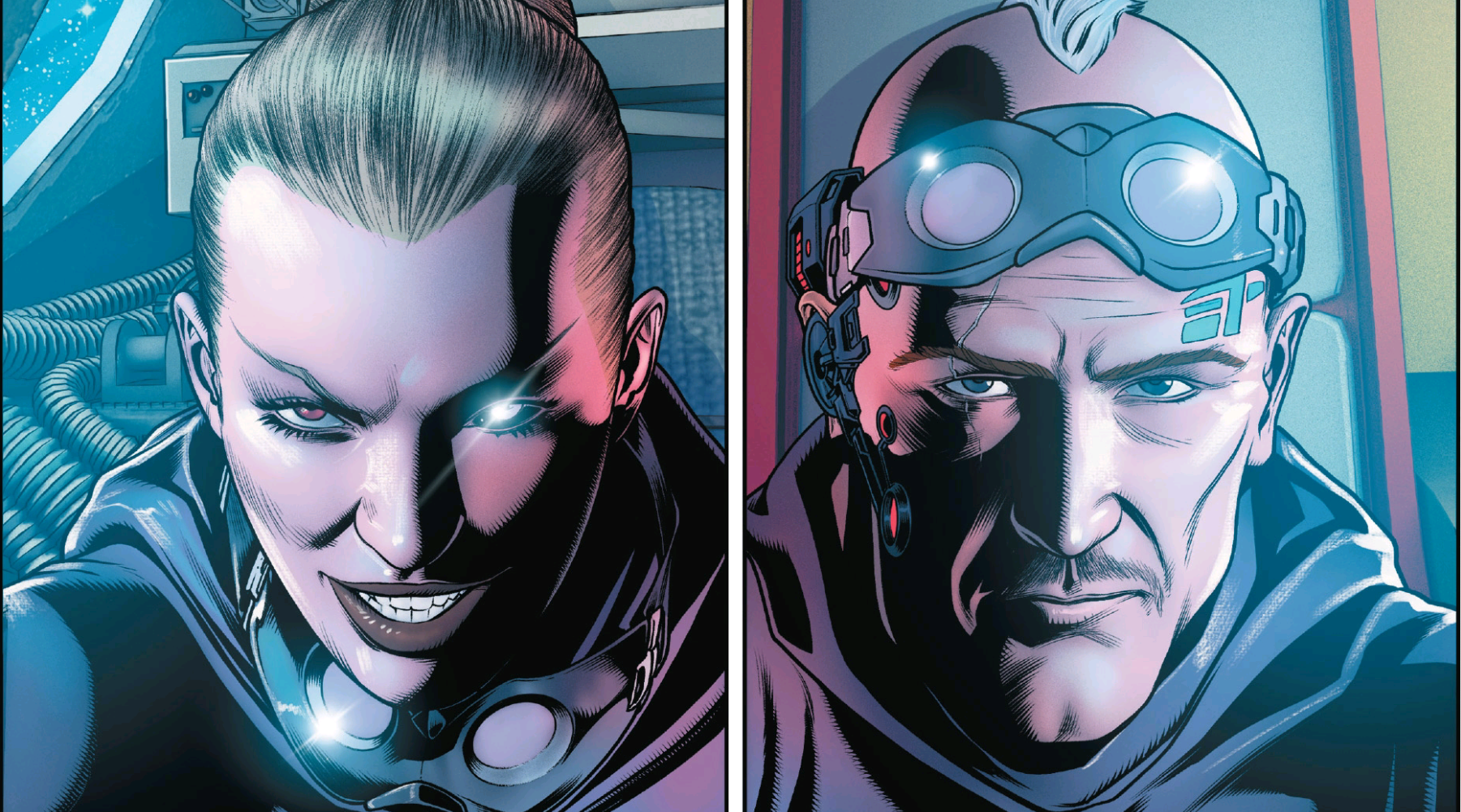 Soule continues to deliver a great story with "Legend Found" and Unzueta does a fantastic job bringing a gorgeously smooth realistic style to the table that compliments the story very well, and his realistic approach is not hindered by the obvious tracing techniques that are employed by other artists with a similar style. Admittedly, one's feelings about comic book art (as with any form of art/entertainment) is subjective, but in my opinion, Unzueta's art is some of the best that Marvel has to offer in their current titles, Star Wars or otherwise.
Score: 9/10
Poe Dameron #22 is available in a comic shop near you or online at Comixology. Until next time, happy reading comic fans!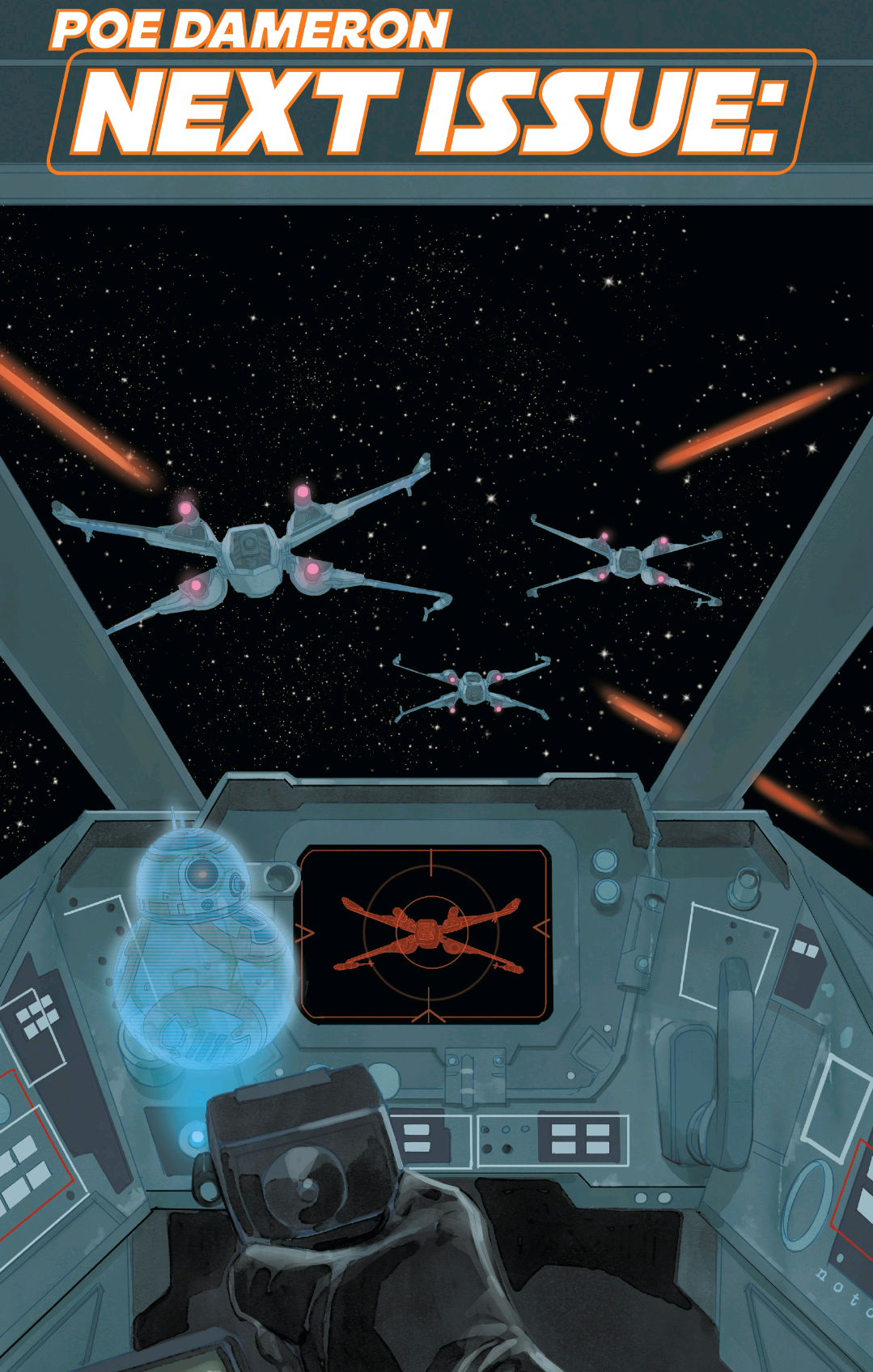 Jordan Pate is Co-Lead Editor and Senior Writer for Star Wars News Net, of which he is also a member of the book and comic review team. He loves all things Star Wars, but when he's not spending time in the galaxy far far away, he might be found in our own galaxy hanging out in Gotham City or at 1407 Graymalkin Lane, Salem Center, NY.