The Last Jedi: Kelly Marie Tran Talks to EW About Her Character Rose Tico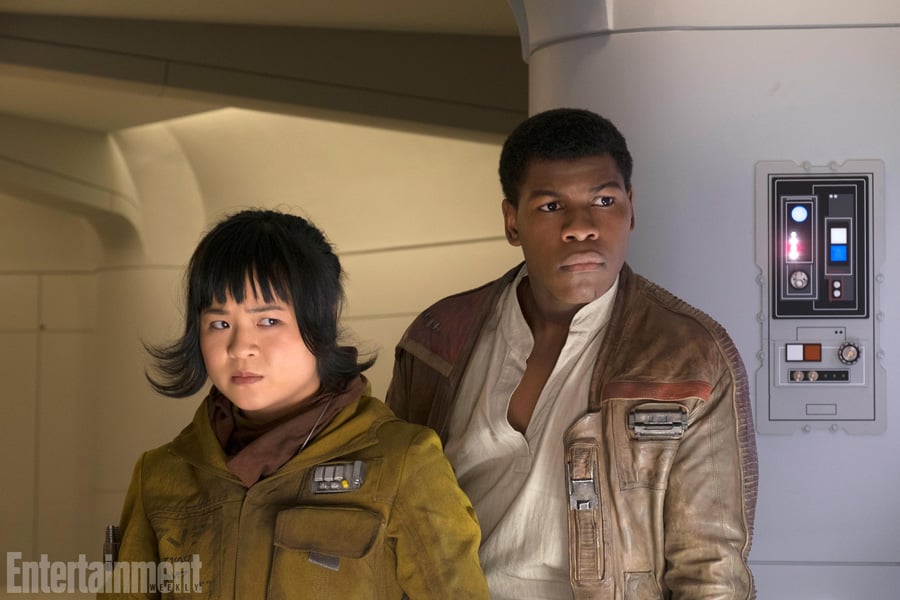 At Star Wars Celebration this past April, Rian Johnson told us that Rose Tico, Kelly Marie Tran's character in The Last Jedi, has the largest part out of all of the new characters. Writer and journalist Anthony Breznican has brought us a bit closer to Rose in an Entertainment Weekly interview with Tran, where she discusses her character's personality, beyond just being a background mechanic for the Resistance.
In the interview courtesy of Entertainment Weekly, newcomer Kelly Marie Tran gives us a look into the personality of Rose Tico, a mechanic with the Resistance. Unlike a lot of characters we've gotten to know in the Star Wars galaxy, Rose is a pragmatist, looking for the logical solution over incorporating emotion into her decision making. It seems she is more of a direct person who wants results instead of beating around the bush:
"Something that I really like about Rose, she's sort of always on a mission. She is a very practical person, she's very pragmatic."
Here is the exclusive image posted by Breznican of Finn and Rose on their way to the ritzy high-rolling city of Canto Bight on Cantonica, courtesy of Entertainment Weekly:
"The journey that she and Finn go on seems pretty impossible, you can tell in this moment that she's very much aware of the dangers that they are about to face, but she's also logically in her mind problem-solving on the way." – Tran
Breznican clarifies that "It's not that Rose is joyless, she has a sense of humor and wonder. But she has also lived her entire life on the edge of survival in a war-torn galaxy."
Tran continues:
"She knows exactly, probably, how many things can go wrong in a situation."
This paring seems perfect in terms of classic opposites working together. In The Force Awakens we found out how mechanically deficient Finn was, needing BB-8 to help him find the correct parts to give to Rey while repairing the Falcon, and also needing to rescue a pilot to fly him away from the First Order. This is not to disparage sanitation workers, but Finn was trained to be a soldier and take out the trash, mechanics aren't his strength.
WHAT'S WITH THE NECKLACE? 
In the EW exclusive image above, Breznican points out that Rose is wearing a crescent-looking medallion on a necklace. He asked Tran about it's significance: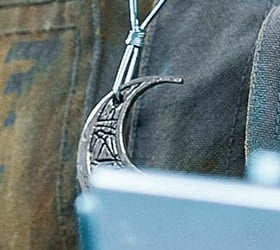 "That is definitely something that is significant to Rose's backstory," Tran reveals. "It is an object that she kind of has throughout the film and it is representative of more than the object itself to her. So, yeah, that's all I can say. It has significance that is, to me, something that means more than just what the object itself is."
Significant to her backstory, and it means a lot to her. Star Wars is thematically about family, and familial history, roots, connections. Perhaps this symbol is representative of where Rose comes from, her family. As Tran states, it is clearly something that means more to her than it just being a necklace. As Breznican points out, "It's not exactly something you'd put on while working around heavy machinery."
We will get to meet and see the resourceful pragmatist at work very soon as Star Wars: The Last Jedi hits theaters in a shockingly close 42 days!
Be sure to follow Anthony Breznican on Twitter, he is one of, if not the best Star Wars journalists out there.
You can find me on Twitter @JohnnyHoey and we'll be talking about this on The Resistance Broadcast!
"For my ally is the Force, and a powerful ally it is."
John Hoey is the Lead Editor and Senior Writer for Star Wars News Net and the host of The Resistance Broadcast podcast
"For my ally is the Force, and a powerful ally it is."