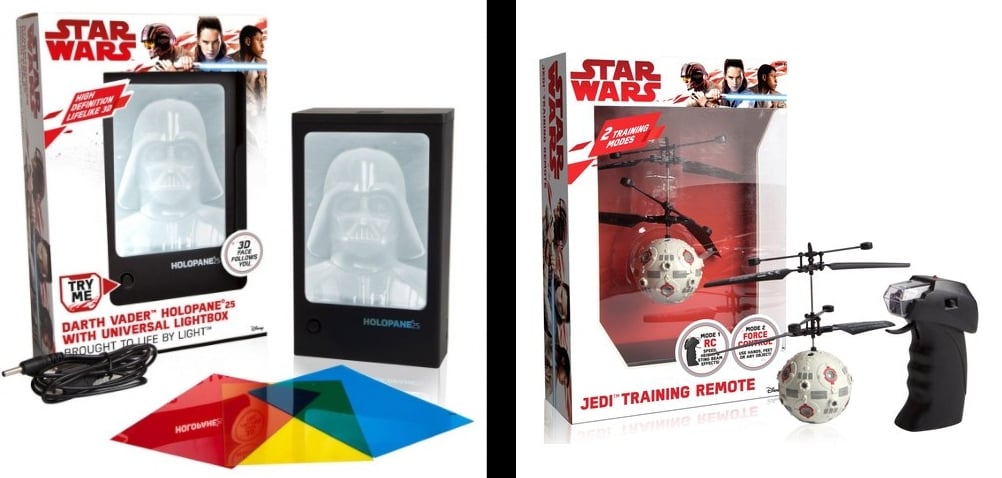 The guys from the British toy inventor company Wow! Stuff sent us two of their new Star Wars products – the Jedi Training Remote and a Darth Vader Holopane, which are available through major retailers in the UK, including Argos, Debenhams, Marks & Spencer, Sainsbury's, Hawkins Bazaar, Tesco and Amazon.
Iconic characters from the Star Wars films can now be seen in a brand new light with an awesome new collectible – Holopanes.
Using a patent pending process, invented by award winning British toy company Wow! Stuff, Holopanes are character faces in high definition, life-like 3D with a "following face" effect.
Holopanes reproduce life-like details with incredible accuracy. Featuring iconic Star Wars characters Rey, Chewbacca, Darth Vader and a stormtrooper, the Holopane brings these faces to life when either slotted into the Universal Light Box or activated by natural light. When back-lit, Holopanes produce a holographic like 3D image of the face in such photo realistic detail that it appears to follow you around the room wherever you go.
The Universal Light Box, specially designed to display the Holopane, also includes 3 different Holopane mood light color filters – red, green and blue – allowing the user to choose or mix different colors, depending on their mood.
Based on the original device seen in Star Wars: A New Hope, Star Wars: Attack of the Clones and Star Wars: The Force Awakens, the Jedi Training Remote is for both younglings and established Jedi. The device darts up and down while simulated "sing beams" at its opponent, making it a great combat training aid.
The new Jedi Training Remote incorporates details and realistic design with clever auto fight technology to keep the droid airborne. LED lights replicate random firing sing beams and repulsors.
Users can choose from two modes of training. The first involves using a remote control to set the height, speed and sting beam effects. The second mode, Force Control, uses patented sensor technology so the Jedi Training Remote can be controlled with movement of the hands, feet or any solid object waved below.
Based on the hugely popular Heliball auto flight gadget, which has already sold over 4 million units worldwide, the Jedi Training Remote comes with built-in rechargeable batteries, an infrared handset, USB charging cable and full instructions.
Both items are suitable for adults and children. Still I would recommend the Holopane for the older Star Wars fans and the Jedi Training Remote to the younger fans. My kid is 8 years old and he is having great fun with the Jedi Training Remote although it practically doesn't have any directional control except for up and down. But maybe that's where the fun is. You can buy the Jedi Training Remote for 29.99 British pounds at Argos, Smyths Toys, Debenhams and Hamleys.
The Holopane costs 19.99 British pounds. This includes a Universal Light Box, one Star Wars Holopane character insert, a USB power cable and 3x Holopane mood light color filters. The Universal Light Box includes both USB in and out sockets. Individual additional Holopane character collectible cost 7.99 British pounds each. The Holopane can be found at Argos, Debenhams, Marks & Spencer, Sainsbury's, Hawkins Bazaar, Tesco and Amazon.
Click HERE to check out and comment on this topic in our forum The Cantina